(PHOTO CREDIT: Greg M. Cooper/USA Today.)
This is the NBA Playoff Hangover. We're going to recap all the important games and talk about the hijinks that went on during or after. Here ya go.
#6 MILWAUKEE BUCKS 100 @ #3 TORONTO RAPTORS 106
EAST 1st Round * Game 2 * Series is TIED, 1-1
I'm sure NEEDING to win Game 2 has gotten old for the Raptors. Lot of threes were being shot by both teams. But one guy in particular woke up in Game 2. Kyle Lowry scored 17 points in the first half. It's kind of funny because there was this embarrassing pic over at Jurassic Park…
We're so embarrassing pic.twitter.com/prAdhgsnlc

— Ai Willwill (@william_lou) April 18, 2017
Runs were exchanged by both teams. T Dot built a 13-point lead but baskets by Greg Monroe (who's played a marvelous series thus far), Khris Middleton, and Tony Snell quickly erased that. The Raptors only led by one after three.
Toronto went ahead by double digits again but Milwaukee once again wiped that out. A surprise Giannis Antetokounmpo three eventually tied the game at 100. But with Canada clinging to a two-point lead, Lowry made a jumper with eight seconds left to ice the game and tie the series.
The Bucks got the split they wanted but I'm sure they wanted a clean sweep in the Six.
#8 CHICAGO BULLS 111 @ #1 BOSTON CELTICS 97
EAST 1st Round * Game 2 * BULLS lead series, 2-0
The desperate Celtics got off to a 7-0 start but that was very fleeting. Nikola Mirotic scored 10 points in the first quarter to help Chi-town get off to a double-digit lead. Still, the Celtics cut the lead in half going into the second period.
While Boston briefly took the lead in the second, they trailed the Bulls for the most part. Chicago went on a decisive 17-5 run as Chicago shockingly made some threes in that run. The green never got closer than seven points as Chicago never stopped making treys (10/25 from behind the arc).
Chicago is now going home with a 2-0 series lead against a bewildered Celtics team.
#5 UTAH JAZZ 91 @ #4 LOS ANGELES CLIPPERS 99
WEST 1st Round * Game 2 * Series is TIED, 1-1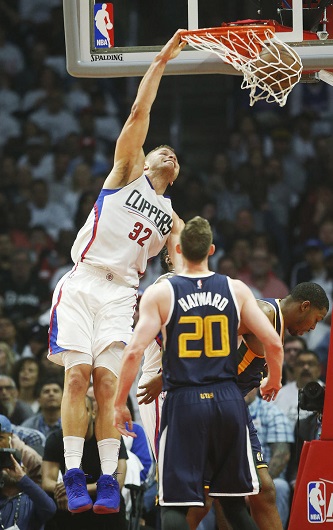 (PHOTO CREDIT: Jeffrey D. Allred/Deseret News.)
The Clippers took advantage of no Rudy Gobert (remember that he was taken out of the first play of the first game) and worked their way inside. Blake Griffin and DeAndre Jordan scored inside at will on the way to 60 points inside the paint.
The Jazz didn't lead throughout but did get the deficit down to six points with two minutes left. But Point God Chris Paul found Blake Griffin for a corner three and that long shot extinguished all hopes Utah had for a 2-0 lead going back to whatever they call their home area nowadays.
Honestly, I'm glad the Clippers won because I wasn't ready to hear and read all the bad takes coming from people about breaking up the team and whatnot. I'd rather the team stay…
(VIDEO CREDIT: Lisa Loeb.)
…but I'm not calling the shots there.
LINE CROSSER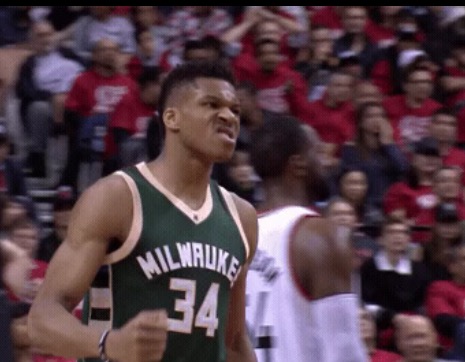 Losing effort but Giannis did all he could.
24 points, 15 rebounds, 7 assists.
This man is frightening.
WATCH THIS PLAY
(VIDEO CREDIT: Ximo Pierto.)
Lowry hits the clutch jumper against the deer.
We're thinking of you, Isaiah Thomas.
---
Follow Rey-Rey on Twitter at @TheNoLookPass for all tweets about the NBA. Also, check out his podcast, Rey-Rey Is Fundamental.

us on FaceBook where we have additional NBA highlights! Thank you!
#SagerStrongForever