This is the NBA Playoff Hangover. We're going to recap all the important games and talk about the hijinks that went on during or after. Here ya go.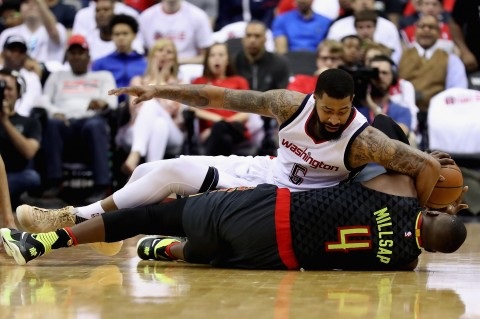 (PHOTO CREDIT: Rob Carr/Getty Images.)
#5 ATLANTA HAWKS 107 @ #4 WASHINGTON WIZARDS 114
EAST 1st Round * Game 1 * WIZARDS lead series, 1-0
It was the Wizards early as they put on a highlight reel performance in the first with all the threes and fastbreak dunks. Still, the Hawks silently came back and actually led by four after one quarter.
But the game was all Wizards by the third quarter. John Wall had 15 points alone in that period and was aided by Markieff Morris going for 11 in that same stretch. Washington would lead by double digits for nearly the entire fourth. The Hawks got as close as five points but John Wall made sure there was no miraculous comeback.
I find it funny that Paul Millsap said that the Hawks were playing basketball and that the Wizards were playing MMA. I mean, it's not like it was to Washington's advantage; Atlanta shot 39 foul shots compared to the Wizards' 17.
Maybe the Hawks should put an armbar on Wall, who went for 32 points and 14 dimes.
#8 PORTLAND TRAILBLAZERS 109 @ #1 GOLDEN STATE WARRIORS 121
WEST 1st Round * Game 1 * WARRIORS lead series, 1-0
This was some sort of track meet.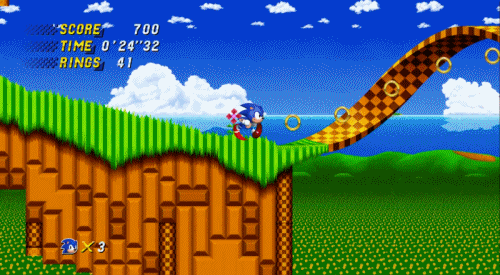 The Warriors had a hard time breaking away for most of the game. C.J. McCollum and Damian Lillard wouldn't stop making shots. They combined for 48 points in the first half.
But their emotional leader, Draymond Green, turned this game into a grimy affair. His defense (without actually kicking someone in the groin, amazingly) helped the game go upside down; the Blazers couldn't score more than two points in the first five minutes of the fourth quarter.
Any comeback by Rip City was squelched by either a big Kevin Durant shot or a Green basket. Next time, Portland, you should try to sign like eight all-stars on your team.
Seriously, though, fantastic effort by the Blazers (41 by C.J. and 34 by Dame). The Warriors are just always one run away from breaking any basketball game open.
#8 CHICAGO BULLS 106 @ #1 BOSTON CELTICS 102
EAST 1st Round * Game 1 * BULLS lead series, 1-0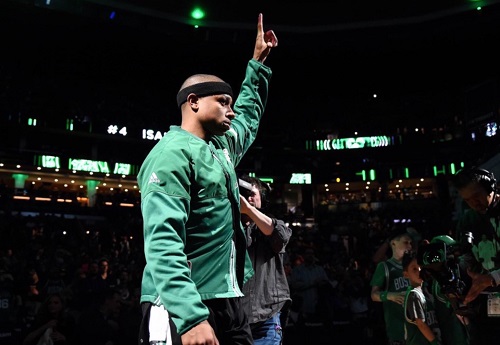 Honestly, basketball is secondary here. Despite his sister, Chyna, passing away yesterday, Isaiah Thomas decided to play in this game.
It was a scrappy game but in the end, it was about Jimmy Butler leading his team on. The Bulls went on a quick 8-0 run to give Chicago what turned out to be a near-insurmountable 7-point lead. There were a couple of plays that nearly gave Boston a chance (a bad charging call and an inbounds pass) but Butler iced the game with a couple of free throws. That would give him 15 points in the fourth (30 total). Thomas played well; he had 33 points but I'm sure this loss is not on his mind right now.
Our thoughts are with you, Isaiah Thomas.
#6 OKLAHOMA CITY THUNDER 87 @ #3 HOUSTON ROCKETS 118
WEST 1st Round * Game 1 * lead series, 1-0
The first half seemed like we were on our way to a bit of a classic. James Harden and Russell Westbrook were missing early before they picked it up at the end of the first half.
It looked like it was going to get even more chippy when Steven Adams cracked Patrick Beverley with a mean screen. But the Rockets went on a 9-0 run and never let up after that as their three-point shooting caught up. Beverley even made a couple of threes afterwards on his way to a career 21-point, 10-rebound game.
Harden had 37-7-9 and Westbrook was rendered "silent" at 22-10-7. Just remember that this is only one game.
LINE CROSSER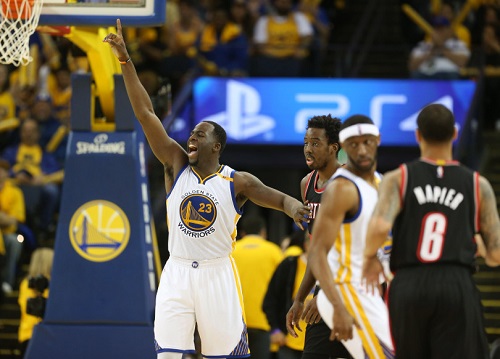 (PHOTO CREDIT: Ray Chavez/Bay Area News Group.)
Draymond Green flirted with a triple-double AND a 5×5.
19 points, 12 rebounds, 9 assists, 5 blocks, 3 steals.
He just does it all.
WATCH THIS PLAY
(VIDEO CREDIT: Ben Golliver.)
Huge block by Green on Dame in the fourth quarter.
We're with you, Isaiah.
---
Follow Rey-Rey on Twitter at @TheNoLookPass for all tweets about the NBA. Also, check out his podcast, Rey-Rey Is Fundamental.

us on FaceBook where we have additional NBA highlights! Thank you!
#SagerStrongForever