This is the Hangover. This is where I get drunk on the NBA as I recap last night's action as well as a few things going on around the league. Here's your word vomit.
04/07/2017
THE GAMES 04/06
MIL 89 (40-39) @ IND 104 (39-40)
CHI 102 (39-40) @ PHI 90 (28-51)
BRK 107 (19-60) @ ORL 115 (28-51)
WAS 106 (48-31) @ NY 103 (30-49)
BOS 116 (50-29) @ ATL 123 (40-38)
MIN 98 (31-47) @ POR 105 (39-40)
THE GAMES 04/07
ATL 114 (41-38) @ CLE 100 (51-28)
MIA 94 (38-41) @ TOR 96 (49-31)
NY 88 (30-50) @ MEM 101 (43-37)
DET 114 (36-43) @ HOU 109 (53-26)
SA 102 (61-18) @ DAL 89 (32-47)
NO 106 (33-46) @ DEN 122 (38-41)
MIN 113 (31-48) @ UTA 120 (49-30)
OKC 99 (45-34) @ PHX 120 (23-57)
SAC 94 (31-48) @ LAL 98 (24-55)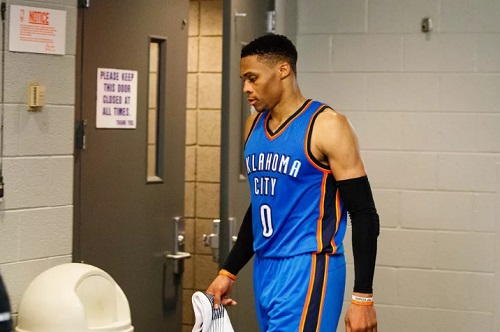 (PHOTO CREDIT: Mark J. Rebilas/USA Today.)
WESTBROOK MAKES HISTORY
Russell Westbrook did it. Going into the game against the Suns, Westbrook only needed six assists to clinch that triple-double average. I mean, if he played all the games, that is. Russ could've easily sat down one of the games and he would've clinched that milestone. But that's not how Westbrook is wired.
Sure, it looked like he was hunting them assists early but that's what cost them the game early on. He was overpenetrating and was passing up shots. It seemed like he wanted to get those six assists out of the way. And when his teammates couldn't convert, he tried to get it going offensively. Russ missed his first eleven shots before finally converting his next two shots.
Westbrook also had 41 triple-doubles going into this game and getting that 42nd would break Oscar Robertson's record of most trip-dubs in a regular season. Russ was really noticeably going after the dimes (he ended up with eight) but the Suns, who have done their stat-chasing of their own this season (Devin Booker going after 70 points), did their best to prevent his triple-double. Phoenix even fouled him intentionally just so he couldn't get a pass off.
Anyway, Russ didn't get the triple-double and he has three more games to get that elusive triple-double #42. But nevertheless, people shouldn't discredit this incredible season. I've seen fans say he was going after uncontested boards and not playing defense. Well, someone had to go after the board, right? And, yeah, he might have gone after them too early and leave his man. But Westbrook made everyone better; the team won 32 games when he got a trip-dub this season.
Also, Suns fans shouldn't talk about stat-chasing when one of their own did the same thing not too long ago.
THE REST OF THE LEAGUE
Well, guess what? Kevin Durant is coming back to play against the Pelicans tonight. As if the Warriors needed any more momentum, right? The Dubs have won their last 13 games and look very unstoppable at the moment.
Also, Dwyane Wade was supposed to be out for the season and yet he's prepared to play against the Nets in a few hours. The Bulls are currently #7 in the East and pretty much control their destiny for that. The Heat, his former team, happen to be a game behind them…
It's pretty much the same thing in the West. Portland is ahead by Denver by a game.
Meantime, the Lakers are on a three-game winning streak. Laker fans continue to be unhappy because they're winning and not going through with "the tank." But the good news for them is that the Suns also won. Phoenix is 1 1/2 games behind the Lakers. Right now, Lakers have clinched a Top 3 spot in the lottery. Now we'll see where the ping pong balls fall.
The Lakers are hoping for Paul George to come to L.A. when he's a free agent at the summer of '18. Lance Stephenson, his old teammate who came back recently, said he'd tie PG-13 to a chair and tell him to stay. We know PG likes Lance. Born Ready has a year to convince him.
Oh, yeah. Remember when the Raptors weren't happy about Lance's lay-up in the waning seconds when the game was at hand? Well, Memphis can top that. Enter Wade Baldwin IV:
Now THAT'S how you run the score up pic.twitter.com/ErjmbKOK8i

— Fastbreak Breakfast (@fastbreakbreak) April 8, 2017
Also, the Knicks were given +12.5 points. So to those who bet under…
LINE CROSSER 04/06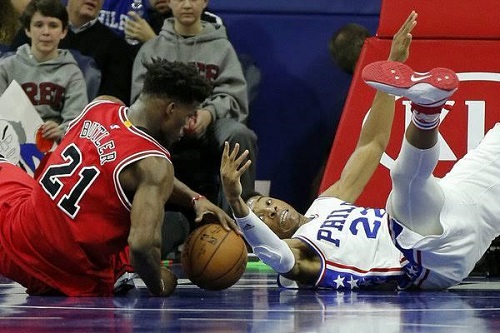 (PHOTO CREDIT: Philly.Com.)
Jimmy Butler got his triple-double as he continues to carry the Bulls on their march towards the playoffs.
19 points, 10 rebounds, 10 assists.
Get it done, Butler. And you're getting some help on Saturday. I think.
LINE CROSSER 04/07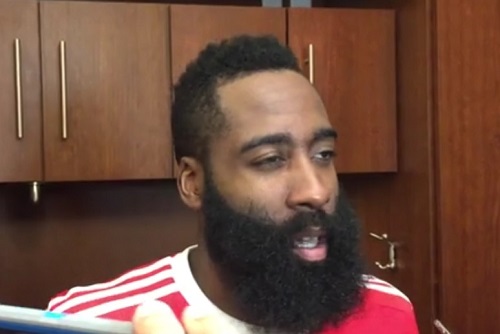 (PHOTO CREDIT: Rockets.Com.)
The Rockets lost the game but James Harden nearly got a triple-double.
33 points, 9 rebounds, 12 assists.
Houston is locked into the third seed, anyway, even with the not-so-impressive loss to Detroit.
WATCH THIS PLAY 04/06
(VIDEO CREDIT: NBA.)
Check out Avery Bradley go for this slam on the fastbreak.
WATCH THIS PLAY 04/07
(VIDEO CREDIT: NBA World.)
Gary Harris went down the middle for the spike between the Pelicans.
---
Follow Rey-Rey on Twitter at @TheNoLookPass for all tweets about the NBA. Also, check out his podcast, Rey-Rey Is Fundamental.

us on FaceBook where we have additional NBA highlights! Thank you!
#SagerStrongForever