This is the Hangover. This is where I get drunk on the NBA as I recap last night's action as well as a few things going on around the league. Here's your word vomit.
03/29/2017
THE GAMES
ATL 99 (39-36) @ PHI 92 (28-47)
OKC 114 (43-31) @ ORL 106 (27-48) [OT]
MIL 103 (39-36) @ BOS 100 (48-27)
MIA 105 (37-38) @ NY 88 (28-47)
CHA 110 (34-41) @ TOR 106 (45-30)
DAL 118 (31-43) @ NO 121 (32-43)
IND 97 (37-38) @ MEM 110 (41-34)
GS 110 (61-14) @ SA 98 (57-17)
UTA 112 (46-29) @ SAC 82 (29-46)
WAS 124 (46-29) @ LAC 133 (45-31)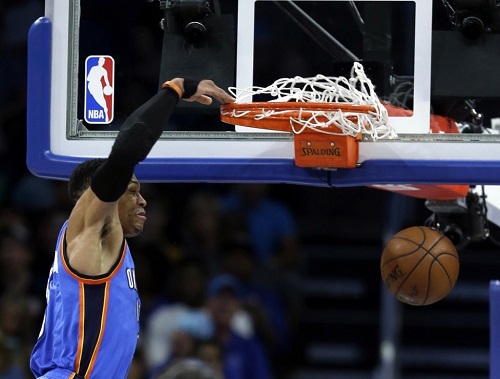 (PHOTO CREDIT: John Raoux/AP.)
RUSSELL WESTBROOK IS A CYBORG
I am not going to argue with you at all if you think Russell Westbrook is the Most Valuable Player. We're not going to learn about this until the NBA does the potentially lame awards show after the entire season is over. But seriously, it's like his entire stat line speaks for itself.
That stat line reads: 31.8 points, 10.6 rebounds, 10.4 assists per game. All Westbrook has to do is average 4.9 rebounds and 6.4 assists to get that season-long triple-double should he play the rest of the games.
And I have no doubt that he will. For all the screaming that some players rest too much, old-timers and skeptics have to LOVE Westbrook in that aspect. He refuses to rest. And if you've seen him play a basketball game, it's like he's a missile each time he darts from one end of the court to the other. The guy might be the most indefatigable basketball player I've ever seen. Obviously, we know what he did last night when he punctured the Orlando Magic all by himself. But for him to still go Sonic the Hedgehog in overtime is incredible. I already hate walking to the fridge and Westbrook would be glad to run a block just so he can dunk on somebody. Watching HIM makes me tired.
Another incredible thing about this is that the guy had three knee surgeries in one year. Remember the time when his got literally DENTED when he received a knee to his face? He's unstoppable. You can put him in a box. You can put him in a cell. But he's so relentless that he'll find a way to escape everything and come at you with reckless abandon. And the even scarier thing now is that he knows how to strategize and pick his spots being that he's been in the league for nearly a decade.
I hated to see Kevin Durant leave OKC. But with him leaving, we saw perhaps the greatest individual season in NBA history. We may never see this kind of season again in our lifetimes.
Of course, Russell probably heard that. So he's going to listen to some slowjams and prove everyone else wrong again.
THE REST OF THE LEAGUE
Yeah, so Westbrook's phenomenal crushing of the Magic (which he scored 26 points in the fourth and OT) overshadowed a potential Game of the Year. But in a way, it turned out to be disappointing. The Spurs owned the Warriors for the first few minutes as they jumped to a 15-0 start. But the Dubs hung in there despite being down by 22. Then the Spurs couldn't make anything as the Warriors overwhelmed the 2014 champs the rest of the way.
I still think the Spurs will be okay but we saw two extremes from them where they made everything despite the defense and they missed everything because of the defense. It didn't feel like the Spurs figured them out here. But they'll be fine. The bad news, though, was that the Warriors seemed to do it easily without Kevin Durant. The Warriors are arguably playing their best ball of the season. They've won nine games in a row. Andre Iguodala looks rejuvenated, David West is looking like his Hornets self, and they're getting great contributions from Patrick McCaw, Ian Clark, and JaVale McGee. The Warriors are looking like the favorites to win it all in their current roll. That's such a contrast from like two weeks ago.
Boston didn't take advantage to up their lead as they lost a close game against those. While the Wizards also lost, the Raptors had their win streak halted by the Hornets. There are roughly 7-8 games left for these teams and that three-game lead by the Pacers over the Hornets seems so insurmountable.
Speaking of the Pacers, they surprised everybody by bringing back Lance Stephenson. Three-year deal, no less! He will be eligible for the playoffs (he was in a 10-day contract with the Wolves before he was let go March 18th) and will be replacing Rodney Stuckey, who was waived by the team.
I guess if we get a Cavs/Pacers match-up, Lance can resume whispering sweet nothings to LeBron James. Also, this move should temporarily keep Paul George happy.
LINE CROSSER
So let's look at this again. Russell Westbrook had:
57 points, 13 rebounds, 11 assists, 3 steals.
Seriously. And that's 38 triple-doubles now for Russ.
WATCH THIS PLAY
(VIDEO CREDIT: NBA.)
Who else? Westbrook sends the game to OT with this scintillating long shot. Never mind that Doug McDermott was wide open like a 24-hour 7-Eleven.
---
Follow Rey-Rey on Twitter at @TheNoLookPass for all tweets about the NBA. Also, check out his podcast, Rey-Rey Is Fundamental.

us on FaceBook where we have additional NBA highlights! Thank you!
#SagerStrongForever