This is the Hangover. This is where I get drunk on the NBA as I recap last night's action as well as a few things going on around the league. Here's your word vomit.
03/28/2017
THE GAMES
MIL 118 (38-36) @ CHA 108 (33-41)
MIN 115 (29-44) @ IND 114 (37-37)
PHI 106 (28-46) @ BRK 101 (16-58)
MIA 97 (36-38) @ DET 96 (34-41)
PHX 91 (22-53) @ ATL 95 (38-36)
GS 113 (60-14) @ HOU 106 (51-23)
DEN 113 (35-39) @ POR 122 (36-38)
WAS 119 (46-28) @ LAL 108 (21-53)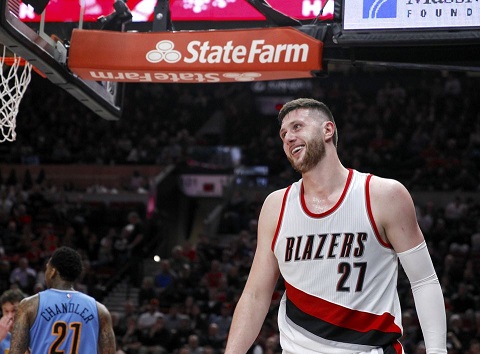 (PHOTO CREDIT: The Oregonian.)
REVENGE OF THE NURK
Sometimes, I don't buy it when players tell the media when they're facing their former team for the first time that "it's just another game." No. It's not "just another game." Especially if that former team of yours either traded you or did not re-sign you and you parted in bad terms. You're going to want to stick it to your former employer. I sure as hell would feel better if I got to punch my ex-boss in the face.
Jusuf Nurkic was traded to Portland before the trading deadline by Denver. It wasn't really a secret that he wasn't happy there when he got inconsistent playing time as Nikola Jokic's star rose.
It was like Nurkic had Mar. 28 circled. He got off to a fast start and never looked back as the Blazers won and stayed in the 8th spot (WHILE holding off the Nuggets from said spot) in the West. It was just the perfect situation for Nurkic; the stakes were high and he got to have a career game against his ex. And for the guy that Denver traded for (Mason Plumlee)? He was held scoreless and it was the icing on a delicious cake for Nurkic.
After the game, Nurkic let his former team know what's up.
Jusuf Nurkić talks that talk after beating his former team 👀 pic.twitter.com/3ZPpUqsX1v

— Bleacher Report (@BleacherReport) March 29, 2017
Just another game? Yeah, right. It definitely wasn't to Jusuf Nurkic.
THE REST OF THE LEAGUE
Indiana lost to Minnesota by one. How? Ricky Rubio was fouled on a three with a few seconds left and all three charity shots were made to give Minnie the lead and the win.
Meanwhile, Paul George was NOT happy.
Paul George: "There's no urgency, no sense of urgency, no winning pride. This locker room is just not pissed off enough."

— Nate Taylor (@ByNateTaylor) March 29, 2017
Paul George: "To be honest, man, I don't think I got the ball enough down the stretch. I don't think I got the ball enough."

— Nate Taylor (@ByNateTaylor) March 29, 2017
PG-13 had 37 points, by the way. We already know that he's not the most thrilled guy at the moment with Indy. Speculation is going to get worse when we go into the summer. There are already rampant rumors that he wants to go to the Lakers. The Lakers MAY have a high pick to dangle come late June…
The Heat stayed in the eighth seed after a huge win over the Pistons. Highlight down there but man, I am so disappointed with this Detroit team.
Warriors and Rockets had a nice showdown but the Dubs continue to have momentum. That's three straight seasons now that the Dubs got 60 wins.
The Hawks broke their seven-game skid by beating Phoenix. If Devin Booker scored 70 points, the Suns would've had a chance.
And come on, Lakers. You gotta show more pride than that 37-13 drubbing in the fourth at the hands of the Wizards. Bee Tee Double You, congrats to the Wizards for winning their first division title in nearly 40 years.
LINE CROSSER
So back to Nurkic.
33 points, 16 rebounds, 3 blocks.
Yup. Just another game. .
WATCH THIS PLAY
(VIDEO CREDIT: NBA.)
Hassan Whiteside buries the Pistons' playoff hopes with this game-winning tip-in.
---
Follow Rey-Rey on Twitter at @TheNoLookPass for all tweets about the NBA. Also, check out his podcast, Rey-Rey Is Fundamental.

us on FaceBook where we have additional NBA highlights! Thank you!
#SagerStrongForever