This is the Hangover. This is where I get drunk on the NBA as I recap last night's action as well as a few things going on around the league. Here's your word vomit.
03/25/2017
THE GAMES
UTA 95 (44-29) @ LAC 108 (44-30)
WAS 127 (45-28) @ CLE 115 (47-25)
NY 98 (27-46) @ SA 106 (56-16)
TOR 94 (44-29) @ DAL 86 (31-41)
MIN 100 (28-44) @ POR 112 (34-38)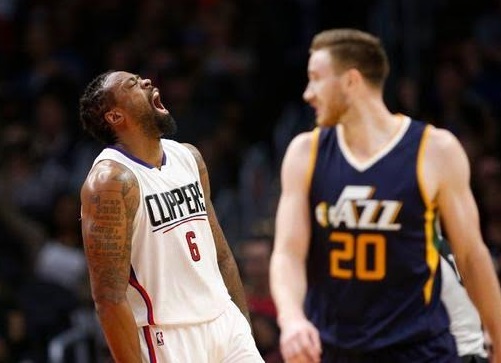 (PHOTO CREDIT: Danny Moloshok/AP.)
CLIPPERS SHOULD JUST HOLD ON
What's trendy to talk about in the last couple of years amongst some Clipper fans is that they should blow up the team. I don't agree with this vehemently and if anything, they should hold on to this team as long as they can and make minor upgrades along the way (unless you can get something major, do it; but that's unlikely).
I also don't understand the need to blow up this team considering that the Clippers were NBA hell before the Blake Griffin/Chris Paul era began. Noted racist owner Donald Sterling kept this team from being successful for many reasons; do Clipper fans really want to go back to that? Do they really want to be that same team that only went to the playoffs four times in their first 27 years in Los Angeles? Do they really want to relive that?
The Clips just clinched their sixth straight playoff berth. And really, they shouldn't even give up this season. They're only half a game behind the team they just beat on Saturday, the Jazz. The team showed great promise at the start of the season before injuries beset them. We know that this team is capable of suffocating opponents defensively and we KNOW what the Clips can do offensively.
The Warriors have been winning again lately but I still believe they can be vulnerable. I still don't think Kevin Durant is going to be 100 percent for the rest of the season considering how knee injuries can be. They've beaten the Spurs before. The Rockets are troublesome but the ghost of Mike D'Antoni past can come back to haunt them. And they know they can beat the Jazz.
It's probably asking for a lot. The Clippers probably won't even get out of the first round. But the potential is there. And if Paul and Griffin opt out this summer (which is likely), they should give them all the money possible. I've brought this up before but… they could just hang around the top long enough that they could be the next 2011 Dallas Mavericks.
Again, do they want to be stuck in lottery hell?
THE REST OF THE LEAGUE
Still don't know if Cleveland is vulnerable. They've become one of the worst defensive teams as of late (22nd overall in defensive rating this season). And don't look now but the Boston Celtics are only half a game behind the Cavs.
And good thing the Wizards won because the Raptors are hot on their trail. They've won their fifth straight game as they continue to shut their opponents down defensively. The victims were the Mavs, who are not out of the running for a playoff spot but have basically K-2 to climb. They are four games behind the Nuggets with 10 games to go. Ya mean the regular season is almost over? Time goes by so fast. I still remember it like yesterday when Brad Davis was still playing for Dallas.
Dallas can only worry about themselves. Portland also won but they can't worry about anyone else. If they win their games, everything will take care of itself. But curse that slow start.
LINE CROSSER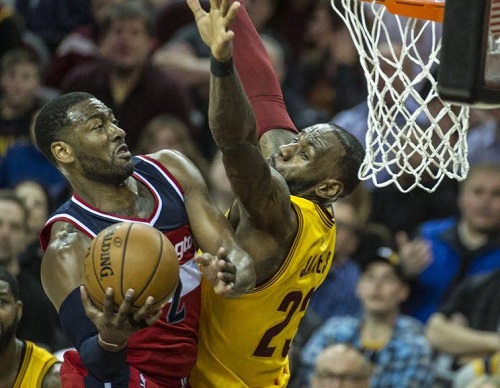 (PHOTO CREDIT: AP.)
John Wall doing his thing against the King and his men.
37 points, 11 assists.
Gosh. This seems so paltry now compared to Devin Booker and the triple-double rush.
WATCH THIS PLAY
(VIDEO CREDIT: Ximo Pierto.)
I would get out of LeBron's way if I were you next time, Ian Mahinmi.
---
Follow Rey-Rey on Twitter at @TheNoLookPass for all tweets about the NBA. Also, check out his podcast, Rey-Rey Is Fundamental.

us on FaceBook where we have additional NBA highlights! Thank you!
#SagerStrongForever