This is the Hangover. This is where I get drunk on the NBA as I recap last night's action as well as a few things going on around the league. Here's your word vomit.
03/24/2017
THE GAMES
CLE 112 (47-24) @ CHA 105 (32-40)
BRK 108 (15-57) @ WAS 129 (44-28)
DEN 125 (35-37) @ IND 117 (36-36)
DET 87 (34-39) @ ORL 115 (27-46)
PHX 120 (22-51) @ BOS 130 (47-26)
PHI 117 (27-45) @ CHI 107 (34-39)
ATL 97 (37-35) @ MIL 100 (37-35)
NO 107 (30-42) @ HOU 117 (50-22)
SAC 100 (27-45) @ GS 114 (58-14)
MIN 119 (28-43) @ LAL 130 (21-51) [OT]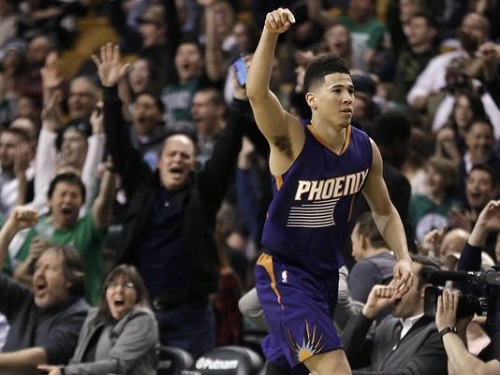 (PHOTO CREDIT: Elise Amendola/AP.)
DEVIN BOOKER SCORES A BUNCH!
So on a random late Friday night in March (which I still consider the "most boring month of the NBA season"), Devin Booker went off and shot fireballs in Boston.
Fireballs to the tune of 70 points. The Celtics still won but man. 70 points.
Sure, critics will try to discredit it by saying that the Suns extended the game by fouling and calling timeouts even if the game was out of hand. But let's not forget that Wilt Chamberlain scored 100 points on a blowout. And Kobe Bryant didn't have to be in the game when he scored 81 points when the game was all but done. 70 points is 70 points and it's a big effin' accomplishment. Name me more than six guys that have scored 70 points in an NBA game.
Actually, you can't name more than six guys. Check the history books:
Most points scored in an NBA game. Wiki is quick with it; Devin Booker was added to this list. pic.twitter.com/3OAPBeF6TP

— Rey-Rey (@TheNoLookPass) March 25, 2017
Wilt, Kobe, David Thompson, Elgin Baylor, David Robinson, and Booker. That's it. Michael Jordan only got up to 69 points. That's what we're talking about.
So no, I'm not going to discredit Devin Booker's accomplishment. Even if it is in a loss. It's not often anyone gets on fire like that. We go nuts when someone goes crazy and they end up with 30 points or something.
SEVENTY, though? Come on. That's incredible.
THE REST OF THE LEAGUE
Jae Crowder of the Celtics didn't seem to like Booker celebrating this rare accomplishment with his teammates and tried to come at him on Instagram. Devin Booker may have lost the game but I think he won this battle.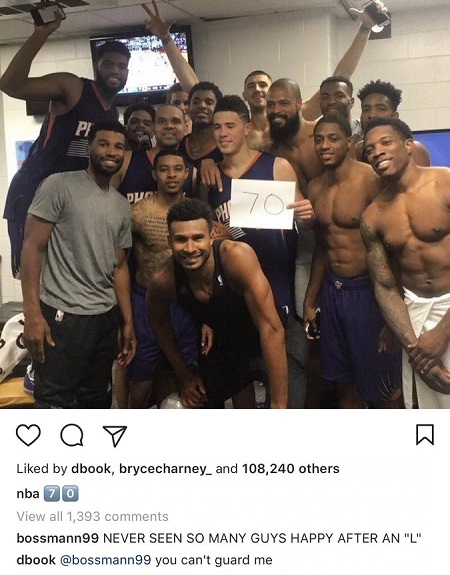 Giannis Antetokounmpo had an outstanding game that led the Bucks to a win over the Hawks. The Hawks and Bucks are tied for the 5th seed in the East. Yet Bucks coach Jason Kidd decided to get mad at Giannis for not trying to miss a free throw on purpose UP THREE WITH 0.2 SECONDS LEFT.
Here's Giannis appearing to shrug off Kidd's instruction to miss FT up 3 and 0.2 left. Related: Jason Kidd does not understand math. pic.twitter.com/oAor5lHuAz

— FrankMadden (@fmaddenNBA) March 25, 2017
Why? Making the free throw puts them up four and four-point shots are impossible. Sure, missing a free throw makes sense and you can't really do anything 90 feet away when you're down three with 0.2 seconds left. But my point is why get upset over this even if there's really no wrong answer to this (I would've made it). And the Bucks won the game! And Giannis was amazing! This makes no sense. And even if it's a teachable moment, do it behind closed doors, just ask a question, and get it over with. As smart as a basketball player Kidd was, this was highly disappointing.
I didn't realize it but the hot Nuggets are suddenly close to .500. They also beat the Pacers, who are now in seventh place and only a game above the hot hot Miami team. Indy can still blow this and boy, would that make Paul George happy.
Finally, Lakers fans can dig this. They unveiled the new statue at Staples Center. I think a decade from now, there will be more statues at Staples Center than the maximum fan attendance in the arena itself. Shaquille O'Neal is the latest L.A. athlete to get his statue. You can see the full ceremony here. THAT'S HOW YOU DOMINATE.
(VIDEO CREDIT: NBA.)
The Lakers beat the Wolves so Lakers fans are mad because it affects their standing a little bit in the lottery. You know my feelings about tanking. In any case, a bit curious is Tom Thibodeau benching Karl-Anthony Towns late after an argument. It may be something to watch. It may also be one of those teachable moments and it may turn out to be nothing.
LINE CROSSER
I mean, who else? Devin Booker.
70 points, 8 rebounds, 6 assists, 3 steals.
Ridiculous.
WATCH THIS PLAY
(VIDEO CREDIT: NBA.)
Giannis does a little windmill on the fastbreak. Kidd probably yelled at him for that, too. Just Kidd-ing.
---
Follow Rey-Rey on Twitter at @TheNoLookPass for all tweets about the NBA. Also, check out his podcast, Rey-Rey Is Fundamental.

us on FaceBook where we have additional NBA highlights! Thank you!
#SagerStrongForever