This is the Hangover. This is where I get drunk on the NBA as I recap last night's action as well as a few things going on around the league. Here's your word vomit.
03/14/2017
THE GAMES
DET 96 (33-34) @ CLE 128 (44-22)
OKC 122 (38-29) @ BRK 104 (12-54)
IND 81 (34-33) @ NY 87 (27-41)
POR 77 (29-37) @ NO 100 (27-40)
PHI 104 (24-43) @ GS 106 (53-14)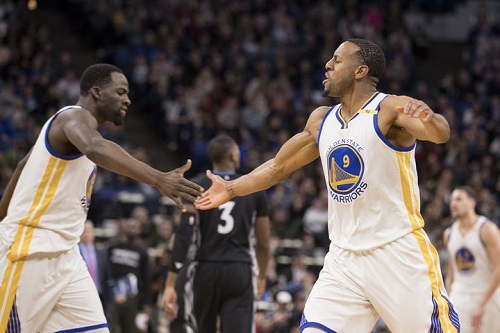 (PHOTO CREDIT: Jesse Johnson/USA Today.)
WARRIORS AS VULNERABLE AS EVER?
Normally, I would just brush off this Sixers/Warriors game. After all, they played a close game last season when Harrison Barnes had to convert a game-winning three in the waning seconds.
Now? They had lost five out of seven, probably their worst swoon in the Steve Kerr era. And they were down by double digits against Philly before they rallied back to win.
Stephen Curry is still not his superhuman self in the last two years. We also know that Kevin Durant is out and half their roster from the season before is all gone so the Dubs aren't as deep as they used to be. Klay Thompson has been pretty consistent so they needed something from Draymond Green, who has sacrificed his scoring for Durant.
And boy, did he get it done. He had always been everywhere on the defensive end but it was great for the Warriors to see him get aggressive on the offensive end. You'll see his statline later (spoiler alert on line crosser!) but the guy was stuffing the stat sheet.
They need Draymond more on the offensive end. Again, Curry has struggled at times to get something going. And to make up for Durant's production, Green has to find a way to score. He certainly can; he did score 32 points in Game 7 of last year's final.
And they're going to have to depend on that more. I really don't expect Durant to be 100 percent for the rest of the campaign. I think their incredible defense will always be there; it's pointing points up on the board they'll need help with. If the season only counted every team's last eight games (Warriors went 3-5 that span), G. State would be 28th in offensive rating!
With a Spurs team now in full strength, the Rockets with their high-powered offense, the Jazz beating up teams, and the Clippers that are struggling but certainly capable of matching up, maybe the Dubs are really reeling right now. So much for light years…
THE REST OF THE LEAGUE
LaMarcus Aldridge and the Spurs got the best news possible. It only took four days this time around after he was diagnosed with an irregular heartbeat but he has been cleared to play. On a basketball perspective, the Spurs are now back to terrifying status.
The Pelicans were 3-6 going into the Portland game but Boogie Cousins was either not part or didn't have a big part in any of their wins. Well, they blew out the Blazers and both bigs did well. DeMarcus went for 22 points, 9 boards, and 3 thefts while Anthony Davis had 15-15 and 3 swats. This is what the Pelicans have been wanting.
Gosh, the Pistons are so mediocre. Cavs are back in biz for now. Same with the Pacers, though. They're so mediocre, too.
Who's not mediocre? Russell Westbrook. 25-12-19. Geez.
LINE CROSSER
Draymond Green was all around the place. He basically did everything:
20 points, 8 rebounds, 8 assists, 6 blocks, 4 steals.
Good grief. Nearly a 5×5. Russell Westbrook did get an incredible 33rd triple-double this season but maaaaaan. Those things Draymond did…
WATCH THIS PLAY
(VIDEO CREDIT: NBA.)
Finally, we got something working from the Brow and the Boogie. Look at this 180 alley-oop jam by Anthony Davis.
---
Follow Rey-Rey on Twitter at @TheNoLookPass for all tweets about the NBA. Also, check out his podcast, Rey-Rey Is Fundamental.

us on FaceBook where we have additional NBA highlights! Thank you!
#SagerStrongForever