This is the Hangover. This is where I get drunk on the NBA as I recap last night's action as well as a few things going on around the league. Here's your word vomit.
03/13/2017
THE GAMES 03/12
CHI 80 (31-35) @ BOS 100 (42-25)
NY 112 (26-41) @ BRK 120 (12-53)
MIA 98 (32-35) @ IND 102 (34-32)
POR 110 (29-36) @ PHX 101 (22-45)
CLE 112 (43-22) @ HOU 117 (46-21)
PHI 118 (24-42) @ LAL 116 (20-45)
THE GAMES 03/13
CHI 115 (32-35) @ CHA 109 (29-38)
DAL 78 (28-38) @ TOR 100 (39-28)
MIL 93 (32-34) @ MEM 113 (37-30)
ATL 99 (37-30) @ SA 107 (52-14)
WAS 104 (41-25) @ MIN 119 (28-38)
LAC 108 (40-27) @ UTA 114 (42-25)
ORL 115 (24-44) @ SAC 120 (26-41)
LAL 101 (20-47) @ DEN 129 (32-35)
(PHOTO CREDIT: Jeff Siner/TNS.)
SO WHAT'S UP WITH THE BULLS?
The Bulls can be a really bad team. They got smashed on national TV against the Celtics on Sunday (they scored nine points in the first quarter, ewwwww). That was their fifth straight loss.
The next night, they beat Charlotte as four of their boys scored 20 and more points. That includes all of their vaunted "big three" (Jimmy Butler, Dwyane Wade, Rajon Rondo) and Nikola Mirotic.
By the way, Rondo hadn't started in months and had sort of been jerked around all that time. And Mirotic didn't play in the last three games.
So here's what the Bulls have going on right now. And in a way, it's kind of a miracle that the Bulls are 32-35.
Wade and Butler have openly questioned their teammates' work ethic.
Butler has opined publicly about the way he's being coached.
Rondo was told he was going to be the starter and they were going to compete for a playoff spot. Then he was benched. He probably expected to get released. Didn't happen. He continued to ride the bench and probably thought he was never starting again. On Monday night, he started.
The Bulls traded their designated shooter, Doug McDermott, and their longtime workhorse, Taj Gibson, to Oklahoma City. They got back Cameron Payne, Joffrey Lauvergne, and Anthony Morrow.
Lauvergne and Morrow are probably out of Chicago after next season.
Payne will be looked at. But let's look at the roster. The Bulls have FIVE POINT GUARDS.
Michael Carter-Williams was acquired for Tony Snell. He was starting in some games. Now he's not even playing. That goes the same for Jerian Grant and Isaiah Canaan.
At least, Bobby Portis is getting PT now? But they also supposedly liked Paul Zipser and he got a DNP on Monday.
Basically, I'm going to be asking this on the Bulls for the rest of the season.
What the heck are they doing?
THE REST OF THE LEAGUE
Luke Walton is trying to experiment with Jordan Clarkson starting and D'Angelo Russell coming off the bench. There's more of an understanding here that Walton is trying to experiment line-ups. But I think what they should do is to try to start them together and see how that works. It's obvious they're trying not to win games, anyway, so go ahead and try to grow together. Yeah, I understand it's not the best defensive backcourt but that's what team defense is for, right? Well, yeah, it IS the Lakers and they're terrible at that. But they gotta keep working at it.
Chandler Parsons is out for the season and while he's getting a lot of money to play basketball for Memphis, it couldn't have gone any worse for him in terms of the game. A lot of Grizzlies fans obviously are not happy about this signing but, hey, blame the team for signing him for that much money. Still, they gotta be better than that fan who took a video with Parsons by having him say that he ruined the season. You can find it on Google or Yahoo! or AltaVista or whatever search engine you use because I'm not going to give that person satisfaction by putting the link here.
The Spurs are now technically the #1 seed in the West as they tied the Warriors' record at 52-14. Still, you can't help but think both the Spurs and Warriors are vulnerable going into the stretch run. Maybe we're thinking too much about it. After all, the Rockets will have all their guns blazing. At least, on offense.
The Cavs are 22nd in Defensive Rating this season. The last time a team won a championship when their team is not in the TOP 10 in defensive rating? The 2001 Lakers was 21st. But that team went 15-1 in the postseason. Last year's championship Cavs team was 10th in defense in the regular season then turned it up in the postseason.
Kristaps Porzingis is apparently confused on what's going on with the Knicks. Well, Phil Jackson doesn't want to coach. Yet he's pretty much telling the team what plays to use. Jeff Hornacek is not a Triangle coach but longtime disciple, Kurt Rambis, is and he's doing a lot of coaching, apparently. Carmelo Anthony doesn't seem to be thrilled. Derrick Rose isn't, either.
Lastly, Goran Dragic didn't play against Indiana on Monday because…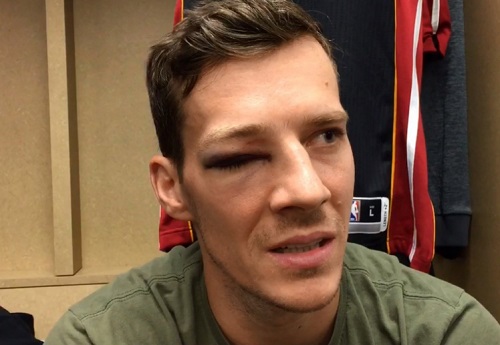 Cory Joseph accidentally elbowed Dragic in the face on Saturday night. That picture looks like some bad photoshop. Maaaaan…
LINE CROSSER 03/12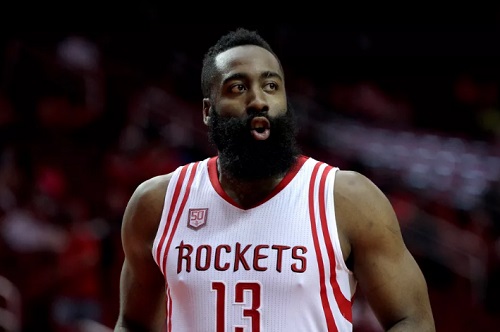 (PHOTO CREDIT: Erik Williams/USA Today.)
James Harden got his 16th triple-double:
38 points, 10 rebounds, 11 assists.
I mean, that's an INCREDIBLE season. 16 triple-doubles. And it pales in comparison to… ya know.
LINE CROSSER 03/13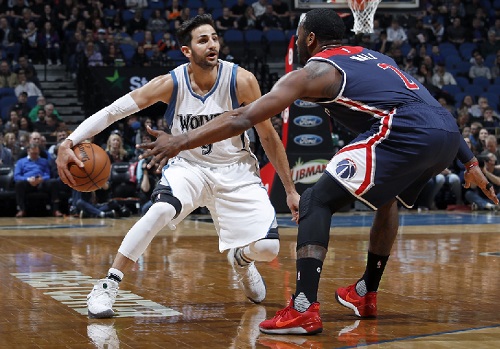 (PHOTO CREDIT: Carlos Gonzalez/The Star Tribune.)
It's tough to not appreciate Ricky Rubio's efforts against the Wizards:
22 points, 5 rebounds, 19 assists, 3 steals.
Nearly a perfect 20-20 vision for Rubio! Appropriate, right?
WATCH THIS PLAY 03/12
(VIDEO CREDIT: NBA.)
This wasn't even a block by Kristaps Porzingis. He just SNATCHED this shot out of the air.
WATCH THIS PLAY 03/13
(VIDEO CREDIT: Ximo Pierto.)
I love The No-Look Pass. You know that. Here's Nikola Jokic throwing one to Will Barton. It's fantastic.
---
Follow Rey-Rey on Twitter at @TheNoLookPass for all tweets about the NBA. Also, check out his podcast, Rey-Rey Is Fundamental.

us on FaceBook where we have additional NBA highlights! Thank you!
#SagerStrongForever