This is the Hangover. This is where I get drunk on the NBA as I recap last night's action as well as a few things going on around the league. Here's your word vomit.
03/09/2017
THE GAMES
CLE 101 (42-21) @ DET 106 (32-33)
LAC 114 (39-26) @ MEM 98 (36-29)
SA 92 (50-14) @ OKC 102 (36-29)
PHI 108 (23-41) @ POR 114 (28-35) [OT]
LAL 122 (20-45) @ PHX 110 (21-44)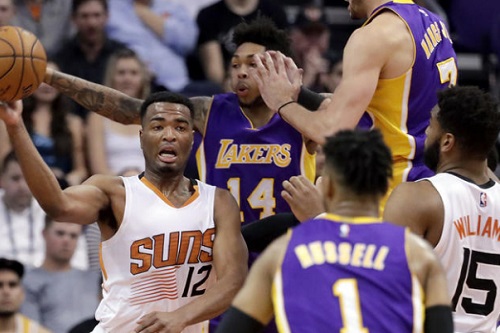 (PHOTO CREDIT: Matt York/AP.)
TANKING CAN BE EXASPERATING
I've seen a few Laker fans complain about the team's win over the Suns. Unfortunately, some see tanking or, at least, getting the best chance to lose games so they can get a BETTER chance at getting a higher pick is seen as the fastest way to rehab the team. I don't necessarily advocate for it but I totally get it.
But I'd feel insulted, too. Especially if I was one of the players playing in the game. And while I'm not directly competing on the team, I'd rather my favorite team win and I'd rather have that than losing just to get that chance of a pick.
It's easy to get used to losing. It's that defeatist attitude that I'm not exactly fond of. There are franchises that didn't have to lose in an extreme manner that have done quite alright. The Spurs have made the postseason 27 in the last 28 years. The Celtics did some shrewd deals to get high picks and have only missed the playoffs once since the won the chip in the 2007-08 season. The Mavericks are going to be okay as they have a pretty cool core after the Dirk Nowitzki era is done. In the meantime, we have perennial lottery teams in Minnesota, Sacramento, and now Phoenix.
It's not about tanking, in my view. It's about management. While, yes, you have a better chance at a higher pick, it's also about picking the right player for the job and fostering him in an environment that's not toxic. Having a losing attitude (i.e. being used to losing) can permeate a locker room and can make the surroundings poisonous. Sometimes, it does take a special kind of player to eliminate that sort of culture. And, sometimes, it can take time.
I understand that the Lakers are stealthily tanking so they can keep that Top 3 pick. But there's also a chance they don't get it. Then what? They're back to where they were at the start of this season. Unless they make huge deals, it's pretty much going to be the same team that they currently have. Can they grow within? I would hope so because that's pretty much the only choice they have unless Magic Johnson pulls off some sort of trade.
Building a team is hard. Tanking is obviously one way. It's worked before and it has also backfired a number of times. I'd just prefer not to.
THE REST OF THE LEAGUE
I still can't figure out the Pistons. They just beat the defending champion Cavaliers.
While San Antonio did have their stars against OKC, Kawhi Leonard didn't last the whole game. He's going to be okay but getting hit in the head is never okay. Youch.
Maybe the Clippers are figuring things out a bit but they're going against a Grizzlies team that's trying to figure out THEIR line-ups.
Robert Covington has made so many clutch plays for the Sixers. Here's another one.
Dog days of the NBA season, I tell you. So I'll give YOU a dog day.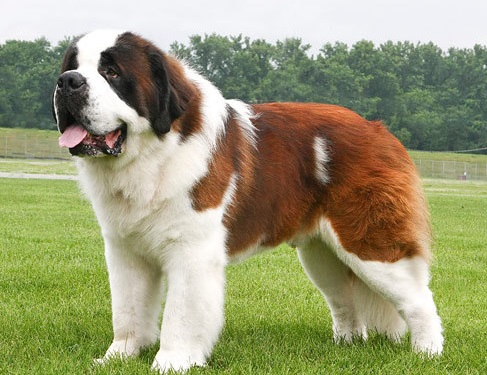 LINE CROSSER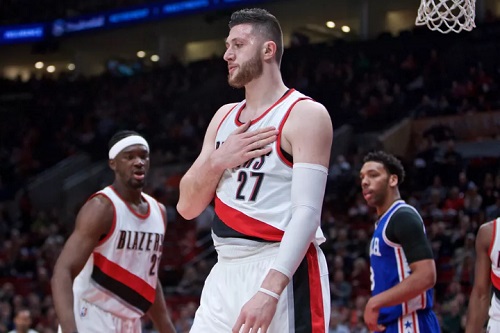 (PHOTO CREDIT: Craig Mitchelldyer/USA Today.)
Russell Westbrook and LeBron James had triple-doubles. But I'm giving this to the new big Blazer, Jusuf Nurkic.
28 points, 20 rebounds, 8 assists, 6 blocks.
It's really too bad the Nuggets couldn't get this out of him.
WATCH THIS PLAY
(VIDEO CREDIT: NBA.)
The younger Sabonis put this one on Dewayne Dedmon's mug. Domantas Sabonis made Dewayne… a ded mon. I'm so hilarious.
---
Follow Rey-Rey on Twitter at @TheNoLookPass for all tweets about the NBA. Also, check out his podcast, Rey-Rey Is Fundamental.

us on FaceBook where we have additional NBA highlights! Thank you!
#SagerStrongForever