This is the Hangover. This is where I get drunk on the NBA as I recap last night's action as well as a few things going on around the league. Here's your word vomit.
03/08/2017
THE GAMES 03/07
POR 126 (27-35) @ OKC 121 (35-29)
LAL 111 (19-45) @ DAL 122 (27-36)
WAS 131 (38-24) @ PHX 127 (21-43)
THE GAMES 03/08
CHI 91 (31-33) @ ORL 98 (24-41)
BRK 105 (11-52) @ ATL 110 (35-29)
CHA 101 (28-36) @ MIA 108 (31-34)
NY 93 (26-39) @ MIL 104 (30-33)
TOR 94 (38-26) @ NO 87 (25-40)
UTA 115 (41-24) @ HOU 108 (44-21)
LAC 91 (38-26) @ MIN 107 (26-37)
DET 98 (31-33) @ IND 115 (33-31)
SAC 104 (25-39) @ SA 114 (50-13)
WAS 123 (39-24) @ DEN 113 (29-35)
BOS 99 (41-24) @ GS 86 (52-12)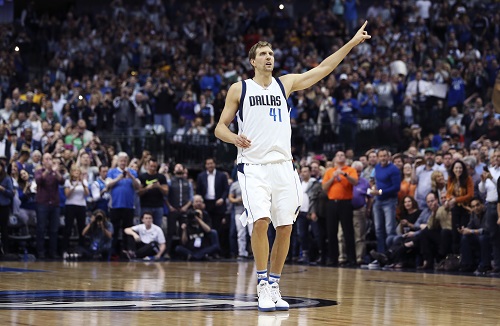 (PHOTO CREDIT: Getty Images.)
THE MAVS WILL BE FINE
So after that win over the Lakers on Tuesday, the Dallas Mavericks are 27-36. It's not a great record but it's good enough to be 1.5 games behind the 8th seed in the West, which is occupied by Denver. Portland is in the way, too, but it would do good for the Mavs to pay attention to themselves.
The Mavs have won three straight games. A lot of people thought they should go ahead and ride the tank downhill. But it turns out maybe they didn't have to and maybe they don't have to do so in the next few years.
Dirk Nowitzki (who is the sixth player in league history to score 30,000 points so congrats to that) has made it known that he'll play another year. But they are starting to form a core for the future that can make a seamless transition when Dirk does call it quits.
Harrison Barnes has done better than most people thought as the #1 option. He could shoot better from behind the arc but he is averaging a nice 20.0 points per game. Seth Curry has exploded recently as he was moved over to the starting two spot. His play was comparable (some even said better) to his more famous brother in the last week or so. Yogi Ferrell has been a boon and was made the starting point guard after a few scintillating performances during his days as a 10-day contractor. Wesley Matthews is still holding down the fort defensively and new acquisition Nerlens Noel adds even more defense to the Mavs. He's currently coming off the bench but he seems fine with that as long as he gets the minutes.
So on post-Dirk times, they have a young roster that can grow within. They are set for the next few years. And if they can add more young talent to that team, that's even better.
They're going to be okay.
THE REST OF THE LEAGUE
The Celtics are the only team to win in Oracle Arena the last two seasons. Avery Bradley is that guy that can make Stephen Curry's life a living hell. Boston can give that same life to Kyrie Irving. They may not be championship material just yet but they can definitely tire a top tier team out in a slugfest.
There was talk about arrogance from the Warriors (we saw Curry talk trash to Jaylen Brown after a buzzer-beating three). All top teams had some sort of arrogance when they were ruling the league. You'd probably have that attitude, too, if the game you're playing has become too easy for your tastes. Plus that arrogance adds to that intimidating aura; they know it would drive their opponents (and their fan bases) mad. I'm just like whatever with it.
Oh, yeah. Markieff Morris hit Mason right in his Plumlees.
Wizards' Markieff Morris drops Nuggets' Mason Plumlee with excrutiating below-the-belt kick pic.twitter.com/iaKq8teOzh

— Ben Golliver (@BenGolliver) March 9, 2017
There's a lot of talk behind the scenes of the Lakers. Ramona Shelburne has the juicy story at ESPN. I'll just say this, though.
Jim Buss probably got way too much criticism during his basketball operations tenure. He and Mitch Kupchak worked together in the last decade or so. Whenever the Lakers did a good move, people praised Mitch. When they did a bad transaction, Jim got the blame. With that said, the lack of communication with then-advisor Magic Johnson got them in hot water. And outside the draft, the tandem of Jim and Mitch haven't done any hot moves as of late. It was time for them to go.
The Kings are bad. We know this. We just didn't think they were so bad they would lose a 28-point lead against those zombies, the Spurs. And the Spurs were without Kawhi Leonard AND LaMarcus Aldridge. Go, Kangz, indeed.
LINE CROSSER 03/07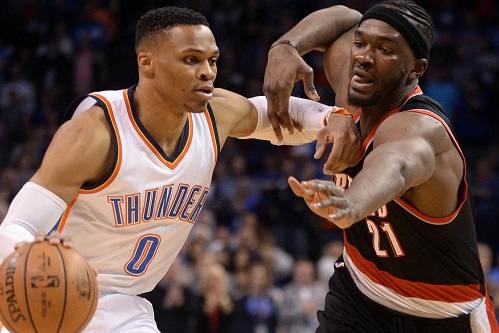 (PHOTO CREDIT: Getty Images.)
Russell Westbrook, of course, because he's a regular here. He did another monster scoring game.
58 points, 9 assists, 3 steals.
Amazingly, that's still not the season high in scoring as we all remember Klay Thompson went for 60.
LINE CROSSER 03/08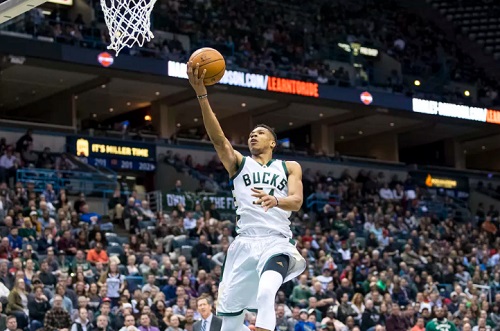 (PHOTO CREDIT: Jeff Hanisch/USA Today.)
Giannis Antetokounmpo loves treating the Knicks like ants.
34 points, 13 rebounds, 7 assists, 4 steals.
Shoutout to Elfrid Payton, who had a triple-double for the second straight game.
WATCH THIS PLAY 03/07
(VIDEO CREDIT: NBA.)
Let's go and see Dirk hit 30K.
WATCH THIS PLAY 03/08
(VIDEO CREDIT: NBA.)
The Greek gettin' a little freak nasty in this biz.
---
Follow Rey-Rey on Twitter at @TheNoLookPass for all tweets about the NBA. Also, check out his podcast, Rey-Rey Is Fundamental.

us on FaceBook where we have additional NBA highlights! Thank you!
#SagerStrongForever