This is the Hangover. This is where I get drunk on the NBA as I recap last night's action as well as a few things going on around the league. Here's your word vomit.
03/06/2017
THE GAMES
MIL 112 (29-33) @ PHI 98 (23-40)
NY 113 (26-38) @ ORL 105 (23-41)
MIA 106 (30-34) @ CLE 98 (42-20)
GS 119 (52-11) @ ATL 111 (34-29)
CHI 95 (31-32) @ DET 109 (31-32)
BRK 122 (11-51) @ MEM 109 (36-28)
POR (26-35) @ MIN (25-37) *POSTPONED*
IND 88 (32-31) @ CHA 100 (28-35)
HOU 110 (44-20) @ SA 112 (49-13)
SAC 96 (25-38) @ DEN 108 (29-34)
NO 83 (25-39) @ UTA 88 (40-24)
BOS 102 (40-24) @ LAC 116 (38-25)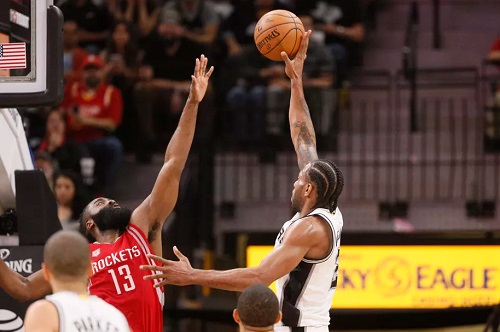 (PHOTO CREDIT: Soobum Im/USA Today.)
SILENT MVP CANDIDATE
We always talk about Russell Westbrook and James Harden fighting over the MVP award. Some people will argue that LeBron James should win it every season. Before he went down, Kevin Durant was talked about as a candidate. Even with the down year (at least, for him), Stephen Curry got some whispers, too. And with the Celtics' surge this season, Isaiah Thomas has been getting MVP talks.
Pardon me if you've heard this before but no one is, once again, paying attention to San Antonio. Then for some reason, the crowd got loud for one Kawhi Leonard.
In a pivotal Rockets/Spurs contest, Kawhi came up big against Harden. You'll see in my ever-so-awesome WATCH THIS PLAY section but Leonard made a three and then a clutch block on Harden in the waning seconds of the game. Leonard matched Harden's 39 points and the Spurs came away with the win, prompting a lot of people in (social) media to orgasmically scream that Kawhi should be the MVP.
But he's been (or should have been… or should be) in the conversation. Leonard averages 26.3 points per game and is arguably the best perimeter defender in the game (some will come at me with Draymond Green, of course). Out of all the players mentioned for MVP, Kawhi does the most damage defensively. So why not Leonard for MVP?
Still, you can't really go wrong with Harden, Westbrook, James, or Leonard for MVP. Hell, Isaiah has a pretty damn good case, too, and Curry does have a chance for a three-peat on the award. When we're downplaying the statlines of Giannis Antetokounmpo and John Wall (who have MVP lines), you know it's a special season.
Anyway, the campaign for Kawhi to become MVP is picking up some noise. Of course, there should have been some noise in the first place. Then again, maybe it was already there; we just couldn't hear the tapping on the door from the Spurs.
THE REST OF THE LEAGUE
Don't take your eye off your man, Dennis Schroder.
(VIDEO CREDIT: NBAHighlightsDaily.)
Schroder was benched for the rest of the second half. The Hawks would eventually fall to the Dubs.
I'm not going to put the video here but Andrew Bogut broke his leg and he wasn't even a minute into the game and into his Cavs career. He was supposed to be their big man when the game decides to go big and physical and now the Cavs lost that option. They're going to have to find their 5 somewhere else now. What a way to go. Yikes.
Disney on Ice was happening in the Target Center the night before the scheduled Wolves game against the Blazers. Just like earlier in the season at Philadelphia, condensation on the court took over and the game was postponed. Safety comes first, obviously, but it also sucks to have your game rescheduled to some random date.
I dig the Players Only nights at Turner. And of course, I praise my old friend, Brent Barry, for seemingly being a natural as the play-by-play man.
LINE CROSSER
I'll give this to James Harden. Consolation prize, buddy.
39 points, 12 assists.
Still incredible this guy is leading the league in dimes. Shoutout to Elfrid Payton for his trip-dub.
WATCH THIS PLAY
(VIDEO CREDIT: NBA.)
The three. The block. The win. The Claw. The Spurs. Silent but violent.
---
Follow Rey-Rey on Twitter at @TheNoLookPass for all tweets about the NBA. Also, check out his podcast, Rey-Rey Is Fundamental.

us on FaceBook where we have additional NBA highlights! Thank you!
#SagerStrongForever