This is the Hangover. This is where I get drunk on the NBA as I recap last night's action as well as a few things going on around the league. Here's your word vomit.
03/05/2017
THE GAMES
IND 97 (32-30) @ ATL 96 (34-28)
GS 112 (51-11) @ NY 105 (25-38)
BOS 106 (40-23) @ PHX 109 (21-42)
ORL 114 (23-40) @ WAS 115 (37-24)
UTA 110 (39-24) @ SAC 109 (25-37) [OT]
OKC 89 (35-28) @ DAL 104 (26-36)
NO 105 (25-38) @ LAL 97 (19-44)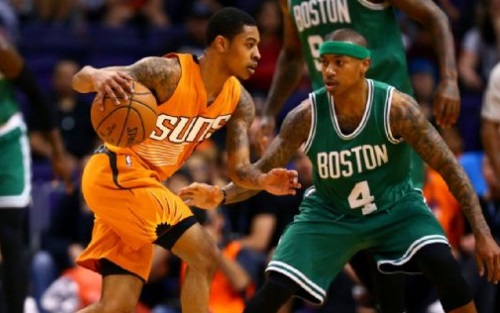 (PHOTO CREDIT: Mark J. Rebilas/USA Today.)
LET'S HEAR IT FOR THE "SHORT" PEOPLE
You know what's been effin' cool this season? Well, a lot of things have been effin' cool this season but Isaiah Thomas being an MVP candidate at 5-foot-whatever (listed at 5'9″) is awesome.
He was matched up against Tyler Ulis on Sunday night. Ulis was a second round pick by the Phoenix Suns in last year's draft. And another thing? Ulis listed at 5'10". So we have two guys under 6 feet going at it!
There was actually an awesome moment in the game where Isaiah and Tyler were both in a jump ball. How often does that happen?
(VIDEO CREDIT: NBA.)
Anyway, we know that Thomas has been the ultimate closer for the Celtics (in the league) this season. He is on his way to breaking the scoring record for most points per game in the fourth quarter. But on Sunday night, it was Tyler Ulis that closed the game. At Isaiah's expense.
With the game tied at 106 and with four seconds left, Thomas lost the ball to Marquese Chriss. The ball ended up going to Ulis and he flung a three over Thomas. The ball went through the hoop and the Suns scored the upset.
But I can't overlook how it was so cool to have these two guys under 6 feet highlighted. It gives hope to aspiring, "short" NBA players. We're in a league where a "not-so-big" Stephen Curry is winning MVPs against the hulking LeBron James. And now we're also in a league that, yes, players under 6 feet can not only thrive but be difference-makers.
As a 5'7″ dude myself, I can't emphasize how happy I am for that. Score one more for the "short guys."
THE REST OF THE LEAGUE
We had a few furious finishes on Sunday. I'll save the Ulis shot for last because that's my choice for "Watch This Play."
But first, let's get to the Jazz pulling out a close one against the Kings. It helps to have a tower like Rudy Gobert. Look at him tip in the game-winner.
(VIDEO CREDIT: NBA.)
In a Pacers/Hawks matinee, Indy did some good ball movement in the waning seconds. Slam dunk champion Glenn Robinson III was wide open in the corner for so long that he could've sent a text message during that time. He converts the corner three with no problem at all for the win.
(VIDEO CREDIT: NBA.)
And here's one more: Bojan Bogdanovic makes the clutch corner three inside the final minute to give the Wizards the lead. That was the eventual game-winner.
(VIDEO CREDIT: The NBeye.)
What else went on? Well, Russell Westbrook's triple-double average is in danger. He has 633 assists in 63 games and he needs 7 in the next game to keep the 10.0 average.
The Pelicans finally won a game with both Boogie and Brow in the line-up. And of course the team they beat had to be the Lakers.
Finally, the Warriors snapped their dreaded two-game losing streak as they beat the Knicks. Stephen Curry had been slumping badly from three but he did make 5 of 13 from behind the arc. He set such a high bar last year that any semblance of a shooting drought will get people asking what's wrong. Listen. He was otherworldly last season. I'm just glad to know he's actually a human being like all of us. I think.
LINE CROSSER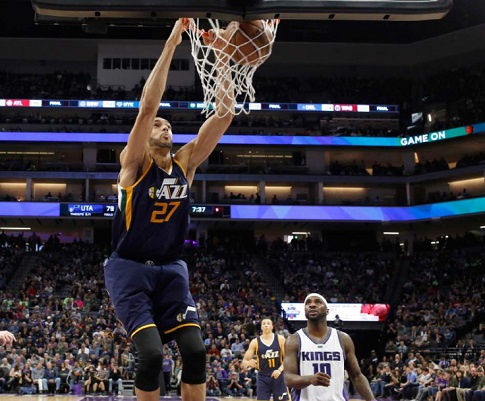 (PHOTO CREDIT: Rich Pedroncelli/AP.)
He had a game-winner to go along with this line. Rudy Gobert went for:
16 points, 24 rebounds, 3 blocks.
That is the Stifle Tower for ya.
WATCH THIS PLAY
(VIDEO CREDIT: NBA.)
The great thing about this is how we got to Ulis's three-pointer. Eric Bledsoe tied the game. And then Marquese Chriss got the ball from Isaiah Thomas. That led to the game-winner. Five points in four seconds. That's how you do it.
---
Follow Rey-Rey on Twitter at @TheNoLookPass for all tweets about the NBA. Also, check out his podcast, Rey-Rey Is Fundamental.

us on FaceBook where we have additional NBA highlights! Thank you!
#SagerStrongForever