This is the Hangover. This is where I get drunk on the NBA as I recap last night's action as well as a few things going on around the league. Here's your word vomit.
03/03/2017
THE GAMES
NY 102 (25-37) @ PHI 105 (23-38)
TOR 114 (37-25) @ WAS 106 (36-24)
MIA 99 (28-34) @ ORL 110 (23-39)
CLE 135 (42-18) @ ATL 130 (34-27)
LAC 101 (36-25) @ MIL 112 (27-33)
MEM 100 (36-26) @ DAL 104 (25-36)
BRK 97 (10-50) @ UTA 112 (38-24)
OKC 111 (35-27) @ PHX 118 (20-42)
SA 101 (47-13) @ NO 98 (24-38) [OT]
BOS 115 (40-22) @ LAL 95 (19-43)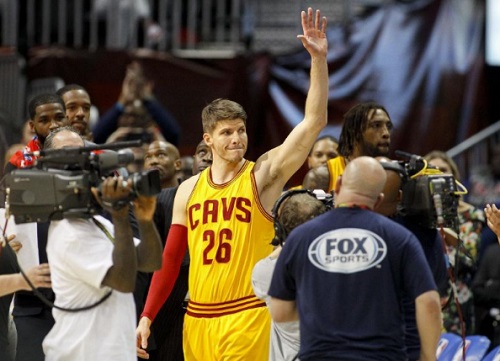 (PHOTO CREDIT: Brett Davis/AP.)
THREE-POINT BARRAGE CONTINUES
There is no doubt that the three-point shot has become an integral part of the game. And it's become a huge weapon for the Cleveland Cavaliers. They are second in three-point field goals made per game (13.1), three-point attempts per game (33.6), and three-point percentage (.388).
They also have the record for most three-pointers made in a playoff game with 25, which they did against the Atlanta Hawks last year. And guess who they went against on Friday night? The Atlanta Hawks.
Well, the Cavs beat them down in the first half with three after three. The Cavs led by 25 (doesn't the ATL hate 25-point leads?) at one point. But the Hawks refused to stay down as guys like Tim Hardaway, Jr. (36 points) and Paul Millsap (27 points) brought the deficit down to one point late.
But a former Hawk made another late three to give the Cavs a four-point cushion. After Kyrie Irving's lay-up, the win was sealed. By the way, that same former Hawk (Kyle Korver) broke the record for most three-pointers in a regular season game with that 25th trey. Man, we love the number 25 today.
Well, except Atlanta. Sorry, ATL.
The thing is that the Cavs don't even have Kevin Love back yet. Once he returns, it's another form of attack the Cavs have. They may have showed vulnerability as of late but when the Cavs are shooting like this (as well as LeBron James randomly getting fiery from behind the arc), it might be very difficult to wrest the trophy away from them.
This is basketball in 2017.
THE REST OF THE LEAGUE
Lakers vs Celtics is definitely not what it used to be.
The Pelicans are 0-4 with the two big guys playing together. Yeah, yeah. I shouldn't make a big deal out of it but the eyesore is starting to stick out a bit more.
Big win by the Raptors over the Wizards. It was revenge after their home loss on Wednesday. This was their fifth win in six games and it's important for them to stay afloat as Kyle Lowry continues to be on the shelf. T-Dot is in a virtual tie with said Wizards team and both teams are three games behind the second-seeded Celtics.
The Heat were dealt a bit of a blow as they lost to the not-so-good Magic team earlier. They are 1.5 games behind idle Detroit for the final playoff spot. In the meantime, we both know the Knicks and the Sixers aren't going anywhere but they've had some furious finishes this season.
With the OT win by the Spurs earlier, they are now only 2.5 games behind the Warriors. Oh, those ninjas from San Antonio. But hey, let's continue to ignore them, right? They've won six straight.
Suddenly, I realize that 4-7 in the West are three games behind. The Thunder lost a key game in a winnable contest against the Suns. But the Clippers aren't looking great, either, even when all their principal guys are back.
Let's see how everyone does in what I consider to be the most "boring" month of the regular season.
LINE CROSSER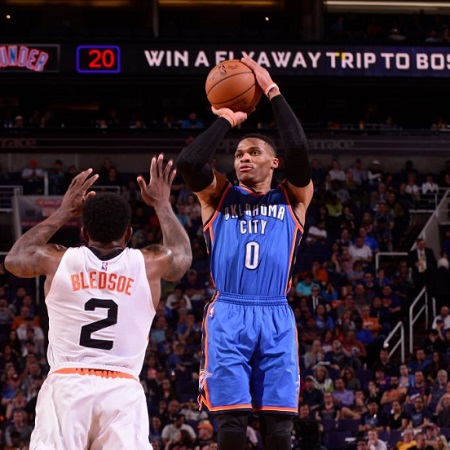 (PHOTO CREDIT: Getty Images.)
Well, he did it again. He fell short of that triple-double but come on. Russell Westbrook is just crazy.
48 points, 17 rebounds, 9 assists.
Four straight games of 40 points.
WATCH THIS PLAY
(VIDEO CREDIT: Toronto Raptors.)
Norman Powell takes the pass, drives down the lane, and hammers it over a Polish Hammer.
---
Follow Rey-Rey on Twitter at @TheNoLookPass for all tweets about the NBA. Also, check out his podcast, Rey-Rey Is Fundamental.

us on FaceBook where we have additional NBA highlights! Thank you!
#SagerStrongForever