This is the Hangover. This is where I get drunk on the NBA as I recap last night's action as well as a few things going on around the league. Here's your word vomit.
03/01/2017
THE GAMES
NY 101 (25-36) @ ORL 90 (22-39)
WAS 105 (36-23) @ TOR 96 (36-25)
DAL 95 (24-36) @ ATL 100 (34-26)
PHI 98 (22-38) @ MIA 125 (28-33)
DEN 110 (28-33) @ MIL 98 (26-33)
DET 86 (29-32) @ NO 109 (24-37)
CLE 99 (41-18) @ BOS 103 (39-22)
IND 99 (31-30) @ SA 100 (46-13)
MIN 107 (25-36) @ UTA 80 (37-24)
HOU 122 (43-19) @ LAC 103 (36-24)
BRK 109 (10-49) @ SAC 100 (25-36)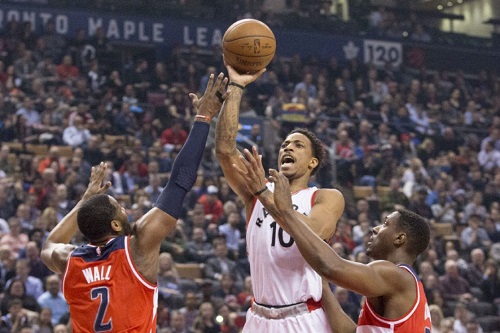 (PHOTO CREDIT: Carlos Osorio/Toronto Star.)
CAVS STILL A SLAM DUNK IN THE EAST?
When healthy, yeah, the Cavs are still heads and shoulders above the rest.
But will they be?
The excellent Andrew Lynch from FOX brought this up: LeBron James could be worn down by the postseason. Basically, he's going to break 3,000 minutes this season. The last time he did that was 2010-11 and that's when the Heat lost to the Dallas Mavericks in the Finals.
Yes, LeBron James may look superhuman NOW. But will he still be that in May or June?
Don't get me wrong, though. Celtics had their biggest win of the season by beating LeBron and the Cavs. But the Cavs still don't have Kevin Love and he's their third (or even second) scorer. He's very important to their attack.
Still, it gives Celtics confidence that they can take them on this season. You try to get what you can in the regular season.
As for the Raptors and Wizards, T-Dot is going to have a hard time keeping their position with Kyle Lowry out for a minimum of a month. The Wiz have recovered strongly since their slow start and John Wall and Bradley Beal are really realizing their potential as a backcourt. They've taken the Cavs to the limit before and both the Wizards and the Celtics think they have enough to unseat the Cavs.
The Raptors? Well, they've lost three close games against the Cavs this season. They have to keep pushing and in my view, they have the highest mountain to climb. The Celtics never thought they'd be in this position this fast and the Wizards were left for dead before they rose from the ashes. The Raptors were expected to push the Cavs and the #1 seed but now they're going to struggle to keep home court in the first round.
Don't forget the veteran Hawks team, too, that is waiting in the wings.
THE REST OF THE LEAGUE
Go, Nets. They stopped their 16-game skid by beating the Kings, who look more hapless than their record indicates.
The Pelicans finally won a game. The funny thing was that DeMarcus Cousins was suspended to the team is still 0-3 with Boogie playing. I just find that funny; don't look too much into that.
So we know Kevin Durant is out. I still think the Warriors are the favorites. But now they're basically a bit of a stripped-down version of the team from the last two years. Gone is the depth that helped the Warriors through the lean games. They do still have Andre Iguodala and Shaun Livingston from that core. But they used to have big guys like Andrew Bogut, Festus Ezeli, and Mo Speights. Yes, Durant replaced Harrison Barnes but they also lost Leandro Barbosa and Brandon Rush. Stephen Curry will have to go back to that MVP level again and Draymond Green will have to put up some more points.
I think they'll be fine but I am pretty sure Durant won't be the same guy the rest of the season. Injuries can really shake up your mentality (especially knee injuries). He likely won't be in the same speed and rhythm. While Durant will probably have some games where he looks awesome and we'll all claim he's back, there will be a lot of games where he'll be tentative and a bit slower. That's just the reality of it. I'll be very surprised if he was back to his regular self at some point this season.
Hell, he may not even be back. Again, knees are funny.
This opens it up for the Spurs, Rockets, and Clippers. It's easy to NOT believe in the latter two teams because Rockets have Mike D'Antoni as their coach and the perception is that they don't play defense. The Clippers have really struggled since that fast start plus they haven't made it to the Conference Finals. As for the Spurs? It's business as usual. Nobody ever pays attention to them but yet they'll always be there fighting 'til the end.
San Antonio is just 3.5 games behind those vaunted Dubs.
Jahlil Okafor puts effort on defense like I put effort on boiling water.
Jahlil: time to play defense

TRUST THE PROCESS

Jahlil: nah, I'm just gonna chill pic.twitter.com/OXGVSZAv9o

— SB Nation (@SBNation) March 2, 2017
And this basketball play describes my dating life.
John Wall destroys Marcin Gortat with a rocket pass. pic.twitter.com/Afzg3MCNo7

— Kyle Weidie (@Truth_About_It) March 2, 2017
Man, that really hurt.
Lastly, I can't raise cats because I'm allergic to them but I did talk about the #RaiseTheCat movement that was started by @GipperGrove after a Sixers win (inspired by Ben Simmons carrying cats in a picture). Anyway, support the movement if you're into felines by buying this shirt. RaiseTheCat.Com. Put it on the pedestal.
Fresh. https://t.co/IfAv0L5MzJ#RaiseTheCat pic.twitter.com/oOD03U8hvQ

— Dennis (@GipperGrove) February 25, 2017
LINE CROSSER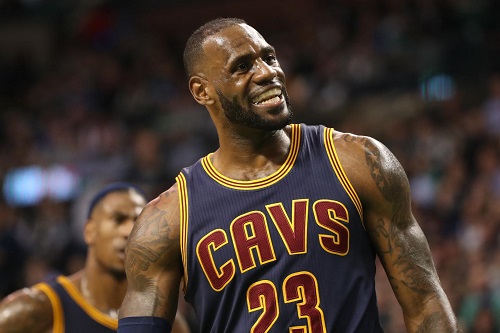 (PHOTO CREDIT: Matthew J. Lee/Boston Globe.)
While we speak of LeBron possibly being human by late spring, this is still what he can do right now:
28 points, 13 rebounds, 10 assists.
Shoutout to Nikola Jokic, who got his fourth triple-double this season. That's so impressive but then you realize what Russell Westbrook is doing…
WATCH THIS PLAY
(VIDEO CREDIT: Ximo Pierto.)
Kawhi Leonard hits the clutch J over Paul George with 2.4 seconds left. Silent assassination.
---
Follow Rey-Rey on Twitter at @TheNoLookPass for all tweets about the NBA. Also, check out his podcast, Rey-Rey Is Fundamental.

us on FaceBook where we have additional NBA highlights! Thank you!
#SagerStrongForever