This is the Hangover. This is where I get drunk on the NBA as I recap last night's action as well as a few things going on around the league. Here's your word vomit.
02/26/2017
THE GAMES
SA 119 (45-13) @ LAL 98 (19-41)
PHX 96 (18-41) @ MIL 100 (26-31)
MEM 105 (34-26) @ DEN 98 (27-32)
UTA 102 (37-22) @ WAS 92 (34-23)
POR 106 (24-34) @ TOR 112 (35-24)
BOS 104 (38-21) @ DET 98 (28-31)
NO 110 (23-37) @ OKC 118 (34-25)
CHA 121 (25-34) @ LAC 124 (36-23) [OT]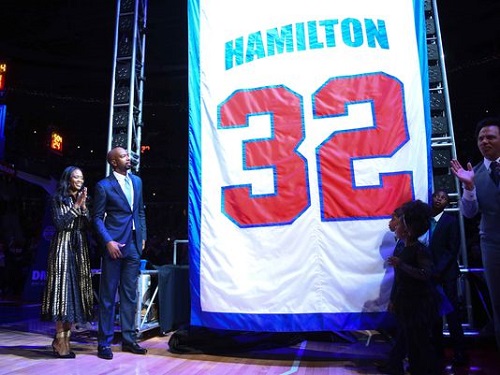 (PHOTO CREDIT: Tim Fuller/USA Today.)
PISTON GUARD RIP HAMILTON
We're leading off with this: Richard "Rip" Hamilton got his jersey retired by the Pistons. He's the third member of the 2004 title team that went up the rafters.
What I really remember from Hamilton was that he was one of the best ever that moved without the ball. And that he seemed to have unlimited energy. He ran around picks and moved around the court just to find an open space for a jumper. It seemed like he never got tired.
Also, the clear mask that he wore became a signature. I thought he didn't need to wear it; I just thought it was something he got used to but he actually needed it to avoid reconstruction surgery. Still, it was an unmistakable identifier and opponents were driven crazy by the masked man that ran around all night long.
Today, the earlier version of Rip would drive the analytics community crazy because he took so many midrange jumpers. Still, he could make the three if the team needed it; he ended up leading the league in three-point percentage in 2006.
Hamilton was the guy that got buckets for the Pistons in the mid-2000s when the team needed it. He was a huge part of the team that went to the Eastern Conference Finals six straight seasons, the Finals in consecutive seasons, and especially the 2004 championship squad.
Here's the entire retirement ceremony:
(VIDEO CREDIT: Detroit Pistons.)
Congratulations to Richard Hamilton.
THE REST OF THE LEAGUE
As this was being written, two Knicks are no longer active on the team.
Brandon Jennings apparently asked for his release and he got it. He said he wanted a chance to play on a playoff team. He just basically said the Knicks sucked. He's not wrong but maaaaan. Moded!
Joakim Noah is also out for the season due to knee surgery. So the Knicks lost two guys in one fell swoop. Oh, boy.
Mark Cuban was so incensed over a Bleacher Report tweet that he went lengths to have them delete it. It's basically a tweet of Dirk Nowitzki airballing and it said DIRK FOREVER. It was meant to be in jest and in humor, I'm sure, but even I get that it isn't exactly funny. I likely would've said, "Well, that's messed up." But I'm sure some people would find it high-larious.
Cuban took it further and went to the President of Turner Sports. Eventually, BR deleted the tweet. While this seems petty, it also shows that Cuban has his players' backs. So I actually get where Mark Cuban is coming from. Even if it did seem ridiculous at first glance.
Shaquille O'Neal is apparently done feuding with JaVale McGee. We can all thank Shaq's mom for that. This went on for way too long and way too far. His reasoning for picking on McGee was that Kareem Abdul-Jabbar did the same thing to him and that Shaq had to earn his respect.
Dude, Kareem never went out of his way week after week after week to lambast Shaq. Also, everyone is different. Each person takes criticism and bullying differently. Some will ignore and some will fight back. I still think a sitdown (private or public) between the two should be done to put the feud away once and for all.
For the record, I do like Shaqtin' A Fool. The segment is not the problem; it's the incessant picking on JaVale that is the culprit of all of this. Also, JaVale's mom, Pam McGee, wants Shaq either suspended or fired. I don't know about that but I do think a sincere apology would be good enough.
The Pelicans are 0-3 since DeMarcus Cousins got there. Also, Cousins got his 18th technical foul of the season; he's about to serve yet another one-game suspension. Oh, boy.
LINE CROSSER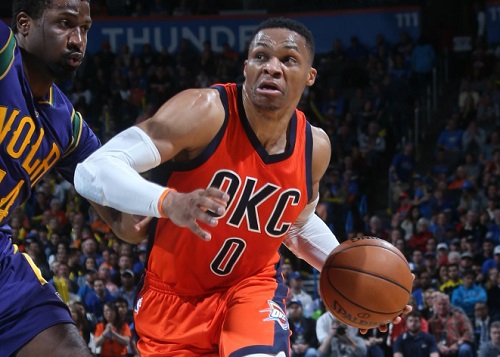 (PHOTO CREDIT: George Bridges/AP.)
I'm just ready to rename this section Russell Westbrook's line because he's practically on here every day. But again, you just cannot take these for granted:
41 points, 11 rebounds, 11 assists.
Seriously. You can't gloss over that. That's his third straight triple-double.
WATCH THIS PLAY
(VIDEO CREDIT: NBA.)
Westbrook drops one on the aforementioned Boogie. He even got Cousins to foul out. Yikes.
---
Follow Rey-Rey on Twitter at @TheNoLookPass for all tweets about the NBA. Also, check out his podcast, Rey-Rey Is Fundamental.

us on FaceBook where we have additional NBA highlights! Thank you!
#SagerStrongForever