This is the Hangover. This is where I get drunk on the NBA as I recap last night's action as well as a few things going on around the league. Here's your word vomit.
02/24/2017
THE GAMES
WAS 112 (34-22) @ PHI 120 (22-35)
MEM 92 (34-25) @ IND 102 (30-28)
BOS 97 (37-21) @ TOR 107 (34-24)
PHX 121 (18-40) @ CHI 128 (29-29) [OT]
UTA 109 (36-22) @ MIL 95 (25-31)
LAL 93 (19-40) @ OKC 110 (33-25)
DAL 84 (22-35) @ MIN 97 (23-35)
MIA 108 (26-32) @ ATL 90 (32-25)
BRK 109 (9-48) @ DEN 129 (26-32)
SA 105 (44-13) @ LAC 97 (35-23)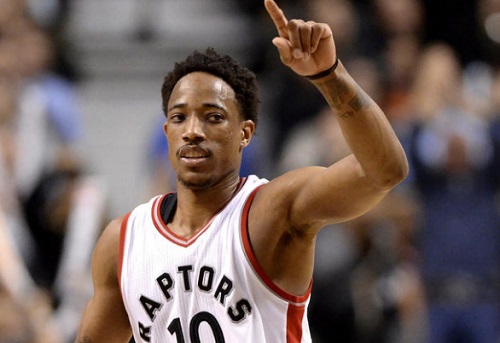 (PHOTO CREDIT: Frank Gunn/Canadian Press/AP.)
BATTLE IN THE EAST
Toronto made moves before the trade deadline by getting Serge Ibaka and P.J. Tucker. The deals scream WIN NOW for Canada.
Boston was criticized for staying the course and not making any trades. But the way Boston is built is different; they're all about the future and they have a more wide open window. We just didn't know Isaiah Thomas would turn into this terrifying scorer and we didn't think Boston would be within reach of the first seed in the East.
Of course, the Celtics fans aren't pleased with their team's loss against the Raptors on Friday night. But who would've thought they'd be in this position, right? And also, Toronto needed this win more than Boston did. Again, this team as constructed is built to win now and they have not been setting the world on fire the last few weeks. Kyle Lowry's wrist injury is scary, though, and the hope is that he's completely healthy by the time the playoffs get here. But DeMar DeRozan has also turned into an even more threatening scorer (he scored a career-best 43 points against Bawston) just like Isaiah did for the Celts so I'm sure the Raptors are pretty confident DeMar can hold down DeFort until then.
Let's not forget that while they did lose to the Sixers, the rejuvenated Wizards are lurking in the background. They had the NBA's best game of the year thus far in their thrilling match-up against the Cavs. It took a miracle three by LeBron James to beat the Wizards. So we shouldn't forget John Wall and company.
The scrum in the East below Cleveland is going to be juicy.
THE REST OF THE LEAGUE
Speaking of the East, the Heat are only two games behind the 8th seed, Detroit Pistons. They've won 15 of their last 17 games. I still think that is the wackiest extended winning streak I have ever seen and I have watched a lot of NBA in my life.
Ben Simmons will NOT play this season and this trend of lottery picks not playing in their first year continues for the Sixers. Remember that Nerlens Noel didn't play in his rookie year and Joel Embiid didn't play for two years. This is actually pretty disturbing for Philly and it sucks because they're having a feelgood season so far. I guess we'll have to wait for that Embiid/Simmons combo (Noel was sent to Dallas before the deadline).
I still can't gauge the Clippers until they're fully healthy and clicking. Chris Paul did come back to play against the Spurs but the Clips ended up losing. The Clippers keep coming up short in the CP3 era but I'll tell you this much: their fan base would rather have this than the Donald Sterling-ruled Clippers. Playoff seasons are better than 20-win seasons.
So JaVale McGee and Shaquille O'Neal are having a war of words to the point that the Warriors are talking to Turner Sports to stop picking on JaVale.
Now people are going that the Warriors are sensitive. They might be. Fine. But I love that the Warriors have JaVale's back.
JaVale didn't seem to like Shaqtin' A Fool from the start as evidenced by this awkward TNT interview. I'm not sure if McGee really lost money because of the segment itself; after all, he was hurt a lot in the last four seasons. But it certainly didn't help him. I would say that JaVale should've lightened up a bit.
The problem was that Shaq continued to prod McGee, even though it was clear he didn't like it. It culminated with that Dr. Strange video that put together a bunch of McGee bloopers. I don't blame McGee for defending himself yet Shaq decided to call him a bum on Twitter.
Maybe Shaq doesn't really think McGee is a bum but the problem is that Shaq is a television personality that millions can see. Perception is reality and even if Shaq doesn't really think so, saying McGee is a bum only reinforces people's minds that JaVale is just that. Maybe Shaq is doing this for "marketing purposes." Maybe he thinks this is just funny and he gets a kick out of McGee getting mad. Maybe he's getting ready for WrestleMania..
But really, Shaq is just being a bully at this point. He should just ease off on McGee, who is clearly hurt by these relentless jabs. It's really an unfair fight with Shaq having a television platform and McGee being a background player for the Warriors. I won't lie; I make fun of McGee as much as anyone out there. But there gets to a point where enough is enough. And Shaq should be more considerate of people's feelings.
Then again, maybe Shaq just doesn't give a f…
LINE CROSSER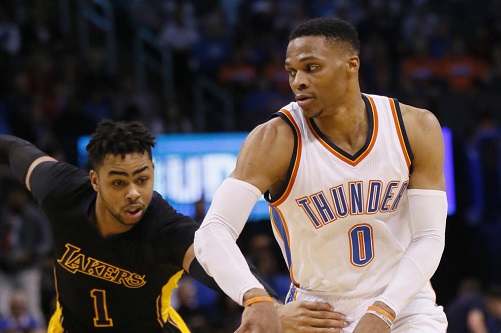 (PHOTO CREDIT: Sue Ogrocki/AP.)
Russell Westbrook shot really badly (4 for 18) but you cannot ignore this triple-double that is fully loaded:
17 points, 18 rebounds, 17 assists, 3 steals.
By the way, that's 28 triple-doubles for Russ this season. Still below Oscar Robertson's pace of 41 (OKC has played 58 games so far) but impressive all the same.
WATCH THIS PLAY
(VIDEO CREDIT: NBA.)
Dwyane Wade posterizes Alex Len after a trip on the hot tub time machine. Raise the roof, Dwyane.
---
Follow Rey-Rey on Twitter at @TheNoLookPass for all tweets about the NBA. Also, check out his podcast, Rey-Rey Is Fundamental.

us on FaceBook where we have additional NBA highlights! Thank you!
#SagerStrongForever