This is the Hangover. This is where I get drunk on the NBA as I recap last night's action as well as a few things going on around the league. Here's your word vomit.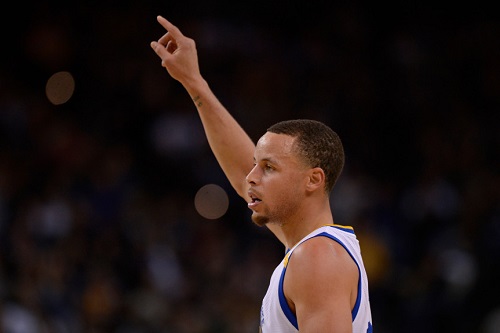 (PHOTO CREDIT: Jose Fajardo/Bay Area News Group.)
02/23/2017
THE GAMES
POR 112 (24-33) @ ORL 103 (21-38)
CHA 108 (24-33) @ DET 114 (28-30)
HOU 129 (41-18) @ NO 99 (23-35)
NY 103 (23-35) @ CLE 119 (40-16)
LAC 113 (35-22) @ GS 123 (48-9)
DEN 100 (25-32) @ SAC 116 (25-33)
DEALS WERE MADE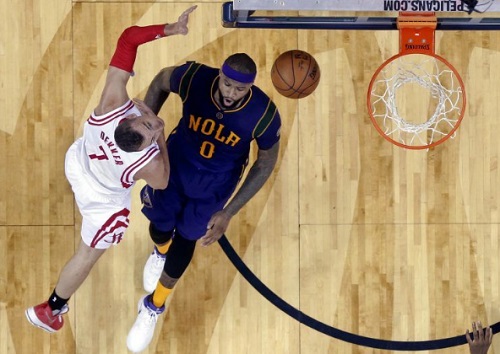 (PHOTO CREDIT: AP.)
Yes, they were! A good amount of trades were made on Thursday but nothing that would rock anybody's world. The Earth was already shattered when DeMarcus Cousins was sent to New Orleans for a bag of chips and an 8-hour blank VHS tape. Also, Serge Ibaka went to Toronto for Terrence Ross and Lou Williams went to the Rockets for Corey Brewer and a first-rounder.
So let's check out the other deals.
*Sixers trade Ersan Ilyasova to the Hawks for Tiago Splitter. They will also swap second round picks. Hawks add another shooter in Ilyasova and Splitter will just play out the remainder of the season with Philly. Ilyasova has been traded like 44 times this season.
*Sixers trade Nerlens Noel to the Mavericks for Andrew Bogut, Justin Anderson, and a protected first round pick. This entire time, Jahlil Okafor was the one rumored to be sent away. Instead, it's the defensive-minded Noel that got sent to Dallas. If he stays healthy, this could work out very well for the Mavs. As for the Sixers, Bogut will be released and Anderson should be a nice wing (although he couldn't stay in the Mavs' rotation). But they definitely took a step backwards. This is actually something Sam Hinkie would do as they add more picks to the pot (that protected first round pick could become two second round picks the following year if the Sixers don't get it this year). Noel is a boost and can help give Dirk Nowitzki one more playoff run.
*Bulls trade Taj Gibson, Doug McDermott, and a second round pick to the Thunder for Joffrey Lauvergne, Anthony Morrow, and Cameron Payne. I have no idea what the Bulls are doing. The Thunder add depth to the frontcourt and add a badly-needed shooter in McDermott. As for Chicago, Morrow has struggled with his shot, Lauvergne should be an okay piece, and Payne adds to the logjam in point guard (they already have Rajon Rondo, Isaiah Canaan, and Michael Carter-Williams). What?
*Hawks trade Mike Scott to the Suns for money. How far has Scott fallen? It's been mentioned that he'll be released after this. So both teams are essentially freeing up some money. Hooray, I guess.
*Rockets trade K.J. McDaniels to Nets for money. So Rockets free up cap space so they can sign one of the guys in waivers (the free agent pool right now is looking pretty strong). Also, K.J. became real expendable with the Lou Willams addition.
*Rockets trade Tyler Ennis to the Lakers for Marcelo Huertas. Lakers are taking a flier on the young Ennis, who was a former lottery pick. Huertas will be released by the Rockets and it's likely that'll be the last we see of him in the NBA.
*Suns trade P.J. Tucker to Raptors for Jared Sullinger and two second round picks. Raptors add another defensive-minded wing to help combat the East powerhouses like Boston and Washington and the East ruler in Cleveland. Well done by the Raptors in this trade deadline. Meanwhile, Suns are stockpiling assets and the not-so-conditioned and hurt Sullinger will play out the rest of his deal.
Deron Williams was waived and he's expected to go to Cleveland. But we'll see.
Indiana apparently gauged Paul George's trade value with the Celtics trying to pry him loose. This did not make George happy and the Pacers have a lot of convincing to do in the next 18 months. There were also strong rumblings that George would only take long-term deals with either Indy or the Lakers.
Jimmy Butler was also rumored to be dealt but instead the Bulls kept him while the front office made the team worse. Yikes.
There was also a Derrick Rose/Ricky Rubio straight swap rumored. In the end, they stood pat.
And there was nothing wrong with the Celtics standing pat. A lot of people on social media hated that they did but you just can't trade for the sake of trading. I'm sure Danny Ainge tried really hard to get Paul George. But in the end, they're still a young, competitive team and they stilll have their draft picks. They'll have a better gauge on where the team is by this summer. The Celtics will be fine.
THE REST OF THE LEAGUE
So there's this really cheesy 90s sitcom-like intro featuring the NBA all-stars. Too good.
(VIDEO CREDIT: snoopryan.)
Oh, boy. In reference to what Vlade Divac said about those DeMarcus Cousins trade proposals:
I MADE A BETTER SIGN TWO DAYS AGO pic.twitter.com/ZeKefTK2W5

— EriknSacramento (@EriknSacramento) February 24, 2017
It's still tough to judge the Clippers. Chris Paul is still out although I'm sure the Warriors think beating the Clips is like having a 100-meter dash against a toddler. Look at the way the Dubs decimated them with 50 friggin' points in the third quarter. Sometimes, life can be so unfair.
Boogie was fantastic for the Pelicans. So was the Brow. Unfortunately, most of the team wasn't. Their third leading scorer was Omri Casspi (also acquired in that deal) but then he broke his hand. I guess it just never stops.
By the way, does Boogie Cousins look happy or what? This is powerful cheese.
😬😂 #DeMarcusCousins pic.twitter.com/DTo6qd2yoa

— Amy Combs (@AmyBethCombsNBA) February 24, 2017
The Pelicans went against the worst match-up possible with the bombing Rockets. Lou Williams IMMEDIATELY made an impact with 27 points. It's the easiest possible situation for Lou because he went into the system where shooting is encouraged. That's what Mike D'Antoni does.
The Pistons stood pat and somehow got a comeback win against the slumping Hornets. While we know Kentavious Caldwell-Pope can defend, his offense is still in question. He answered it for at least one night as he scored 33, including a game-tying three that sent it to overtime.
It's hilarious that the Kings won. Maybe it's because Willie Cauley-Stein has been unleashed.
Good on you, Portland, for winning. The trade deadline for the Knicks had been stressful and I'm sure the players are glad it's over.
The problem for the Knicks, though? They still suck.
Charles Barkley knows. (Psst. The best part is around 0:52.)
(VIDEO CREDIT: Ximo Pierto.)
LINE CROSSER
Boogie nearly got a 5×5.
27 points, 14 rebounds, 5 assists, 4 blocks, 5 steals.
Shoutout to LeBron James for getting his sixth triple-double. Speaking of Bron…
WATCH THIS PLAY
(VIDEO CREDIT: NBA.)
LeBron chases Courtney Lee and snuffs his dunk attempt.
That is my dating life in one basketball play.
---
Follow Rey-Rey on Twitter at @TheNoLookPass for all tweets about the NBA. Also, check out his podcast, Rey-Rey Is Fundamental.

us on FaceBook where we have additional NBA highlights! Thank you!
#SagerStrongForever