This is the Hangover. This is where I get drunk on the NBA as I recap last night's action as well as a few things going on around the league. Here's your word vomit.
02/16/2017
THE GAMES 02/15
SA 107 (43-13) @ ORL 79 (21-37)
IND 104 (29-27) @ CLE 113 (39-16)
PHI 108 (21-35) @ BOS 116 (37-19)
CHA 85 (24-32) @ TOR 90 (33-24)
MIL 129 (25-30) @ BRK 125 (9-47)
DAL 91 (22-34) @ DET 98 (27-30)
NO 95 (23-34) @ MEM 91 (34-24)
MIA 117 (25-32) @ HOU 109 (40-18)
MIN 112 (22-35) @ DEN 99 (25-31)
POR 88 (23-33) @ UTA 111 (35-22)
LAL 101 (19-39) @ PHX 137 (18-39)
NY 105 (23-34) @ OKC 116 (32-25)
ATL 84 (32-24) @ LAC 99 (35-21)
SAC 86 (24-33) @ GS 109 (47-9)
THE GAMES 02/16
WAS 111 (34-21) @ IND 98 (29-28)
BOS 103 (37-20) @ CHI 104 (28-29)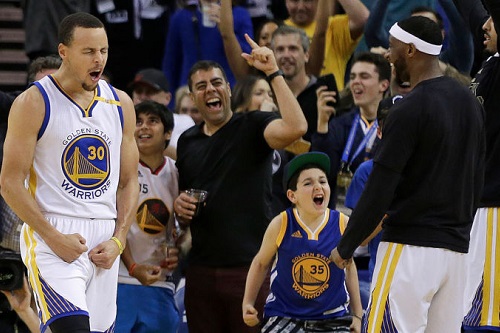 (PHOTO CREDIT: Ben Margot/AP.)
THE WARRIORS' GREAT STRETCH
So you have noticed that the Golden State Warriors are 47-9, right? They are on pace to win 69 games this season, which is amazing since that number has only been eclipsed twice. We both know who did that: the 1995-96 Chicago Bulls with 72 and, yes, last year's Warriors with 73.
The Bulls actually followed that historic season with another 69 wins and I used to marvel over that two-year dominance. The Warriors are actually not far behind with that as the 2015 Warriors won 67 games.
But what about during a three-year stretch? Well, the Bulls followed up those seasons of 72 and 69 wins with a 62-win campaign. That 1997-98 season was brutal for the Bulls (well, brutal compared to the two previous years). They didn't have Scottie Pippen for half the season. And the team was really aging at that point. Still, 203-43 (.825) in the regular season is incredible and was the best three-year stretch in history.
The Warriors are in their prime and they just added Kevin Durant. Everyone pretty much thought they were going to flirt with 70 wins as they added the 2014 MVP to a record-setting squad. So yeah, they're going to go over the 63 wins needed to equal that Bulls' three-year stretch. Of course, they're not aiming for that but I'm just pointing out how remarkable they've been able to be dominant in the regular season for so long.
But of course, the Bulls won titles in each of those three seasons. As we all know last season, the Warriors…
THE REST OF THE LEAGUE
More Knicks hijinks. Carmelo Anthony has been named to the all-star team to replace Kevin Love. The irony of this is amazing.
I don't even think Melo's had a great season. But the big men I would've picked over him are injured. Joel Embiid and Jabari Parker are hurt. Even Kristaps Porzingis is nicked up. Bradley Beal would've been a great replacement, too, but the East has too many guards as is. Beal expressed his displeasure over that pick.
But whatever. The casuals will love it. Anthony is still a big name even if the hardcores think they could've picked someone better.
Finally, we had this controversial finish in Chicago.
(VIDEO CREDIT: Ximo Pierto.)
So Marcus Smart was called for a foul there on Jimmy Butler. Butler would convert the foul shots and the Bulls would go on to win the game. You can decide what you think on the replays.
The L2M report said the refs made the correct call. Still, that ain't much of a touch and at this point, refs let that go. Crushing loss for the Celtics.
LINE CROSSER 02/15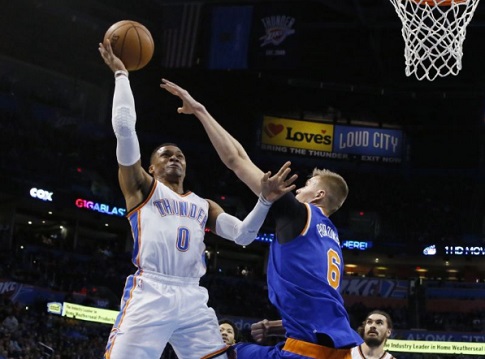 (PHOTO CREDIT: Sue Ogrocki/AP.)
James Harden got Triple Double #15 but Russell Westbrook's trip-dub was slightly better. Plus his team won!
38 points, 14 rebounds, 12 assists, 3 steals.
That makes it 27 for Westbrook going into the all-star break.
LINE CROSSER 02/16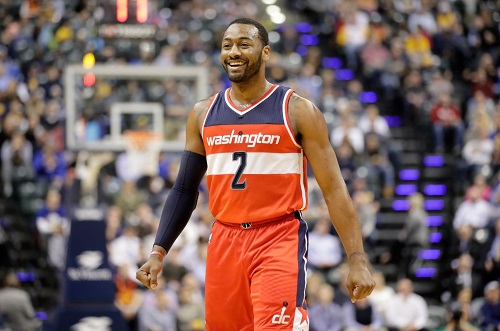 (PHOTO CREDIT: Andy Lyons/Getty Images.)
Nothing super eye-popping on the statlines of Thursday but John Wall had a solid:
20 points, 12 assists.
The Wizards stay hot going into the break.
WATCH THIS PLAY 02/15
(VIDEO CREDIT: NBA.)
Andrew Wiggins uses those springs to get one over Nikola Jokic.
WATCH THIS PLAY 02/16
(VIDEO CREDIT: NBA.)
Crafty Robin Lopez. He cherrypicks and then does a spin move to fool Al Horford before putting it down for the stuff.
---
Follow Rey-Rey on Twitter at @TheNoLookPass for all tweets about the NBA. Also, check out his podcast, Rey-Rey Is Fundamental.

us on FaceBook where we have additional NBA highlights! Thank you!
#SagerStrongForever