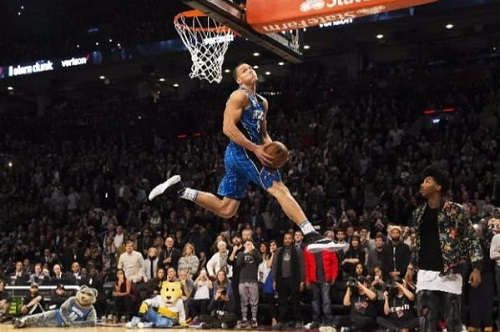 (PHOTO CREDIT: Mark Blinch/The Canadian Press/AP.)
So here are the contestants for the 2017 Slam Dunk Contest.
Aaron Gordon (Magic)
DeAndre Jordan (Clippers)
Glenn Robinson III (Pacers)
Derrick Jones, Jr. (Suns)
Most will recognize Gordon from last season and DeAndre Jordan is obviously known as the man in the middle of Lob City. Glenn Robinson III is, yes, the Big Dog Glenn Robinson's son and Jones is virtually an unknown who's barely played in the league but has hops that are unbelievable.
So yeah, Gordon is the definite favorite. You'll recognize his stuff from last season:
(VIDEO CREDIT: JKONG618.)
Some people said he was robbed last year (Zach LaVine refused to defend his crown and was later injured in a game against Detroit). So most will probably have him winning this year's dunk contest.
But what about the other three?
Here's DeAndre Jordan:
(VIDEO CREDIT: Swish Scope.)
Those dunks look impressive. What he has to rely on is his power since he's a big man dunking; those guys normally get penalized because of their height. The 360 between-the-legs dunk may be his ace in the hole but I feel Gordon can top that so Jordan really has to bring in his creativity and power dunking.
Here's Glenn Robinson the third:
(VIDEO CREDIT: BallIsLife.)
Nothing we haven't seen before (his highlights start at 1:13). But if he can provide something that we have never seen before in the dunk contest, it would be great. There's no doubt about his athleticism but I don't see how he wins with that crop of dunks. He'll really have to bring it tomorrow.
And the wild card, Derrick Jones, Jr:
(VIDEO CREDIT: BallIsLife.)
Unfortunately for Jordan, Jones can do that 360 between-the-legs dunk, too. His bounce seems unlimited and it definitely helps that he is the youngest and has the least mileage out of all of them. His power dunks are terrifying and this video that's being shown is from high school. It should be a really good show on Saturday night.
PREDICTION: Jones "upsets" Gordon in the Finals.
---
Follow Rey-Rey on Twitter at @TheNoLookPass for all tweets about the NBA. Also, check out his podcast, Rey-Rey Is Fundamental.

us on FaceBook where we have additional NBA highlights! Thank you!
#SagerStrongForever