This is the Hangover. This is where I get drunk on the NBA as I recap last night's action as well as a few things going on around the league. Here's your word vomit.
02/14/2017
THE GAMES 02/13
PHI 105 (21-34) @ CHA 99 (24-31)
SA 110 (42-13) @ IND 106 (29-26)
MEM 112 (34-23) @ BRK 103 (9-46)
ORL 116 (21-36) @ MIA 107 (24-32)
OKC 98 (31-25) @ WAS 120 (33-21)
DET 89 (26-30) @ MIL 102 (24-30)
BOS 111 (36-19) @ DAL 98 (22-33)
GS 110 (46-9) @ DEN 132 (25-30)
LAC 88 (34-21) @ UTA 72 (34-22)
NO 110 (22-34) @ PHX 108 (17-39)
ATL 109 (32-23) @ POR 104 (23-32) [OT]
THE GAMES 02/14
TOR 94 (32-24) @ CHI 105 (27-29)
CLE 116 (38-16) @ MIN 108 (21-35)
SAC 97 (24-32) @ LAL 96 (19-38)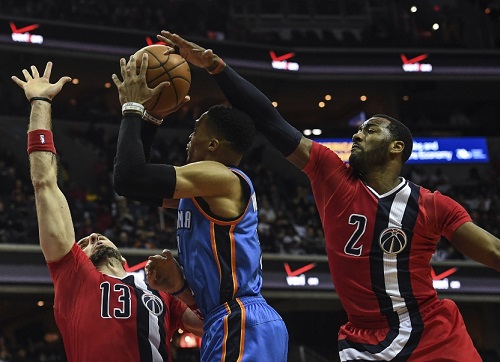 (PHOTO CREDIT: Toni L. Sandys/The Washington Post.)
I LOVE THIS GAME
Valentine's Day was yesterday. Hope you guys spent it with whoever and whatever you loved. Me? I spent the day in bed. I wish it was for pleasure but, unfortunately, I was sick.
Still, I'm not going to "hate" because I was under the weather. In fact, I'm going to tell you what I love about the NBA this season.
There's a lot to love.
*I love the triple-doubles Russell Westbrook and James Harden are putting up.
*I love LeBron James' evolution to combative veteran.
*I love Kevin Durant's near-flawless assimilation to the Golden State Warriors.
*I love the emergence of Giannis Antetokounmpo.
*I love Kristaps Porzingis's putback jams.
*I love the rejuvenated careers of Harden, Eric Gordon, and Mike D'Antoni.
*I love John Wall's drive and being motivated by disrespect.
*I love that the Atlanta Hawks find a way to hang around the East.
*I love Isaiah Thomas for making us "short guys" proud.
*I love the brotherhood of Kyle Lowry and DeMar DeRozan.
*I love Shaqtin' A Fool and I don't care what anyone says.
*I love that Yogi Ferrell became the 2017 version of Linsanity.
*I will always love Linsanity forever.
*I love that Kyrie Irving has become the go-to guy in the clutch.
*I love the baby Lakers even with their maddening inconsistency.
*I love Lob City even though they have trouble staying healthy.
*I love the skilled big men that I haven't mentioned yet. Anthony Davis, Karl-Anthony Towns, DeMarcus Cousins, Joel Embiid…
*I love Joel Embiid for having a lot of fun in the league.
*I love the basketball machine that is the San Antonio Spurs.
*I love that Kawhi Leonard pretty much is Tim Duncan 2.0 in terms of having a poker face during the game..
*I love that Gregg Popovich, Steve Kerr, and Stan Van Gundy don't "stick to sports." I love that they are super aware of this world.
*I love the absurdity of the drama in New York and, eventually, Los Angeles Lakers.
*I love the 90s slowdown ball provided by the Grizzlies, Jazz, and the Spurs.
*I love that the Celtics quickly rebuilt their team. I love that the Spurs never HAD to rebuild.
*I still love Paul George although he now feels like "the forgotten star."
*I love Jimmy Butler's career ascent. From 30th pick to one of the best players in the game today.
*I love that crazy Miami Heat win streak.
*I love Nikola Jokic's sudden impact in the game.
*I love that I just found out C.J. McCollum looks like Urkel.
*I love that all 30 teams have characteristics even though some of them don't even know what they are right now.
*I love this game.
THE REST OF THE LEAGUE
So the Toronto Raptors struck a deal to bring Serge Ibaka to the north. They gave away Terrence Ross and their first round pick from this year to Orlando.
I just never understood these deals by the Magic. It's been nearly five years since they dealt Dwight Howard and they still haven't had a core in place. Well, for one thing, they gave up on that core immediately last summer when they dealt Victor Oladipo, Ersan Ilyasova, and Domantas Sabonis for Ibaka.
All they have to speak for that deal is a lesser version of Oladipo in Ross and a late first-rounder. Granted, Ross could be something in a bigger role in Orlando. He did score 51 points in a game before. But you gave away so much just to get Ross and what could easily become a throwaway pick.
As for Toronto, they finally found someone in the four-spot and someone they can use as a mobile five in a small ball situation. Better yet, they might be able to catch the Cavs as they are vulnerable at the moment.
Kevin Love is getting knee surgery that will put him out until early April. That's a big void the Cavs will have and now they'll have to find a dependable third scorer from within. It also gives a chance for the Celtics, Wizards, Raptors, and Hawks to gain ground.
Charles Oakley is no longer banned in Madison Square Garden after a talk with Adam Silver and Michael Jordan. Daddy Silver always doing the job for the league, man.
Magic Johnson made his intentions known that he wants to become the President of Basketball Operations for the Lakers. He also said that it would take 3-5 years to rebuild the team. Hey, thanks, Master of the Obvious.
Self-imposed deadlines and all, Jim Buss did well in getting all these young assets on the team. It's unfair that he gets the brunt of the criticism yet when it's time for praise, Mitch Kupchak gets them. Once the summer comes, the power struggle is going to be ugly and I am not really sure that, even with Magic's infinite basketball wisdom, he can be really good at team-building. Even with the not-so-good record the Lakers have, they're on track with where they're going. Magic might mess this up.
LINE CROSSER 02/13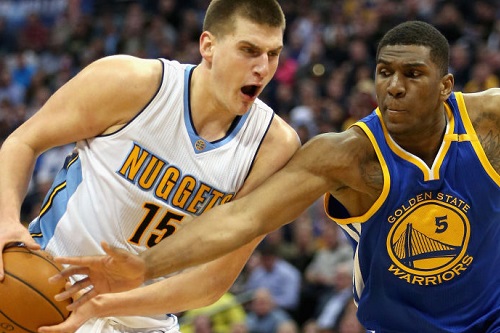 (PHOTO CREDIT: Matthew Stockman/Getty Images.)
The Nuggets, as a team, were remarkable. But they also had an individual that stood out. Nikola Jokic went for:
17 points, 21 rebounds, 12 assists.
Who knew about Jokic, right?
LINE CROSSER 02/14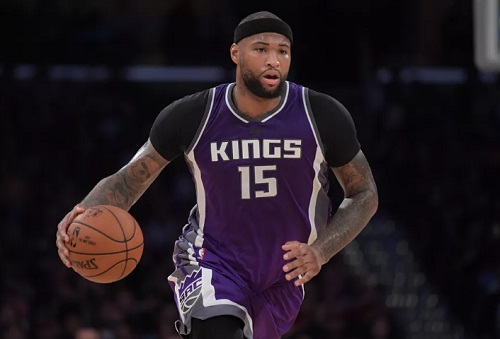 (PHOTO CREDIT: Kirby Lee/USA Today.)
DeMarcus Cousins went off on the Lakers with:
40 points, 12 rebounds, 8 assists.
Could've had more points but he missed seven foul shots. Whoops.
WATCH THIS PLAY 02/13
(VIDEO CREDIT: NBA.)
Paul Millsap releases this lay-up with his off hand JUST before the buzzer. The game would go to OT where the Hawks ended up winning.
WATCH THIS PLAY 02/14
(VIDEO CREDIT: NBA.)
How did this pass by LeBron even get through? My gosh.
---
Follow Rey-Rey on Twitter at @TheNoLookPass for all tweets about the NBA. Also, check out his podcast, Rey-Rey Is Fundamental.

us on FaceBook where we have additional NBA highlights! Thank you!
#SagerStrongForever