This is the Hangover. This is where I get drunk on the NBA as I recap last night's action as well as a few things going on around the league. Here's your word vomit.
02/10/2017
THE GAMES
MIA 108 (24-30) @ BRK 99 (9-45)
DEN 131 (24-29) @ NY 123 (22-33)
SA 103 (41-12) @ DET 92 (25-29)
LAL 122 (19-37) @ MIL 114 (22-30)
GS 122 (45-8) @ MEM 107 (33-23)
NO 122 (21-33) @ MIN 106 (20-34)
IND 107 (29-24) @ WAS 112 (32-21)
ATL 107 (31-23) @ SAC 108 (22-32)
CHI 97 (26-28) @ PHX 115 (17-37)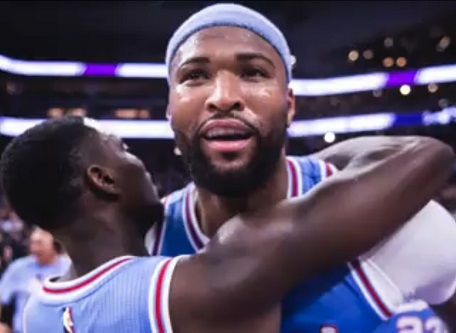 (PHOTO CREDIT: Sacramento Bee.)
RULES ARE NOT GOING TO LAST TOO LONG
The usually-progressive NBA dropped another rule that wasn't too popular with the fans. So we remember the time when C.J. McCollum and Chandler Parsons got into a bit of a Twitter argument after the Blazers account made fun of Parsons. C.J. (who I cannot unsee as Steve Urkel anymore, by the way) fired back at Parsons saying they won the lottery by not signing him. Both players said it was nothing personal afterwards but the NBA caught that and came down on social media accounts.
The NBA said no more mocking/ridiculing opponents from official team accounts.
But if we know the history of the league and its players, they either A) relax on these rules after a few weeks or B) circumvent around the rule and find another way to have fun with that rule.
Examples? Remember that whole delay of game rule where the team that made the basket absolutely cannot touch the ball or return the ball to the referee? They were strict on that for a few weeks before they stopped calling delay of game. The flopping rule was strict, too, and they were on it for a few weeks before we were only getting very few fines from the league office about that.
There's more. Remember when technical fouls were called very quickly when a player shows emotion? They're getting more leeway now about that. Some can even get away with complaining for minutes. And remember the infamous dress code levied by David Stern? Players then got creative by dressing up in outlandish outfits (Dwyane Wade, Russell Westbrook, etc).
As for no more ridiculing from social team accounts? Well, the Kings and the Hawks are already in the spirit of that rule.
Tonight we welcome our best friends, the @ATLHawks to @Golden1Center! 👋 #Besties #FlashbackFriday #Friendship

— Sacramento Kings (@SacramentoKings) February 10, 2017
INCREDIBLE shot, @ATLHawks!!! Happy birthday to Paul Milsap!!! 🎁 pic.twitter.com/Vz0f45MLfF

— Sacramento Kings (@SacramentoKings) February 11, 2017
.@ATLHawks You guys called it. Great prediction – this is why we're friends. Here's to a fun final quarter! pic.twitter.com/qxm44QO03M

— Sacramento Kings (@SacramentoKings) February 11, 2017
Quite the contest, @ATLHawks! At the end of the day, we're most happy about our new #Friendship. #KingsFTW pic.twitter.com/wuQElggeCz

— Sacramento Kings (@SacramentoKings) February 11, 2017
@SacramentoKings We ❤️ you guys and your graphic designer. Glad we got to make a new friend! #Friendship

— Atlanta Hawks (@ATLHawks) February 11, 2017
My teeth hurt from all this sweetness and these friendships.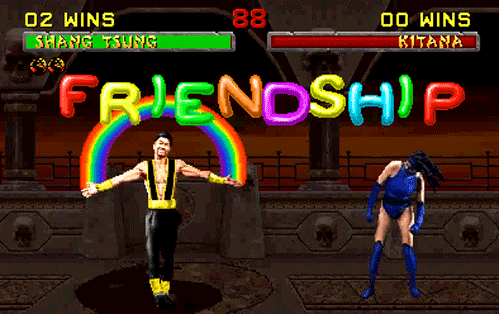 THE REST OF THE LEAGUE
This is certainly not about friendship. Charles Oakley has been banned from Madison Square Garden. James Dolan went on to say that Oakley "might have a problem with alcohol." That's defamation of character to go along with that ban. Not cool at all.
And Oakley's been kept out of Knicks events because he's criticized the way the team's being run. I mean, it doesn't take a rocket scientist that the team has mostly sucked this century. So there were fleeting moments where the Knicks did some good things. Like make the second round of the playoffs in 2013 and Linsanity the year before that. But for the most part, the Knicks have become what the Clippers were before Blake Griffin got there. They're a laughingstock.
Yeah, they didn't definitely help their cause. Don't think people are forgetting how they're treating their star player. By the way, ironic that star player Carmelo Anthony lost to his former team, the Denver Nuggets.
The Lakers scored 47 points in the first quarter. They nearly blew the game against a wild Giannis Antetokounmpo and the Bucks but they would hold on for the eight-point win.
Washington is back to their winning ways as they beat the once-equally hot Indiana. They are now third in the East and are only two games behind the idle Boston.
The most unusual winning streak continues as the Miami Heat have now won 13 straight. Ridiculous. And they're STILL only 24-30. The Bulls lost so now the Heat are only two games behind the 8th seed.
Lastly, my favorite feud in sports is still Robin Lopez against the NBA mascots.
(VIDEO CREDIT: Ximo Pierto.)
LINE CROSSER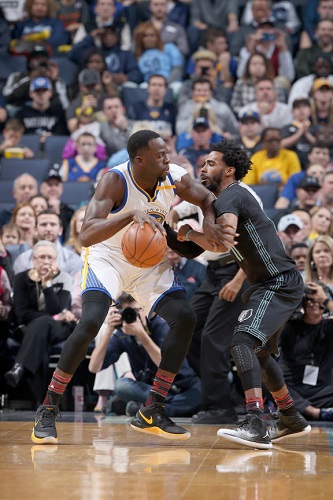 (PHOTO CREDIT: Joe Murphy/Getty Images.)
Draymond Green did a FIRST. He got a VERY unusual triple-double. Check this out:
4 points, 12 rebounds, 10 assists, 10 steals, 5 blocks.
Like what even IS that? That's incredible.
Shoutout to Anthony Davis, who had 42 points and 13 boards. Also, shoutout to Nikola Jokic, who had a career-best 40 points to go along with 9 boards and 5 dimes. And to Giannis, who went for 41-8-6 and three blocks.
But you can't ignore the first triple-double in history that didn't include points. And he NEARLY got a 5×5, too!
WATCH THIS PLAY
(VIDEO CREDIT: Ximo Pierto.)
Darren Collison converts the lay-up with 3.5 seconds left to help the Kings defeat the Hawks.
---
Follow Rey-Rey on Twitter at @TheNoLookPass for all tweets about the NBA. Also, check out his podcast, Rey-Rey Is Fundamental.

us on FaceBook where we have additional NBA highlights! Thank you!
#SagerStrongForever