This is the Hangover. This is where I get drunk on the NBA as I recap last night's action as well as a few things going on around the league. Here's your word vomit.
02/08/2017
THE GAMES
SA 111 (40-12) @ PHI 103 (18-34)
CLE 132 (36-15) @ IND 117 (29-23)
WAS 114 (31-21) @ BRK 110 (9-44) [OT]
DEN 106 (23-29) @ ATL 117 (31-22)
LAL 102 (18-37) @ DET 121 (25-28)
MIA 106 (23-30) @ MIL 88 (22-29)
PHX 91 (16-37) @ MEM 110 (33-22)
UTA 127 (34-19) @ NO 94 (20-33)
TOR 109 (32-22) @ MIN 112 (20-33)
LAC 119 (32-21) @ NY 115 (22-32)
CHI 92 (26-27) @ GS 123 (44-8)
BOS 92 (33-19) @ SAC 108 (21-32)
(PHOTO CREDIT: Jeffrey Phelps/AP.)
HEAT SEEKERS
The 23-30 Miami Heat continue to be scorching. They upped their win streak to 12, which is the current longest in the NBA. They actually set a record on Wednesday night. After taking care of the Bucks, the Heat now have the record for the longest win streak that's done by a sub-.500 team. It's amazing that they were once 11-30 and actually need to win 20 straight games JUST to get over .500.
And I've already gone over this a few days ago where some people think it's a mistake that they've won this many in a row when they're supposed to be "rebuilding" (even Pat Riley said they were rebuilding). But I'd rather do all this winning than be mired in a 14-39 record. Yeah, I get it. The "quickest" way to become good is find that superstar in the draft. But like I said before, there's no right or wrong way to rebuild.
Even with the CBA that discourages stars to leave their old team for a new one through free agency, Miami is still a destination place. It's a beautiful city, the nightlife is great, and there's no income tax. And let's not forget that the Heat have a respected regime with Riley as the overlord and Erik Spoelstra as their excellent coach (he really never gets enough credit). The upper management is stable, even though, yes, Riley can be cold-blooded (ex. Dwyane Wade's exit).
So basically, just enjoy the winning streak. I don't think it's ever bad and believe it or not, players LEARN how to win. That can be an attractive trait for a lot of free agents that might want to go to Miami at some point in their careers.
THE REST OF THE LEAGUE
Miami is still winning, yes. But the closest to the in terms of winning streak going into Wednesday had their surges stopped. Indiana and Boston each had seven-game win streaks before they were snapped by the Cavs and the Kings, respectively. It's no surprise that the Cavs (who are in a good place, according to one LeBron James) beat the Pacers but it's certainly a little shock that the Kings beat the hot Celtics. For one, Sactown didn't have DeMarcus Cousins, who was suspended after he got his 16th technical foul of the season against the Bulls. Luckily for Boston, the Wolves beat the Raptors to keep them at bay.
Washington didn't have a letdown after their fantastic game against the Cavs. They eeked out a win against the bad Nets, who have now lost 11 in a row.
By the way, the Nets tried to beat the Wiz with this from Trevor Booker:
The Nets would have won if Trevor Booker made this! pic.twitter.com/b8PTMxsFxo

— SB Nation NBA (@SBNationNBA) February 9, 2017
You guys remember that, right? Booker has done this play before and it's one of the greatest shots in NBA history. Look:
(VIDEO CREDIT: NBA.)
I feel like Gabrielle Reece can't do better than that.
In New York, former Knick Charles Oakley got into it with some security guards, was taken away from the building, and then was arrested.
(VIDEO CREDIT: Ximo Pierto.)
As if the Knicks need any more problems, right? I don't think it distracts them from the Carmelo Anthony/Phil Jackson issue at all. If anything, it just adds to their reputation as the laughingstock of the league.
And I would never ever wanna mess with Charles Oakley, who was one of the legit tough guys in the league during his career. He may be retired now but I bet he's got that old man strength that could break me in half. He's a beloved Knick that hasn't been good with the team ever since James Dolan took over (supposedly Oakley had a heated exchange with Dolan which led to the arrest). I'm sure we'll have more on this incident later as the Knicks continue to spiral downward.
That's not the only beef being cooked in the league. Grizzlies and Suns were ready to throw down, apparently.
(VIDEO CREDIT: Ximo Pierto.)
Devin Booker noted later on that Troy Daniels had the nerve to talk trash to him when Daniels has been on five teams in three years. Booker was the one that fouled Daniels on that late three that led to a four-point play. For a league that's supposedly gone soft, Wednesday night certainly had a lot going on. And by the way, Devin Booker should let this one go. Daniels may be a journeyman but he's part of a winning team now where he's playing an important role while Booker is stuck on a bad team and really has never been on a prosperous team in his young career.
LINE CROSSER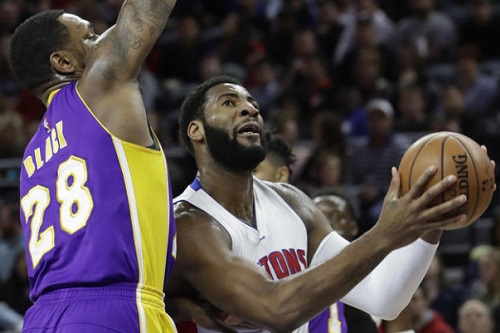 (PHOTO CREDIT: Carlos Osorio/AP.)
Andre Drummond was all over the place against the Lakers. He did all this damage:
24 points, 17 rebounds, 4 blocks, 3 steals.
He set the tone for the domination of the Lakers.
WATCH THIS PLAY
(VIDEO CREDIT: NBA.)
Willie Cauley-Stein throws this alley-oop down from the clouds.
---
Follow Rey-Rey on Twitter at @TheNoLookPass for all tweets about the NBA. Also, check out his podcast, Rey-Rey Is Fundamental.

us on FaceBook where we have additional NBA highlights! Thank you!
#SagerStrongForever