This is the Hangover. This is where I get drunk on the NBA as I recap last night's action as well as a few things going on around the league. Here's your word vomit.
02/05/2017
THE GAMES
TOR 103 (31-21) @ BRK 95 (9-42)
LAC 102 (31-20) @ BOS 107 (33-18)
POR 99 (22-30) @ OKC 105 (30-22)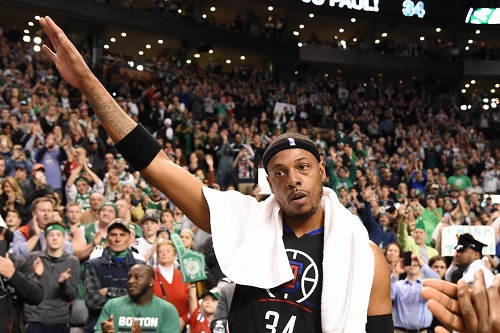 (PHOTO CREDIT: Brian Babineau/Getty Images.)
HE'S JUST THE TRUTH
Paul Pierce is playing his last season.
Love him or hate him, there's no denying what he did in the league. He was destined to be like some of his contemporaries. Contemporaries like Kevin Garnett was in Minnesota and now Carmelo Anthony in both Denver and New York. Yeah, individual excellence but ultimately "not winners" because they didn't get far in the postseason. Pierce was doomed to be one of those guys.
But that all changed in the summer of 2007. Stuck in a 24-win team the season before, Danny Ainge made deals to get Garnett and Ray Allen from Seattle. That team that was stuck in the bottom instantly became contenders… and in their first season together, won it all. All three stars sacrificed individual statistics but Pierce (and Allen did, too) became particularly deadly in the clutch. He was rewarded with the 2008 Finals MVP award after the Celtics beat the Lakers in a callback NBA championship round (which also included the "wheelchair game").
With the title win, the perception of Pierce changed very quickly. He became a dependable scorer and could be counted on for executing a clutch play in the closing moments whether he was making a pass to Allen or making his patented right elbow jumper. The Celtics didn't win another championship after that but they always scared the rest of the Eastern Conference because of their prowess.
When the team decided to go on a full rebuild in 2013, Ainge dealt Pierce and Garnett to Brooklyn. However, Pierce's contributions in the closing moments continued. There was the block on Kyle Lowry to seal a seven-game series win over the Raptors in the first round of the 2014 playoffs. In the next season, Pierce was a Wizard. He made a clutch shot against those same Raptors to give the Wiz a 3-0 lead in the first round. Then without a hobbled John Wall for most of the second round against the Hawks, Pierce made a memorable bank shot to win them Game 3 where he said he called "game" when asked if he called "bank."
Now a Clipper, Pierce added one more shot to his legend. The Celtics had the game all wrapped up against Los Angeles before "The Truth" let one last shot fly in Boston.
(VIDEO CREDIT: NBA.)
A fitting end for Pierce in Boston (also fitting that Pierce made his NBA debut exactly 18 years ago on that day). Let's hope he can create one more memory in the playoffs.
Either way, he will be missed when he's done playing.
THE REST OF THE LEAGUE
Some huge sporting event was going on so there wasn't much going on in pro basketball on Sunday.
The Raptors won a game after that excruciating 2-8 slide that saw them start the day at the FIFTH seed in the East. They'd better recover soon so that they can, at least, get home court in the first round. It would also help for them to get DeMar DeRozan back as well.
Russell Westbrook went for 19 points in the fourth to help put the Blazers away. Oh, yeah. If you're wondering about Isaiah Thomas in the fourth, he went for double digits once again. Also, how come I just noticed that Isaiah's jersey number is fitting? HE WEARS NUMBER FOUR. I'M AN IDIOT.
LINE CROSSER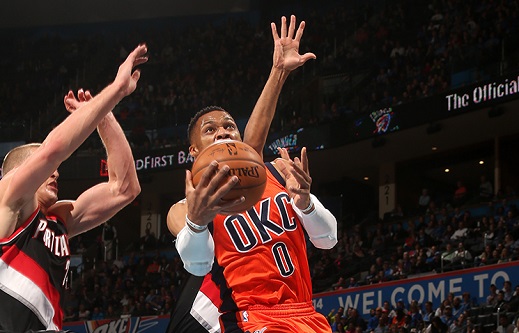 (PHOTO CREDIT: Layne Murdoch/Getty Images.)
Yeah, I know Kyle Lowry had a triple-double. But once again, Russell Westbrook takes this spot with:
42 points, 8 assists.
It's not a trip-dub but 42 points is plenty of damage.
WATCH THIS PLAY
(VIDEO CREDIT: NBA.)
Look at this dunk by Brook Lopez!
Congrats on that fifth Super Bowl, New England.
---
Follow Rey-Rey on Twitter at @TheNoLookPass for all tweets about the NBA. Also, check out his podcast, Rey-Rey Is Fundamental.

us on FaceBook where we have additional NBA highlights! Thank you!
#SagerStrongForever