This is the Hangover. This is where I get drunk on the NBA as I recap last night's action as well as a few things going on around the league. Here's your word vomit.
02/03/2017
THE GAMES
TOR 94 (30-21) @ ORL 102 (20-32)
IND 106 (27-22) @ BRK 97 (9-41)
MIN 108 (19-31) @ DET 116 (23-27)
CHI 117 (25-26) @ HOU 121 (37-17) [OT]
MEM 102 (30-22) @ OKC 114 (29-22)
LAL 107 (17-36) @ BOS 113 (32-18)
MIL 117 (21-28) @ DEN 121 (22-27)
PHX 105 (16-34) @ SAC 103 (19-31)
DAL 108 (20-30) @ POR 104 (22-29)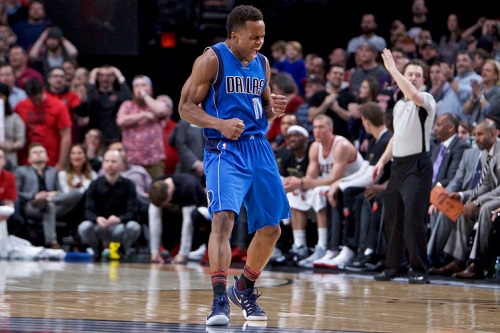 (PHOTO CREDIT: Craig Mitchelldyer/AP.)
ALL YOU NEED IS A CHANCE
On the eve of the fifth anniversary of the start of Linsanity, we got a breakout game from a relatively unknown player as the Mavericks and the Blazers played a national spot at ESPN.
The Mavericks plastered the Blazers early as they led by 22. In the closing seconds, the Mavs hung on to a one-point lead before said relative unknown player nailed a three to give Dallas a cushion. The Mavericks would hold on for the win.
NBA fans (including me), meet Yogi Ferrell. He was an undrafted guard from Indiana. He had a bit of a spell with the Brooklyn Nets before he was ultimately waived by them. Yogi toiled around the D-League before getting picked up by Dallas for a 10-day contract. Ferrell immediately came in as a starter and helped extend the Mavs' current sizzling run. The Mavs are 4-0 since Yogi started for them (which include victories against the Spurs and the Cavaliers) and are 9-3 in their last 12.
By the way, Ferrell started out hot on Friday's game as he scored 22 points in the first half. He finished with 32 as he sank nine three-pointers (which tied an NBA rookie record) on the way to that career NBA game.
And there is a storybook "ending", if you will, to Ferrell's NBA quest. He will sign a two-year deal with Dallas once the 10-day contract expires.
Sometimes, all you need is an opportunity. Way to go, Yogi.
THE REST OF THE LEAGUE
More Isaiah Thomas praise! He scored 17 points in the fourth quarter against the Lakers on the way to 38. And we remember that Thomas was once interested in becoming a Laker.
With the Raptors' loss, the Wizards are now third in the East.
I'll just say that James Harden is crafty in drawing this foul:
(VIDEO CREDIT: Ximo Pierto.)
Yao Ming had a jersey retirement ceremony. It's sad that some people don't understand the impact Yao has had in the NBA. His foot injuries cost him his career (19.0 points, 9.2 boards for his career!) as he really only played seven seasons (not even FULL seven seasons and he only played five games in his eighth and final season). Yao was a very skillful big man that can shoot from the perimeter, can use his wily moves at the post, was an excellent passer, and can rebound with the best of them. He and Steve Francis, then later, Tracy McGrady, were a feared duo around the league.
Yao was also the first Chinese star in the league and it broke down barriers. We still haven't had many Chinese players since then but the NBA's aim to become a global league is becoming successful as China has become a great fan base for the league. The NBA has played preseason games over there and some Chinese basketball players will aspire to become the next Yao Ming.
And this sounds silly but it also showed to those that are not that cultured that, yes, Asian people play basketball, too. I've seen instances where my Chinese (heck, any Asian) friends get called either "Yao" or "Jeremy" (after Jeremy Lin) just because this thing about Asians in the NBA was absolutely new to them. So I hope more Asian people can make it to the NBA so that some of this ignorance can stop. And that, when it comes to basketball, all we care about is how good a player or a teammate they are, no matter what background.
Here's his full retirement ceremony:
(VIDEO CREDIT: NBA.)
LINE CROSSER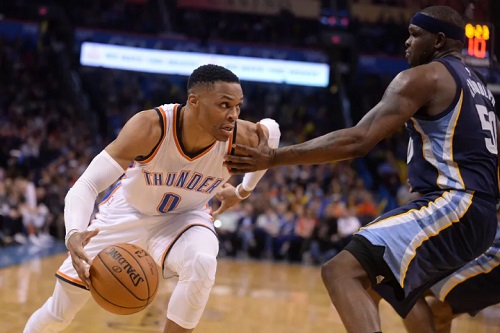 (PHOTO CREDIT: Mark D. Smith/USA Today.)
Yeah, Nikola Jokic had a triple-double. Harden nearly got another one. We all know Yogi Ferrell's exploits by now and Marcus Morris had a career night with 36 points.
But we just cannot ignore Russell Westbrook like… ever…
38 points, 13 rebounds, 12 assists, 3 steals.
Two things. This is his 25th triple-double of the season and a lot of us thought that's how many triple-doubles he would get this season. We're only in February 4th. Second, Westbrook exploded for a personal 15-0 run to end the game against Memphis. This guy is just incredible.
WATCH THIS PLAY
(VIDEO CREDIT: NBA.)
Devin Booker books this win for the Suns.
---
Follow Rey-Rey on Twitter at @TheNoLookPass for all tweets about the NBA. Also, check out his podcast, Rey-Rey Is Fundamental.

us on FaceBook where we have additional NBA highlights! Thank you!
#SagerStrongForever