This is the Hangover. This is where I get drunk on the NBA as I recap last night's action as well as a few things going on around the league. Here's your word vomit.
01/29/2017
THE GAMES
NY 139 (21-28) @ ATL 142 (28-20) [4OT]
OKC 91 (28-20) @ CLE 107 (32-14)
HOU 101 (35-16) @ IND 120 (25-22)
WAS 107 (27-20) @ NO 94 (19-29)
ORL 114 (19-30) @ TOR 113 (29-19)
PHI 108 (17-29) @ CHI 121 (24-25)
DAL 105 (17-30) @ SA 101 (36-11)
GS 113 (41-7) @ POR 111 (21-28)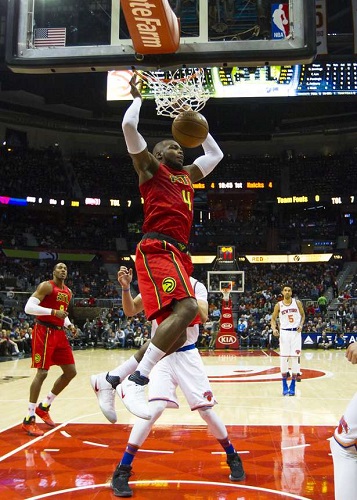 (PHOTO CREDIT: Todd Kirkland/AP.)
HAWKS AND KNICKS HAVE A MARATHON
It's not often we see a game that goes four overtimes. In fact, this Hawks/Knicks contest was the 15th time a game has gone that distance. Hell, New York had a chance to send it to a fifth OT but Courtney Lee missed a three twice that would've tied the game.
Four Knicks fouled out in the game. 11 players played more than 36 minutes (remember that LeBron James leads the league in minutes per at 37.5). Five players played more than 50 minutes. Paul Millsap went over AN HOUR by seven seconds. Only 13 players (including Millsap) played an hour or more in the last 30 years. Obviously, a game would have to go three overtimes for anyone to have a chance to play 60 minutes so this is super rare.
Carmelo Anthony sent the game to OT (driving lay-up) and then to a second OT (tough baseline J). Lee would make a long three to send the game to a third overtime. Dennis Schroder made a lay-up to bring the game to a fourth extra period. The Knicks and Hawks would make five straight threes in that fourth OT before Millsap gave the lead back to the Hawks with a putback. Schroder split foul shots to give the Knicks one more chance to extend the game before Lee missed those threes that would've made the game longer than Gone With The Wind.
Good thing these teams have the day off today. They have to be exhausted. Hell, I'm exhausted just writing this column.
But the Knicks sure find more ways to lose a game.
THE REST OF THE LEAGUE
The Golden State Warriors went against the Blazers without Stephen Curry. But they can afford that sort of thing when you have three other all-stars on your team.
The Raptors have lost three of four at home. That's not ideal.
The Rockets are 4-7 in their last 11 games. Suddenly, it doesn't look all so rosy in Houston.
The Spurs also got upset by the Mavericks.
And the Wizards continue their climb after a slow start. They're only two games behind the NOW-second seed Boston Celtics. The top of the East hasn't been particularly hot. Remember the Cavs are also struggling a bit even after their win against the Oklahoma City Thunder.
LINE CROSSER
Millsap put in an hour on the court and did this:
37 points, 19 rebounds, 7 assists.
Even if Carmelo Anthony scored 45 points on the other end, I'm still more impressed with Millsap's statline. Yeah, LeBron James had a near trip-dub and Russell Westbrook got his 24th such stat. But it's all about Millsap on Sunday.
WATCH THIS PLAY
(VIDEO CREDIT: NBA.)
This dunk is rated PG-13 for violence.
---
Follow Rey-Rey on Twitter at @TheNoLookPass for all tweets about the NBA. Also, check out his podcast, Rey-Rey Is Fundamental.

us on FaceBook where we have additional NBA highlights! Thank you!
#SagerStrongForever