This is the Hangover. This is where I get drunk on the NBA as I recap last night's action as well as a few things going on around the league. Here's your word vomit.
01/28/2017
THE GAMES
SAC 109 (19-28) @ CHA 106 (23-25)
DET 103 (21-26) @ MIA 116 (18-30)
BOS 112 (29-18) @ MIL 108 (21-26) [OT]
LAC 98 (30-18) @ GS 144 (40-7)
MEM 102 (28-21) @ UTA 95 (30-19)
DEN 123 (21-25) @ PHX 112 (15-32)
BRK 109 (9-38) @ MIN 129 (18-29)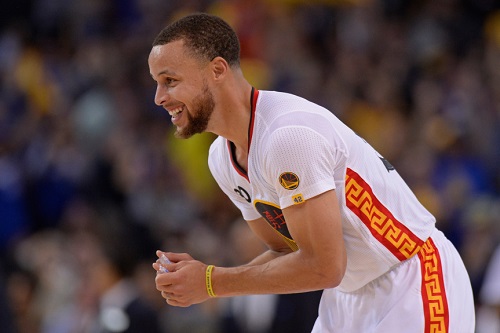 (PHOTO CREDIT: Jose Carlos Fajardo/Bay Area News Group.)
STEPHEN CURRY IS STILL REALLY, REALLY GOOD
It's not like Stephen Curry ever went away. It's not like Curry is having such a bad season; he's still having an excellent season. It's just that he's set the bar so high that now it's like he's trying to catch the moon on his hand.
But here's Curry asking if we know who he is. We remember his name. Curry took a back seat to Kevin Durant as they try to integrate the newcomer into the team. It's silly to say that they're still adjusting when the team has won 40 of their first 47 games. But that's what it is because the reigning MVP is the one making the "biggest sacrifice." The leading scorer last season, Curry is taking fewer than two shots this season. And let's not forget that Steph had a historic 50-45-91 season. This year, the numbers are still great (47-41-92) but certainly not as mindblowing. He's also averaging "only" 25 points per game compared to 30.1 in 2015-16.
When the Clippers came to town on Saturday night, though, Curry was volcanic. He came into the second half with 18 points before Steph broke the Clips even more with 25 more points in the third. This was the stuff we were used to seeing last season. The pull-up from Dan Majerle Crazy Range. The juking of defenders to get that tiny space for a shot. The weaving into the paint to finish with a tough reverse lay-up. The ability to get open as the Warriors worked their magical ball movement. It was a thing of beauty for all basketball fans. Well, probably not if you root for the Clippers. Nevertheless, we already fear what the Warriors can do but this Stephen Curry even brought more levels of fright towards the league.
Again, the Dubs are saying they're still trying to assimilate what they have. And they're 40-7. Everyone is just going, "What the f…"
THE REST OF THE LEAGUE
I still think it's incredible that a 5'8″ dude is tied for second in scoring. Thomas went off for 37 points against the Bucks to bring his average up to 29.1 per game. You really should think about that considering the NBA is filled with, well, tall men. For the most part, he's defending someone who's, at least, four or five inches taller than him. To fire back with offense like that is amazing.
And the Celtics have caught the Raptors as they both have 29-18 records. The Cavaliers have been slumping, sure, but both Bawwwston and T-Dot didn't take advantage of that. Remember that the Hawks and Wizards are lurking in a suddenly hotly contested Eastern Conference.
I don't know what to think of the Clippers but they do have an out here that Chris Paul is not playing. Obviously, the team looks way different when Paul is playing. But even with CP3, it hasn't been that much different. While they seem equipped to take on the Warriors, the results would beg to differ. The Dubs have beaten the Clips eight straight times in the regular season. Sure, the Clippers can say they were the last West team to eliminate the Warriors in the playoffs but that was three years ago. L.A. can't seem to touch the Steve Kerr-led Golden State team at the moment.
If they get Carmelo Anthony without having to lose any of their all-stars OR J.J. Redick (which I feel it's impossible; of course, the Knicks want SOME sort of return back), it would be a great help. That also means Carmelo having to accept a lesser role, which I wouldn't know if he's ready to transition to just yet. Paul needs the ball tons and Blake Griffin needs it, too. Melo's ball-dominance would have to be curbed if he does somehow end up in Los Angeles.
Man, L.A. professional basketball teams did not have a great week. The Lakers lost to the Mavericks by 49. Then the Warriors creamed the Clips by 46. That's a dumping.
It's also getting heated in the bottom of the West playoff picture. Denver won to keep the 8th seed but Sacramento won a crucial road game in Charlotte to stay three games behind. The hot Wolves also won after a huge game from Karl-Anthony Towns (37 points and 13 boards) to stay four games back. Yeah, I know their records are less than desirable but it's a fight, nonetheless. It's like trying to decide which Lindsay Lohan song is best.
By the way, the hottest team in the league right now is (no pun intended) the Miami Heat. They've won seven straight and have worked their way from lottery-bound to "MAYBE WE HAVE A SHOT AT THE PLAYOFFS" territory. The NBA is weird and I love it.
LINE CROSSER
Back-to-back MVP in da house! Do people still say "in da house"? Curry went for:
43 points, 9 rebounds, 6 assists.
This was the kind of explosion we were accustomed to last year from Dell's son. Shoutout to Eric Bledsoe for having 41 points, Boogie Cousins for having 35 and 18, KAT for 37-13, the Technician (Isaiah Thomas) for having 37 points, and Mo Speights for having five points.
WATCH THIS PLAY
(VIDEO CREDIT: NBA.)
This post has been all about Curry. Here's the dude making a halfcourt shot look so routine.
---
Follow Rey-Rey on Twitter at @TheNoLookPass for all tweets about the NBA. Also, check out his podcast, Rey-Rey Is Fundamental.

us on FaceBook where we have additional NBA highlights! Thank you!
#SagerStrongForever