This is the Hangover. This is where I get drunk on the NBA as I recap last night's action as well as a few things going on around the league. Here's your word vomit.
01/27/2017
THE GAMES
SAC 111 (18-28) @ IND 115 (24-22)
BRK 116 (9-37) @ CLE 124 (31-14)
ORL 98 (18-30) @ BOS 128 (28-18)
MIL 86 (21-25) @ TOR 102 (29-18)
CHA 107 (23-24) @ NY 110 (21-27)
HOU 123 (35-15) @ PHI 118 (17-28)
MIA 100 (17-30) @ CHI 88 (23-25)
SA 103 (36-10) @ NO 119 (19-28)
WAS 112 (26-20) @ ATL 86 (27-20)
MEM 109 (27-21) @ POR 112 (21-27)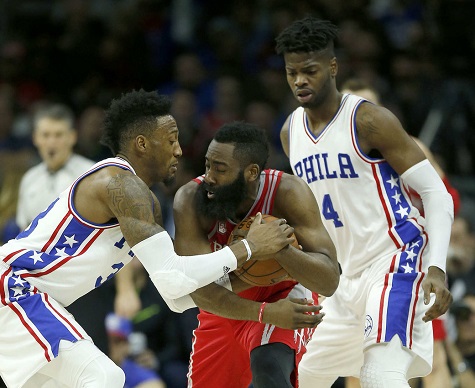 (PHOTO CREDIT: Yong Kim/Philly.Com.)
THE HISTORIC SEASON CONTINUES
1975 was the last recorded 50-point triple-double. In 2009, the NBA took away what would've been the first such statline since Kareem Abdul-Jabbar did it 34 years before. LeBron James had a rebound taken away when he went off for 52 points, 11 assists, and what could've been 10 boards.
Then earlier this season, Russell Westbrook recorded a legit 50-point trip-dub when he went for 51 points, 13 rebounds, and 10 assists. Then on December 31, former teammate James Harden exploded for 53 points, 16 rebounds, and 17 assists.
Harden got his second 50-point trip-dub on Friday night as he went for 51-13-13. We cannot take for granted what we are watching this season. You may have already come to the conclusion that it will be Warriors/Cavs III in June but this triple-double flurry is one of many interesting stories going on.
By the way, Westbrook is STILL averaging a triple-double (31.0-10.6-10.2) and has 23 of those this season (which is fifth-most ever in a season) while James Harden has eye-popping marks of his own at 29.1-8.3-11.6.
I won't have any issue with either player picked as MVP.
THE REST OF THE LEAGUE
While this country is going to hell in a handbasket, let's distract you with some-otherwise harmless and fun tweets by a Grizzly and a Blazer. (Blazers President Chris McGowan, in my opinion, overreacted to this exchange.)
Parsons replied to the Blazers making fun of him airballing a three-pointer.
@trailblazers good luck in the lottery show this year✊🏻

— Chandler Parsons (@ChandlerParsons) January 28, 2017
Then C.J. McCollum, possible future journalist and lover of Gossip Girl, replied back with a fire spear.
We hit the lottery by not signing you https://t.co/eSiBaNT061

— CJ McCollum (@CJMcCollum) January 28, 2017
Youch. Parsons' defense was almost as weak as the time he let Damian Lillard escape for a game-winner. The Blazers did sign BackStreet Boys-lover Evan Turner but, at least, he's healthy, right?
So Jimmy Butler and Dwyane Wade came off the bench after those comments they made towards the team. Butler was particularly off as he went for 1 out of 13 shooting (3 points!). The Heat quietly won their sixth straight game, which is (hilariously) the longest current winning streak.
The Wizards smashed the Hawks and they are now only 2.5 games behind Toronto for the second seed. The Celtics kept their end of the bargain by thrashing the Magic.
So when are the Magic going to go under a new regime. Ever since they traded Dwight Howard, it turned out after a year that they "won" the four-way deal. Howard left L.A., Andrew Bynum never played a game for the Sixers, and Andre Iguodala escaped the Nuggets. Sure, they steadily improved in four years from 20 to 23 to 25 to 35 wins.
It's also been four years. They already dealt Victor Oladipo (who we thought was going to be a cornerstone). Nikola Vucevic is a trade chip. I'm not sure how high Elfrid Payton's ceiling is. Serge Ibaka won't be much better than a third fiddle on a great team. Evan Fournier and Aaron Gordon are nice. But what's the plan here, Rob Hennigan?
I'm not sure if they need another hard reset here but this course continues to ride the road of mediocrity. Where are they going to get that star?
LINE CROSSER
Well, of course, it's Harden. Let's see that line again:
51 points, 13 rebounds, 13 assists.
Amazing.
WATCH THIS PLAY
(VIDEO CREDIT: NBA.)
Nene got to see The Process (Joel Embiid!) up close and personal.
---
Follow Rey-Rey on Twitter at @TheNoLookPass for all tweets about the NBA. Also, check out his podcast, Rey-Rey Is Fundamental.

us on FaceBook where we have additional NBA highlights! Thank you!
#SagerStrongForever