This is the Hangover. This is where I get drunk on the NBA as I recap last night's action as well as a few things going on around the league. Here's your word vomit.
01/25/2017
THE GAMES
SAC 116 (18-27) @ CLE 112 (30-14) [OT]
HOU 109 (34-15) @ BOS 120 (27-18)
MIA 109 (16-30) @ BRK 106 (9-36)
ATL 119 (27-19) @ CHI 114 (23-24)
PHI 114 (17-27) @ MIL 109 (21-24)
TOR 99 (28-18) @ MEM 101 (27-20)
OKC 114 (27-19) @ NO 105 (18-28)
GS 113 (39-7) @ CHA 103 (23-23)
NY 95 (20-27) @ DAL 103 (16-29)
LAL 98 (16-33) @ POR 105 (20-27)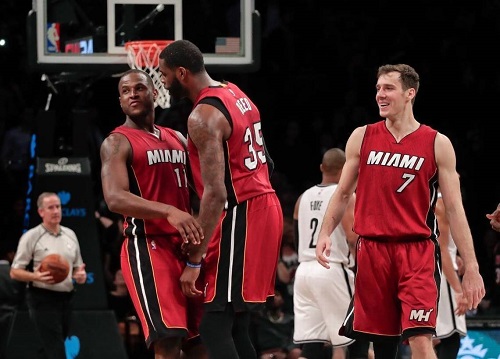 (PHOTO CREDIT: Julie Jacobson/AP.)
SUPERSTAR DION WAITERS?
So this was also something we didn't expect. But I'll admit to it being a pleasant surprise.
We all know Dion Waiters is hilarious. He's an unapologetic chucker and we always see him calling for the ball. He once called Kyrie Irving and himself the best backcourt in the league before he got shipped out to Oklahoma City. Waiters then came off the bench for the Thunder with Kevin Durant and Russell Westbrook getting all the shots. With no team willing to give him a huge payday, he signed with the Miami Heat.
With the departure of Dwyane Wade and Chris Bosh not playing because of his health, the Heat weren't expected to do much. Waiters also had a groin injury but was relatively unnoticed when he did play.
Until the last week.
The Heat embarked on a five-game winning streak. In the last three games, Waiters is averaging 30.0 points per. He hit the game-winner against Golden State and then hit a clutch three against Brooklyn. You might think it took him a ton of shots to get there but he's actually .614 (35/57) in the last three contests.
Of course, most of us will say that this is an aberration more than anything. But what if Waiters IS comfortable as the #1 guy? At the very least, be a Jamal Crawford-type and let him go wild with his shooting when he comes off the bench?
He keeps up with this performance and he's in for a big raise. Especially if he's credited with this sudden Heat surge.
THE REST OF THE LEAGUE
LeBron James made sure to say that he wasn't blaming management for his recent rant of wanting another effin' playmaker. He did acknowledge that the team needed to be better and management said the same thing. The Cavs got upset by the Sacramento Kings in Cleveland and have lost six of eight overall. LeBron is also playing a ton of minutes; he leads the league in average minutes per game at 37.6 and in the top 20 in total minutes. I understand him wanting another playmaker.
The Bulls gagged and lost a late lead and the game to the Atlanta Hawks. LeBron's buddy, Dwyane Wade, made it known that he's willing to leave the Bulls if he doesn't see progress this season. Most of us knew the Bulls were going to be mediocre coming in so what did he expect? Wade and Jimmy Butler tore at the rest of the team saying "they don't care enough." And the worst news about this is that they can't get better immediately unless they do a preposterous deal that involves Chicago getting LeBron or some type of MVP candidate. It's really got Dwyane feeling some kind of way.
Mood pic.twitter.com/RgGNH7mRcu

— DWade (@DwyaneWade) January 26, 2017
So in a close game between those wild beasts, the Raptors and Grizzlies, this loose ball possession somehow gave T-Dot a TO.
Introducing: the worst call of the NBA season. With game on line, this was ruled POSSESSION for Toronto and a timeout was granted pic.twitter.com/sBOGiaQZVg

— Rob Perez (@World_Wide_Wob) January 26, 2017
Hey, the Sixers won again! It's time to #RaiseTheCat! Apparently, this is a victory cry for the Sixers every time they win (9-3 in the new year!). The Twitter user @GipperGrove started it after Ben Simmons encouraged fans to show pics of their cats. Then the Sixers fans took it further.
I would think that's super cool but ACHOOOOOOOO.
Oh, and the Knicks and Lakers lost. Not everything is weird in the modern NBA.
LINE CROSSER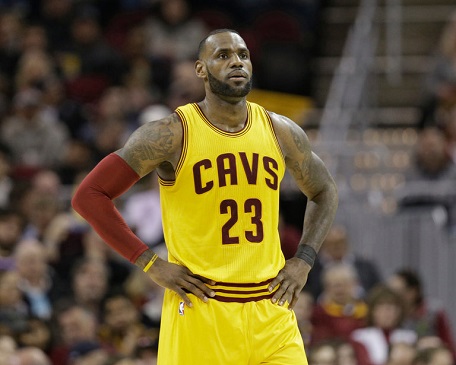 (PHOTO CREDIT: Tony Dejak/AP.)
There were a couple of triple-doubles on Wednesday night. But I'll give this one to LeBron James since he had a more efficient statline:
24 points, 13 rebounds, 11 assists.
Still, it wasn't enough to beat the upset-minded Kings.
WATCH THIS PLAY
(VIDEO CREDIT: NBA.)
Malcolm Brogdon has had his share of posterizatons. He added another one as he gets Nerlens Noel on this play.
---
Follow Rey-Rey on Twitter at @TheNoLookPass for all tweets about the NBA. Also, check out his podcast, Rey-Rey Is Fundamental.

us on FaceBook where we have additional NBA highlights! Thank you!
#SagerStrongForever