This is the Hangover. This is where I get drunk on the NBA as I recap last night's action as well as a few things going on around the league. Here's your word vomit.
01/24/2017
THE GAMES
SAS 108 (36-9) @ TOR 106 (28-17)
LAC 110 (30-17) @ PHI 121 (16-27)
BOS 108 (26-18) @ WAS 123 (25-20)
CHI 100 (23-23) @ ORL 92 (18-29)
UTA 93 (29-18) @ DEN 103 (19-25)
MIN 112 (17-28) @ PHX 111 (15-30)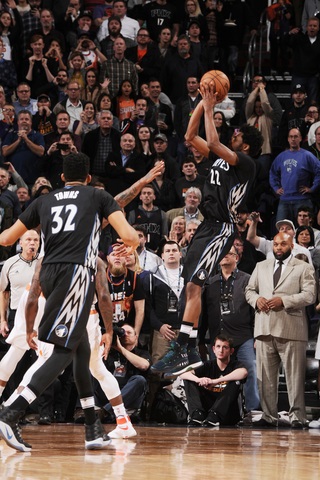 (PHOTO CREDIT: Michael Gonzales/Getty Images.)
THE PUPS ARE GROW(L)ING
The Timberwolves have won six of their last eight games. We're taking a little bit of notice here. They're still closer to the bottom of the conference (two games ahead of the team they beat, Phoenix) than they are to the 8th seed (2 1/2 games behind the team they beat on Sunday, Denver). The advanced stats won't tell you the real story although they have been both middle of the road since this stretch started (12th on offensive rating and 14th on defensive rating).
The difference here is that they are closing out. In games decided by four points or fewer before their last three games, the Wolves are 0-10. It would be a different story had they been able to hold on for some of those contests. They might even have the 8th seed.
But their last three games? They beat the Clippers by three, Nuggets by three, and Suns by one. A basket or two can be the difference for a lot of wins. But another difference is that their third quarters have been much better since the stretch started. Their net rating has been a +9.9 during that period (9.9 points better than their opponent per 100 possessions). Minnesota hasn't let teams run away from them in the third.
Karl-Anthony Towns has also had an outstanding January as he is shooting just under 55 percent with averages of 24.0 points, 13.3 rebounds, and 1.7 blocks. Andrew Wiggins has averaged 27.3 points in this current three-game win streak. Zach LaVine has had a bad month but Shabazz Muhammad has been better. Ricky Rubio got double-digit assists in six of the last seven games he played and Kris Dunn has filled in nicely when Rubio didn't play on Sunday.
The T-Wolves we're seeing now are probably what everybody expected from the start. They're starting to bite back against the competition so watch out for them a little bit.
THE REST OF THE LEAGUE
No Kawhi Leonard for the Spurs and no DeMar DeRozan for the Raptors. It still came down to the last second but Norman Powell missed the three that could've given them the win.
Blake Griffin is back but they lost to a Sixers team who rang up 121 without Joel Embiid. Those Sixers are 9-3 in January.
Lastly, the Wizards wore all black against the Celtics after their little tussle two weeks ago, which had Jae Crowder poke John Wall at the nose after the Celtics beat the Wizards. I love how this has suddenly escalated into a "rivalry." The Wizards got their measure of revenge as they beat them by 15.
LINE CROSSER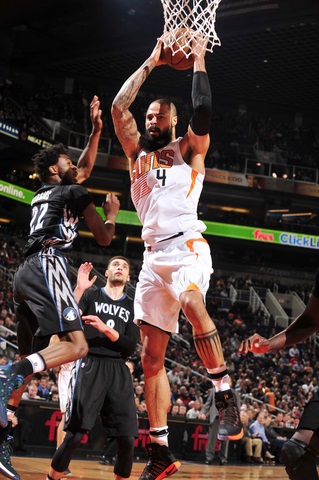 (PHOTO CREDIT: Barry Gossage/Getty Images.)
Hey! Tyson Chandler! He had an incredible game.
22 points, 17 rebounds, 9/9 FG.
7 of those 17 boards are from the offensive end.
WATCH THIS PLAY
(VIDEO CREDIT: NBA.)
Wiggins closes out the Suns with this pull-up J.
---
Follow Rey-Rey on Twitter at @TheNoLookPass for all tweets about the NBA. Also, check out his podcast, Rey-Rey Is Fundamental.

us on FaceBook where we have additional NBA highlights! Thank you!
#SagerStrongForever