This is the Hangover. This is where I get drunk on the NBA as I recap last night's action as well as a few things going on around the league. Here's your word vomit.
01/23/2017
THE GAMES
WAS 109 (24-20) @ CHA 99 (23-22)
SA 112 (35-9) @ BRK 86 (9-35)
LAC 115 (30-16) @ ATL 105 (26-19)
GS 102 (38-7) @ MIA 105 (15-30)
SAC 109 (17-27) @ DET 104 (21-25)
HOU 114 (34-14) @ MIL 127 (21-23)
CLE 122 (30-13) @ NO 124 (18-27)
NY 109 (20-26) @ IND 103 (22-22)
OKC 97 (26-19) @ UTA 95 (29-17)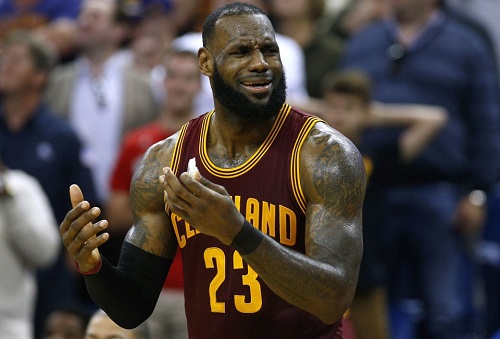 (PHOTO CREDIT: Jonathan Bachman/AP.)
LeBRON JAMES IS NOT HAPPY WITH CAVS' DIRECTION
The Cleveland Cavaliers aren't doing well as they have lost five of seven games, including a close loss to a Pelicans team without Anthony Davis. He opined to the media that the Cavs needed a playmaker and that the team was not going in the right direction.
I see this both ways. David Griffin has done a very good job putting the team together (most recently, he got Kyle Korver to replace the hurt J.R. Smith). Plus the team has an exorbitant payroll so it's not like the team isn't doing all they can to win. So maybe LeBron probably didn't have to air his complaints out to the media.
At the same time, they didn't get anyone to replace Matthew Dellavedova or even Mo Williams. And if you have LeBron James on your team, you listen. I'm sure Griffin is out there making phone calls to everybody. The Cavs did beat the Warriors in a big upset last season but do they have a lot more miracles this season? Can they even beat the Spurs? Besides, the Warriors added a Kevin Durant to a 73-win team. Can you even blame LeBron for complaining out loud?
One thing's for sure. He's way different than he was early in his career. LeBron was all about becoming the first billionaire athlete. Now he just wants championships.
If the Cavs don't do anything more this season in terms of player movement, the rest of the team better step it up.
THE REST OF THE LEAGUE
The Knicks did win against the Pacers but Joakim Noah isn't going to forget this anytime soon.
(VIDEO CREDIT: Ximo Pierto.)
Juuuuust a little bit to the right.
So it really was a weird night in the NBA. Not only did the Cavs get beat but the Warriors got upset by the Heat. In fact, it was a former teammate of Kevin Durant's that put the Dubs away. One of our favorites did the deed; you'll see in the video later.
I'm really glad that the Miller family made sure that the Jazz are staying in Utah by putting it in a legacy trust. One of the more underrated things about the Jazz is that they are one of the most stable franchises in the league. They've been in Utah for nearly 40 years and what the Millers have done is make the Jazz into a staple of the state. The Jazz had a streak of 20 seasons where they made the postseason and are once again a rising power in the Western Conference. I'm really happy for the Jazz fan base.
It's too bad they had to see Russell Westbrook stick that game-winning jumper against them. Speaking of…
LINE CROSSER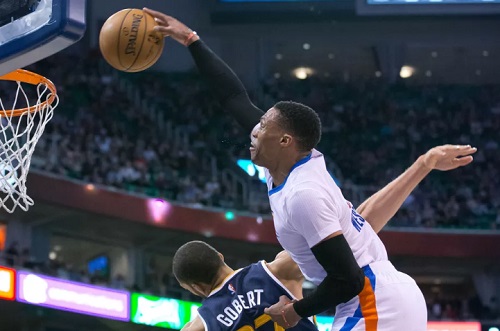 (PHOTO CREDIT: Russ Isabella/USA Today.)
Even though Kyrie Irving went for 49 points and LeBron had his fourth triple-double of the season, it's supremely tough to ignore Russ:
38 points, 10 rebounds, 10 assists, 4 steals.
That would make it 22 triple-doubles in 45 games for Westbrook.
WATCH THIS PLAY
(VIDEO CREDIT: NBA.)
Dion Waiters, guys! DION WAITERS. He was the one that beat the mighty Warriors!
---
Follow Rey-Rey on Twitter at @TheNoLookPass for all tweets about the NBA. Also, check out his podcast, Rey-Rey Is Fundamental.

us on FaceBook where we have additional NBA highlights! Thank you!
#SagerStrongForever