This is the Hangover. This is where I get drunk on the NBA as I recap last night's action as well as a few things going on around the league. Here's your word vomit.
01/20/2017
THE GAMES
POR 92 (18-27) @ PHI 93 (15-26)
TOR 78 (28-15) @ CHA 113 (22-21)
MIL 96 (20-22) @ ORL 112 (18-27)
SAC 91 (16-26) @ MEM 107 (26-19)
BRK 143 (9-33) @ NO 114 (17-27)
GS 125 (37-6) @ HOU 108 (33-13)
CHI 93 (21-23) @ ATL 102 (25-18)
UTA 112 (28-16) @ DAL 107 (14-29) [OT]
IND 96 (22-20) @ LAL 108 (16-31)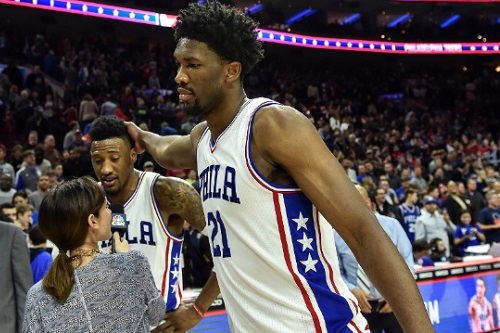 (PHOTO CREDIT: John Geliebter/USA Today.)
MAYBE THE SIXERS ARE SERIOUS
Uhhhhh…
The Sixers are suddenly 15-26. And I don't know if you've noticed but, other than the Nets and the Heat, the scrum below the top teams is much messier than it has been in years past. Philly is only 4 1/2 games behind the Chicago Bulls for the last postseason berth.
And Philly seemed so far away from this last year. I'm not going to give former GM Sam Hinkie all the credit but he did hit on a dinger with Joel Embiid. And he could've easily whiffed on that, too; Embiid didn't play for two seasons because of foot problems but, as it was mentioned by super NBA writer Ben Golliver, the Sixers are #1 in defensive rating when the center is on the floor.
It was defense that got it done once again as they beat the Blazers, 93-92, on Friday night. Also, this is the second time Robert Covington has hit a big shot in the clutch for the Sixers during this stretch. What stretch? The stretch where the Sixers have won 8 of 10 games. This is truly happening.
The thing is that the Sixers don't really have an intimidating roster; in fact, it's mismatched as hell. But they are scrappy and stay with their opponents throughout the game just for a chance to win it at the end. Five of their wins have been by five points or fewer.
They may not win tonight; they're scheduled against the Hawks on Saturday night. But this has been a magical run by Philly, a team that has been given up for dead for quite probably the rest of the decade. Sometimes, it takes that one star to turn around the play and the culture of a team. But who knew that they had that star all along?
THE REST OF THE LEAGUE
In another bizarre Friday (you can say that again), we had the Brooklyn Nets finally stopping their 11-game losing streak. They thumped the Pelicans by scoring 143 points.
Also, the Lakers stopped their five-game skid by beating a seemingly-disinterested Pacers team. It's like they went to the club at halftime as they looked lethargic in that third quarter.
The Hawks led the Bulls once at 87-53. How they got it down to nine for the final tally was near-miraculous.
And that Warriors/Rockets match-up ended up becoming a dud. The Rockets won't win a lot of games by only making seven three-pointers. Well, maybe in 1995, they would've won.
LINE CROSSER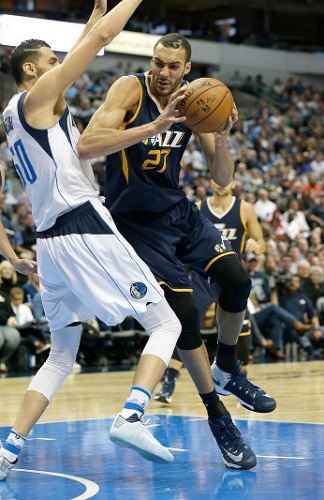 (PHOTO CREDIT: LM Otero/AP.)
Rudy Gobert bullied the Mavericks in an extended game on the way to:
27 points, 25 rebounds.
By the way, he only had 11 field goal attempts. That's efficiency.
WATCH THIS PLAY
(VIDEO CREDIT: NBA.)
Covington actually made two clutch three-pointers against the Blazers. But man, has he been money in the clutch early in 2017.
---
Follow Rey-Rey on Twitter at @TheNoLookPass for all tweets about the NBA. Also, check out his podcast, Rey-Rey Is Fundamental.

us on FaceBook where we have additional NBA highlights! Thank you!
#SagerStrongForever