This is the Hangover. This is where I get drunk on the NBA as I recap last night's action as well as a few things going on around the league. Here's your word vomit.
01/18/2017
THE GAMES
TOR 89 (28-14) @ PHI 94 (14-26)
MEM 101 (25-19) @ WAS 104 (22-19)
POR 85 (18-26) @ CHA 107 (21-21)
NY 117 (19-24) @ BOS 106 (26-16)
ORL 98 (17-27) @ NO 118 (17-26)
MIL 92 (20-21) @ HOU 111 (33-12)
ATL 95 (24-18) @ DET 118 (20-24)
OKC 100 (25-19) @ GS 121 (36-6)
IND 106 (22-19) @ SAC 100 (16-25)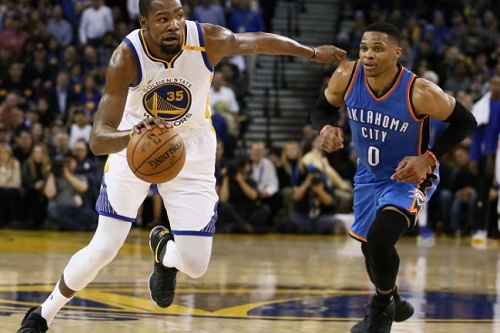 (PHOTO CREDIT: Getty Images.)
WARRIORS/THUNDER SEQUEL NOT SO DIFFERENT
So the tension is there. Russell Westbrook plays the role of the jilted lover and Kevin Durant is the one that initiated the break-up. There will be a lot of awkward and heated moments. Not only between those two but the teammates as well.
But the way the games played out, it won't come close to the Warriors/Cavaliers rivalry that is arguably the best in sports (just don't tell LeBron James that). Durant has dominated (39 in the first game and 40 on Wednesday night) both games and the Thunder were blown out both times. Sure, there were moments where perennial goon Zaza Pachulia takes down Westbrook. Or even hilarious moments where Westbrook takes ten steps before dribbling.
It's just that the results of the games thus far haven't been that dramatic. So far, it's just a lot of noise in this one-sided affair.
Things could get to the next level on February 11th, though. It'll be Durant's first visit to Oklahoma City since he left. Maybe we'll get the drama we actually wanted this time.
THE REST OF THE LEAGUE
So apparently, Joel Embiid is a game-changer.
Sixers' defensive rating w/ Embiid = No. 1 in NBA.
Sixers' defensive rating w/o Embiid = No. 25 in NBA. pic.twitter.com/v6p8HHr5ss

— Ben Golliver (@BenGolliver) January 19, 2017
By the way, they beat a very good Raptors team. They are 7-2 in their last nine games.
Rudy Gay tore his Achilles and as of this writing, he is out for the season. We know how much he wanted out of Sacramento. Also, this makes his last potential payday a bit more complicated. Who's going to be willing to offer him a big deal with that huge injury risk? That's just an awful situation for Gay.
Somehow, in all this turmoil, the Knicks managed to beat a hot Celtics team. Also, the Pistons defeated a hot Hawks team. It's bizarro Wednesday, for sure.
That Giannis/Harden duel was fun, though. I saw on Twitter that they thought Giannis being a Top 5 player is laughable. I don't think so. Like I said before, Giannis has MVP numbers. His team just isn't doing as great as the others.
LINE CROSSER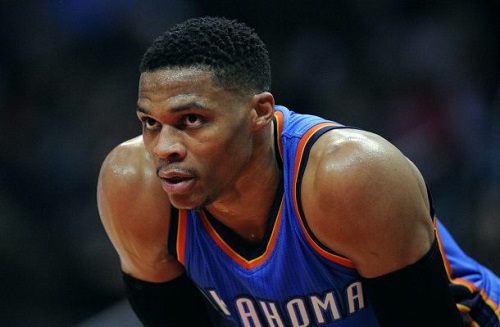 (PHOTO CREDIT: Gary A. Vasquez/USA Today.)
Westbrook. Of course.
27 points, 15 rebounds, 13 assists
He did have 10 turnovers but it's hard to ignore Triple-Double #21.
WATCH THIS PLAY
(VIDEO CREDIT: NBA.)
Westbrook had a hammer so he used it in Oracle.
QUICK PLUG
So some of you guys know I do a separate podcast called Rey-Rey Is Fundamental. In the latest episode, I talked to the author of The Curse, Mick Minas. The Curse is a book that pretty much has a comprehensive history of the Los Angeles Clippers. So yeah, listen to the pod. If you're interested in the book, you can go to ClipperCurse.Com or Amazon.
---
Follow Rey-Rey on Twitter at @TheNoLookPass for all tweets about the NBA. Also, check out his podcast, Rey-Rey Is Fundamental.

us on FaceBook! Thank you!
#SagerStrongForever