This is the Hangover. This is where I get drunk on the NBA as I recap last night's action as well as a few things going on around the league. Here's your word vomit.
01/13/2017
THE GAMES
CHA 93 (20-20) @ PHI 102 (12-25)
BRK 113 (8-31) @ TOR 132 (26-13)
MIA 108 (11-30) @ MIL 116 (20-18)
MEM 110 (25-17) @ HOU 105 (31-11)
OKC 86 (24-17) @ MIN 96 (14-26)
BOS 103 (25-15) @ ATL 101 (22-17)
ORL 115 (17-24) @ POR 109 (18-24)
CLE 120 (29-10) @ SAC 108 (16-23)
DET 77 (18-24) @ UTA 110 (25-16)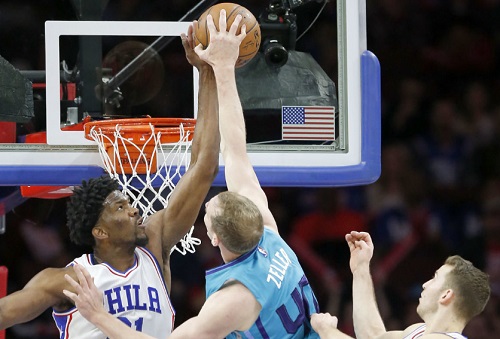 (PHOTO CREDIT: Yong Kim/Philly.Com.)
THE PROCESS KNOWS HOW TO PLAY THE GAME
So guess what? The Philadelphia 76ers have won five of their last six games. It really is a new year.
And on the forefront? The prized, fun center of the Sixers, Joel Embiid. "The Process", if you will.
The guy has scored 20 points or more in the last eight games he has played. He's been superb on defense. He's dunking on fools. So he's been great on the court.
Off the court, he's been even better. Embiid has made it no secret that he's trying to be on the all-star game so he could score a date with Rihanna. And he's getting help from different avenues. From fake Donald Trump tweets to clever retweets from people who think he's a bust to Mike Trout to Meek Mill to former Sixers GM Sam Hinkie to Allen Iverson.
Heat center Hassan Whiteside didn't seem too pleased that the All-Star fan vote has become gimmicky. Well, Whiteside never seemed to get that the All-Star game has always been about the fans. Nevertheless, Embiid read about that so he decided to use that as a boost for himself and Whiteside.
Joel Embiid #NBAVote https://t.co/4dBXNZ2hUU

— Joel Embiid (@JoelEmbiid) January 13, 2017
Hassan Whiteside #NBAVote https://t.co/4dBXNZ2hUU

— Joel Embiid (@JoelEmbiid) January 13, 2017
Finally, Embiid tweeted WWE after they won the game against New York. In the… PROCESS, Embiid got himself yet another boost. He got it from The Game:
To play the game you gotta go through The Process … #NBAVote https://t.co/PzD3Qa46H6

— Triple H (@TripleH) January 13, 2017
After Triple H noticed, Embiid paid tribute to the 14-time WWE champion by doing his entrance during the starting line-up intros.
#NBAVote Joel Embiid with the @TripleH @WWE entrance 😳🤘🏼 pic.twitter.com/6YHE2AyF2n

— Philadelphia 76ers (@Sixers) January 14, 2017
Triple H noticed that, too.
Still have to perfect the water-to-spit ratio…Not bad for a first attempt. #MopTheFloor#NBAVote Joel Embiid https://t.co/mjaNcStuZt

— Triple H (@TripleH) January 14, 2017
And in the process, Embiid got himself even more votes. Will the Game's extra votes get Embiid into the starting line-up? In the latest fan returns, Embiid trails Kevin Love in the East for the third frontcourt spot. And yes, media and players count for half the vote but this fun and charismatic personality could win over the votes from that section.
Stay tuned as we watch this process.
THE REST OF THE LEAGUE
What's NOT fun? The Pistons. They got plastered by Golden State and looked lethargic against Utah. At some point, you might think that Stan Van Gundy, who is both in charge of basketball operations and the coach, has to blow this team up and trade everyone EXCEPT Andre Drummond. It just doesn't seem to be working.
Al Horford returned to Atlanta for the first time since he bolted for Boston. On one hand, of course, you boo the turncoat. At the same time, it wasn't like the Hawks tried their hardest to keep him. He did get a nice ovation after they showed a video of his career in Atlanta but for the most part, he was booed. Plus we know ATL isn't historically great on getting fan turnout at Hawks home games. I wish they were.
Giannis Antetokounmpo covers so much ground with such few steps.
Houston has lost two in a row as we keep forgetting about that Memphis team that won't ever ever go away. It's going to be a battle for the 4th seed although the Clippers have silently won five in a row. The Rockets lost a bit of ground but they're still 3 1/2 games up on the Clips.
You're just waiting for Portland to turn it on but they lost another game at home (this time against Orlando). Last season, it wasn't until the end of January when they started reeling off wins. They went on a 14-2 tear from January 23 to March 1. We'll see if they do the same thing this season. The good news is that they still have the driver's seat on the 8th seed.
LINE CROSSER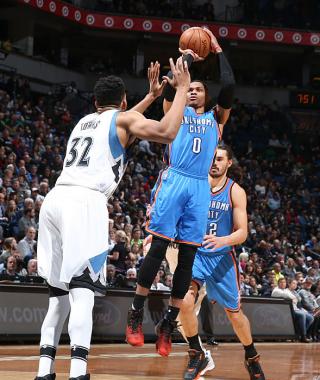 (PHOTO CREDIT: Getty Images.)
I tried to look for something else but even with the 10 turnovers, Russell Westbrook still had:
21 points, 11 rebounds, 12 assists.
It's kind of an unofficial quadruple-double but whatever. As for Russ, that makes it 19 triple-doubles for the season.
WATCH THIS PLAY
(VIDEO CREDIT: NBA.)
The shortest guy on the court stole the show by draining the go-ahead (and game-winning) jumper in Atlanta. The Celtics leave with the duke.
---
Follow Rey-Rey on Twitter at @TheNoLookPass for all tweets about the NBA. Also, check out his podcast, Rey-Rey Is Fundamental.

us on FaceBook! Thank you!
#SagerStrongForever