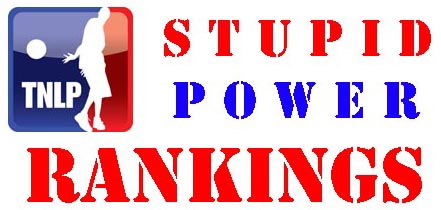 Power Rankings can be really stupid. So stupid that The No-Look Pass just had to have "Stupid Power Rankings." I take 10 things that happened in the league (well, not really; you'll see why) and rank them all however I see fit.
This feature is usually on every Monday. Disagree with the rankings? Well, we already prefaced that these are stupid. Just have fun with these as I rank these however I feel where they stupidly belong.
(NOTE: Rankings done before Monday night's games. I am very aware of how Jimmy Butler performed against the Thunder.)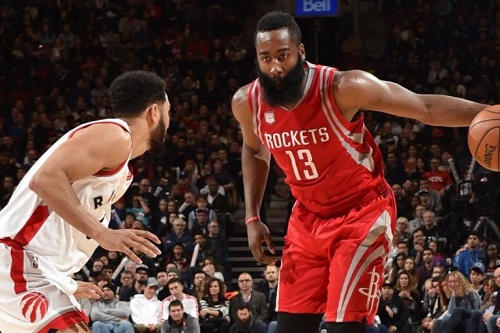 (PHOTO CREDIT: Getty Images.)
1) And The Rockets' Red Glare
They've kept it going. I've said a few times that this is the renaissance of James Harden, Eric Gordon, and Mike D'Antoni. Harden has 10 triple-doubles this season and is likely the leading candidate for Most Valuable Player. After not-so-great stints at New York and Los Angeles, D'Antoni looks like a genius once again (he doesn't get enough credit for being the catalyst of the way the NBA plays today). And Gordon is leading the league in three-point field goals made.
They went 4-0 in the last week and have won eight straight overall. They're 30-9 and they didn't win 30 last season until March 2nd. What a difference a year makes.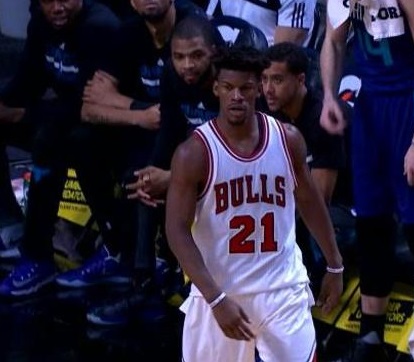 2) Jimmy Butler is Carrying the Bulls
38.0 points, 9.3 rebounds, 6.3 assists in the last week.
And the Bulls went 3-0! Butler's back must be sore for carrying the whole team.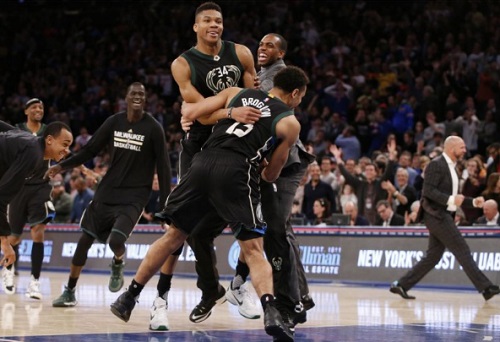 (PHOTO CREDIT: AP.)
3) The Not-So-Secret World of Giannis
I'm not so sure if that game against the Knicks at the Garden was his true coming-out party but Giannis Antetokounmpo certainly turned heads that night. First off, he had that crazy near-foul line dunk with Carmelo Anthony in the vicinity. Then he hit that massive stepback game-winning jumper (never mind that he should've been called for a 5-second backdown violation).
By the way, let me remind you that he's putting up MVP numbers this season:
24.0 points, 9.1 rebounds, 5.7 assists, 2.1 blocks, 1.9 steals.
And if you're into PER (Player Efficiency Rating), which involves all the surface stats, per-minute performance, and pace (average PER would be 15), Giannis is at a whopping 28.52 (second behind Russell Westbrook).
Giannis is sick.
(VIDEO CREDIT: NBA.)
4) Marco Belinelli Had the Coolest Almost-Game-Winner
Obviously, you can't do all of this in half a second. But it was a very clever try by Marco Belinelli. Not enough people do the whole "off-the-back" play.
Probably the best almost-game-winner I've ever seen.
Never change, @NickSwagyPYoung 😂#SwagThrust https://t.co/OerM5EYltr

— Bleacher Report (@BleacherReport) January 4, 2017
(VIDEO CREDIT: NBA.)
5) The Lakers Are Happy Again
The Lakers have won three of four as they have returned to the brand of basketball that made them get off to a surprising start earlier this year. They're so happy that Nick Young is doing pelvic thrusts while shooting a three and Jordan Clarkson is doing shimmies.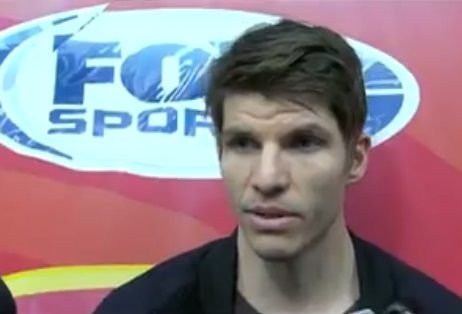 6) The Cavaliers Add A Shooter
As if they needed more shooting, right? But, honestly, you can never have enough of that. They have Channing Frye and James Jones. Richard Jefferson can make that trey. Heck, don't forget Kyrie Irving and Kevin Love. And of course, LeBron James can make that three, too.
I didn't mention J.R. Smith because he's hurt. That's who Kyle Korver is replacing for the time being. But once they're in the postseason, they have even more options to go to from behind the arc.
Also, J.R. and Korver being on the same team is making my NBA 2K teams come to life.
(VIDEO CREDIT: TheNBAFreak.)
7) Boogie Fights a Chair
I know there hasn't been much DeMarcus Cousins stuff as of late. So here he is pummeling a chair.
Poor chair. (Yes, Boogie got a tech.)
(VIDEO CREDIT: Strictly Hoops.)
8) Dario Saric Drops the F-Bomb After Getting the Ice Water Treatment
I'm all for pranks but it had to be embarrassing for Dario Saric to get surprised on local television that you ended up yelling out the F-word. Sixers sideline reporter Molly Sullivan had to awkwardly tell the audience that ice water splasher T.J. McConnell and Saric are good pals.
I'm sure T.J. was happy with this achievement but it was also some awkward TV.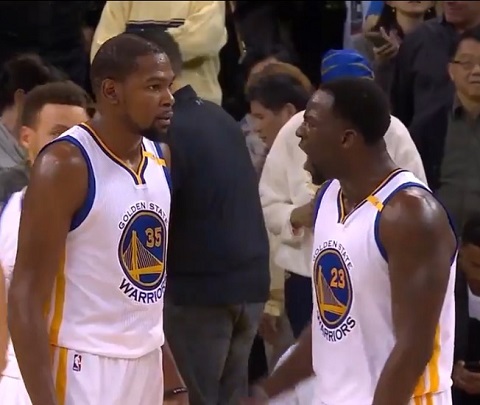 9) Kevin Durant Tried to do It By Himself
The Warriors blew a 24-point lead against Grizzlies. With the Warriors clinging on to a two-point lead, Durant asked Curry for the ball and went iso against Zach Randolph. Durant missed the long three, Mike Conley made the tying jumper, and Memphis eventually won in OT.
In that Durant play, Draymond Green was fuming. He wanted to run a more efficient pick-and-roll play that time and the 2014 MVP went against that. While the Warriors are 32-6, it's obvious the Warriors are not where they want to be.
To be fair, Durant has fit in seamlessly with the team… except for late-game situations. Warriors would rather run a motion play instead of going iso, which is what Durant (and a lot of players, really) is used to. Even though Durant was an MVP, he still has to fall in line with the rest of the team. Curry has gone out of his way to make sure Durant is comfortable but at this point, KD has to go out of his way to make sure he's the perfect glove in the Warriors' hands.
This is minor in the grand scope of things but I definitely didn't like the play. The Warriors are going to be okay, though.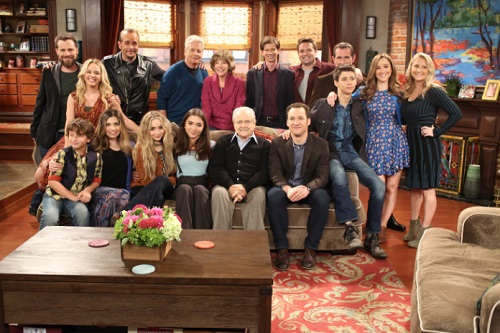 10) Girl Meets World Got Cancelled
Girl Meets World is one of my favorite shows. Yeah, it's on the Disney Channel but it's a worthy successor to coming-of-age family sitcom, Boy Meets World. They're cancelling the show because of low ratings but I hope another channel like Freeform or even Netflix picks it up.
I wanna see Riley Matthews and Maya Hart finish their stories just like I got to see Cory Matthews, Shawn Hunter, and Topanga Lawrence got to finish theirs.
---
Follow Rey-Rey on Twitter at @TheNoLookPass for all tweets about the NBA. Also, check out his podcast, Rey-Rey Is Fundamental.

us on FaceBook! Thank you!
#SagerStrongForever