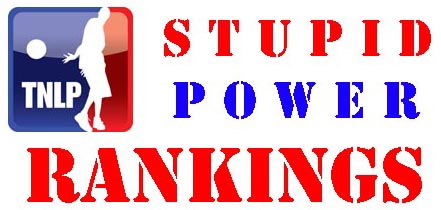 Power Rankings can be really stupid. So stupid that The No-Look Pass just had to have "Stupid Power Rankings." I take 10 things that happened in the league (well, not really; you'll see why) and rank them all however I see fit.
This feature is usually on every Monday. Disagree with the rankings? Well, we already prefaced that these are stupid. Just have fun with these as I rank these however I feel where they stupidly belong.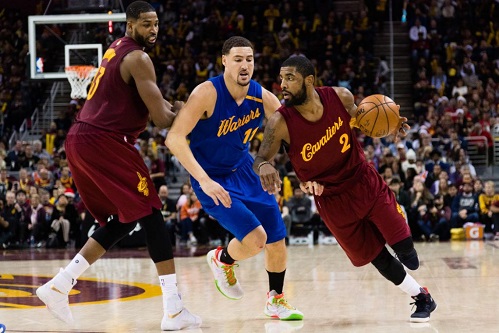 (PHOTO CREDIT: Jason Miller/AFP.)
1) Game of the Year So Far
The Golden State Warriors and the Cleveland Cavaliers provided an instant classic on Christmas Day in a rematch of the 2016 NBA Finals. Kyrie Irving made the last two baskets for the Cavs to complete the comeback and win after the Warriors lost a 14-point lead in the fourth (this is becoming a problem now for the Dubs against the Cavs).
The game also had some scintillating play from LeBron James and Kevin Durant. It also had big shots from a struggling Stephen Curry and the last few minutes of the game helped give off the aura that this was more than a regular season game.
It also had this…
(VIDEO CREDIT: NBA.)
2) Old Man Richard Jefferson Still Dunking On Fools
Richard Jefferson, who got swept up on the emotion of winning his first title that he actually retired for like a minute, was seriously dunking on the Warriors. First off, the 36-year-old caught Durant with this lefty jam. And then, in that video above, he got Klay Thompson straight up.
He also got a tech for WINKING at Durant. Dude, we don't see guys around 85 years old dunking on people. Let him feel this moment.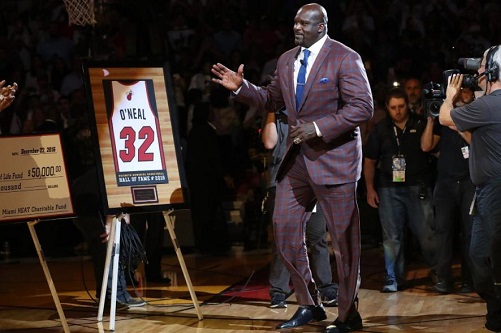 (PHOTO CREDIT: Getty Images.)
3) Shaq Gets His Number Up on the Heat Rafters
Not a very long stint in Miami for Shaquille O'Neal but he absolutely deserves to get his number retired there. He was there for 3 1/2 seasons but during those years, the Heat had some of the best times in their franchise. They fell short in this first season there but, with the help of Dwyane Wade, the Heat won a title in his second season.
I mean, no one talks about Tim Hardaway only lasting 4 1/2 seasons there and he has his jersey retired there so…
Apparently Channing Frye adjusted his own Wikipedia page 🙄😂#WelcomeToFryeIsland (via Richard Jefferson's Snapchat) pic.twitter.com/Sp5zQr1ETm

— NBA on ESPN (@ESPNNBA) December 26, 2016
4) Frye Island
I don't care what anyone says but I think you're awesome and hilarious when you're editing your own Wikipedia page. Also, can we make Frye Island a thing?
And Channing also made this edit:

If anything, he should edit all the Cavs players' Wikipedia pages.
Boogie just made this guy's day 😀 pic.twitter.com/Nuyb77DbSs

— Hayley Byrnes (@HayleyByrnes) December 22, 2016
5) The Boogieman
The DeMarcus Cousins saga continued over the last week. He scored 55 points against the Blazers. During that game, he was accused of throwing his mouthpiece in front of the Portland bench and he was given his second technical foul. But then the referees overturned that decision and "un-ejected" Boogie. That was bizarre. Later, Cousins ranted during his postgame talk with Kings sideline reporter Kayte Christensen and his mic was seemingly cut off (Christensen would say later that there was a battery issue). Afterwards, he would greet the media in a jovial manner.
We also got the good side of Boogie where he took a picture with a kid, who carried a sign that said he wanted the Kings center to notice him. Cousins obliged and we got a heartwarming moment there.
In between all of this, the Kings have won three straight and are suddenly the 8th seed in the West. What? More on this later.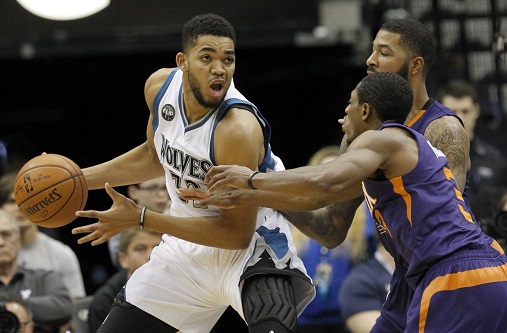 (PHOTO CREDIT: AP.)
6) All-Star Voting Change
The starters are no longer being decided by the fans alone. The players have a say as well as the media (25 percent for each). It'll get us closer to "what's right", I suppose, but not everyone will ever agree to getting it 100 percent correct.
I'm still amazed that we no longer see physical/paper ballots. I'm pretty sure not everyone knows what Twitter is or that everyone owns a cell phone.
Xmas tradition that my kids love. Mac Daddy Santa is back! -TW pic.twitter.com/pCWZNNKPRG

— Tiger Woods (@TigerWoods) December 22, 2016
7) Mac Daddy Santa
This is actually pretty horrifying (also given his personal problems in the past). But yet I couldn't stop cracking up upon seeing this. He looks like a washed-up Scott Steiner in that look.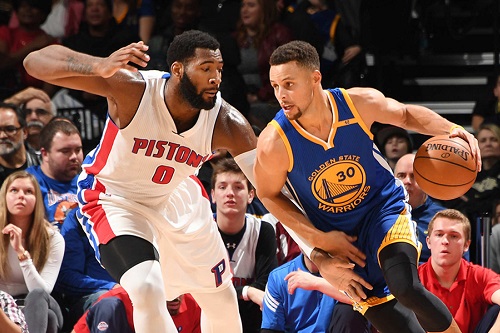 (PHOTO CREDIT: Getty Images.)
8) Pistons Can't Figure It Out
They've lost five straight games. The "players-only" meeting certainly didn't help (Stan Van Gundy agrees to that). There was also speculation that the meeting was about Reggie Jackson, who responded by not being super active in a game against the Bulls.
They did play well against the Dubs in a loss. Still, if they don't start winning soon, we might get another reset on this team. It's really too bad because they actually made the postseason last season. We expected them to be on the rise.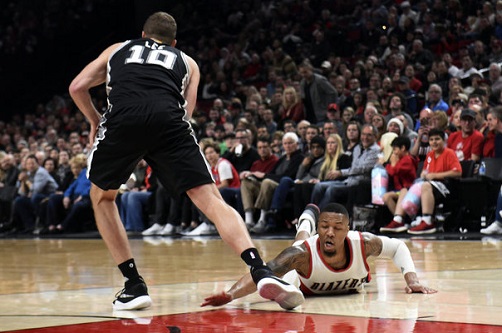 (PHOTO CREDIT: Steve Dykes/AP.)
9) Fight for the 8th Seed in the West
It's ugly below the Top 7 teams.
The Kings, as mentioned, is currently #8 in the West (they overtook the disappointing Blazers, who are 13-19). They are 13-17. That's bad. They're on pace for 35 wins. The last time a sub .500 team made the playoffs in the Western Conference? 1997 (three teams were under .500 then!).
There are three teams tied for last in the West at 9-21 (Wolves, Mavericks, Suns). That means they're only four games behind the 8th seed! Now fan bases of those teams in that tier are going to be so confused about what they want. Playoffs? Tank? WHAT SHOULD THEY DO?!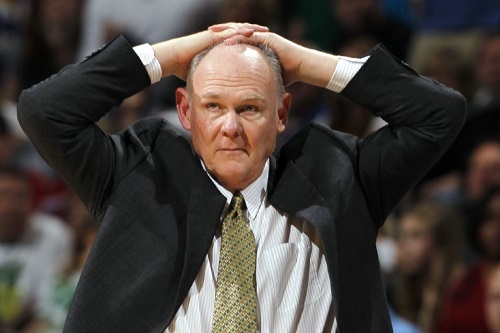 (PHOTO CREDIT: David Zalubowski/AP.)
10) George Karl is Furious
Karl said some unflattering things about the guys he formerly coached in his upcoming book, "Furious George." He said Kenyon Martin and Carmelo Anthony "didn't act like men because they didn't have fathers." Then he said J.R. Smith had too much influence from HIS father. "Spoiled brats" were also the way he described those players. Obviously, the players didn't take too kindly to that. Besides sales, what is Karl trying to accomplish here?
And very recently, Karl also said that the NBA has a problem with steroids. That's another issue for another day but Karl is coming off very bitter about the entire league he used to coach and even covered for a minute while working for ESPN.
I am very curious about what he said about the Kings but, apparently, he couldn't talk about that in his book as he had an agreement with the team that he couldn't disparage them in public.
What a guy!
---
Follow Rey-Rey on Twitter at @TheNoLookPass for all tweets about the NBA. Also, check out his podcast, Rey-Rey Is Fundamental.

us on FaceBook! Thank you!
#SagerStrongForever