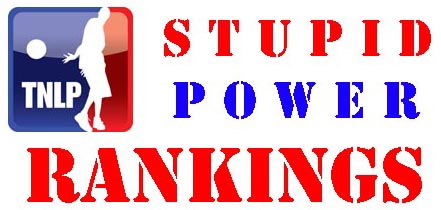 Power Rankings can be really stupid. So stupid that The No-Look Pass just had to have "Stupid Power Rankings." I take 10 things that happened in the league (well, not really; you'll see why) and rank them all however I see fit.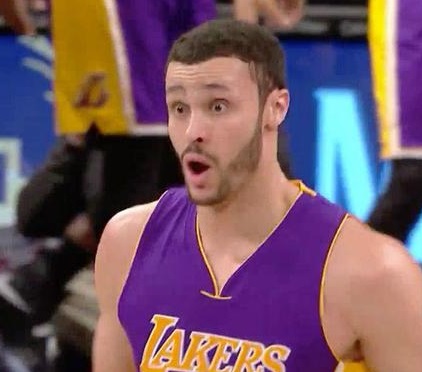 This feature is usually on every Monday. Disagree with the rankings? Well, we already prefaced that these are stupid. Just have fun with these as I rank these however I feel where they stupidly belong.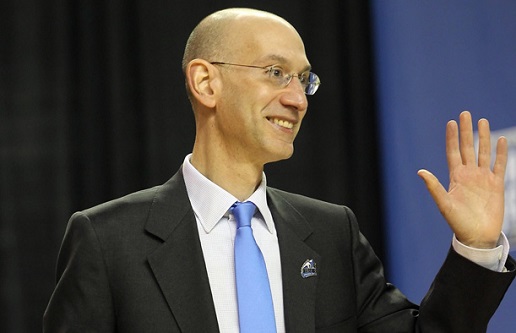 (PHOTO CREDIT: USATSI.)
1) The CBA Has Been Agreed Upon
So yeah, pending an awful nightmare, there will be NO LOCKOUT in the NBA. The new Collective Bargaining Agreement was agreed upon and there will be no stoppage of play for another seven years after this. We remember the 1998 and 2011 lockouts. Adam Silver wasn't going to let that happen.
Upon the things agreed upon? The NBA will start about 10 days earlier so that they can eliminate more back-to-backs and those four-games-in-five-nights stretches. Also, some veterans can receive those designated five or even six-year extensions. The rookie age will also stay at 19 for now and that this will be an ongoing discussion throughout the life of the CBA… but this was done in the last CBA, too.
The best thing about this is that there won't be any stoppages of play. Good for them because the NBA is honestly in a really good place right now. Competitive balance will always be an issue but, hey, some teams will get the short end of the stick no matter what situation it is.
(VIDEO CREDIT: NBA.)
2) Larry Nance, Jr. Probably Just Did the Dunk of the Year
Larry Nance the Younger smashed one on the older Lopez twin. It must be nice to be a Nance. That family's got hops.
(VIDEO CREDIT: NBA.)
3) Tim Duncan's Jersey Was Retired
This is super bittersweet. Obviously, Tim Duncan deserves everything from the San Antonio Spurs. Of course, his retirement ceremony is AFTER the game.
The anecdotes his former teammates and coaches told were awesome (Tim LOVES carrot cake!). And he kept his speech short (although he did note he spoke longer than 30 seconds).
It's just too bad that he's no longer playing in the NBA.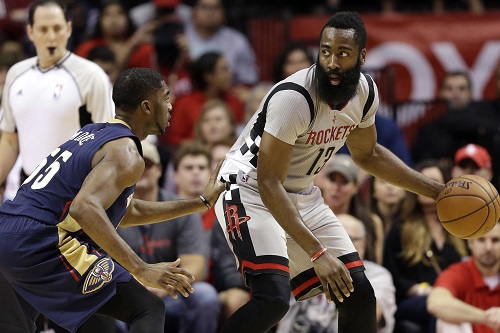 (PHOTO CREDIT: David J. Phillip/AP.)
4) The Rockets Are Flinging and Winning
The Rockets have won 10 straight. And they are throwing up threes like it's going out of style. They set the record for most threes made AND attempted (24 for 61!) against New Orleans on Friday. Then the next day, they followed that up by putting up 51 threes. Those exceeded the record they set earlier this season with 50 attempts.
Fire away, Rockets.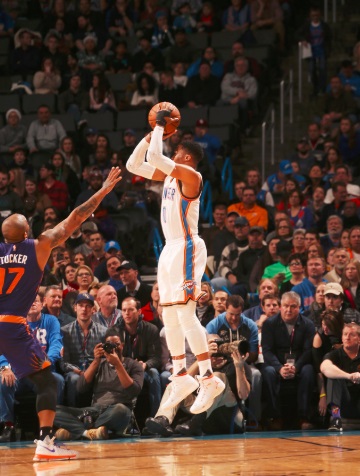 (PHOTO CREDIT: Getty Images.)
5) Russell Westbrook Goes for 26-11-22
Only the fourth player in history to get a 20-10-20 line.
And the best part was that he got his 22nd assist after doing the Shammgod.
(VIDEO CREDIT: Toronto Raptors.)
6) Terrence Ross and His Love of Windmill Dunks
He actually did it twice; he did it earlier in the week against Philadelphia.
Ross also missed one last week but I applaud his showmanship.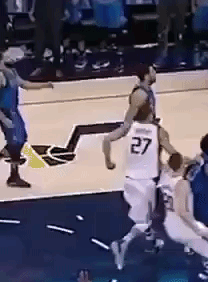 7) The Passion of Salah Mejri
Rodney Hood made the game-winning three with 0.8 seconds left against the Mavericks. Mavs center Salah Mejri's reaction told me he did NOT like that one bit. I LOVE that passion.
It's also too bad they're 7-20.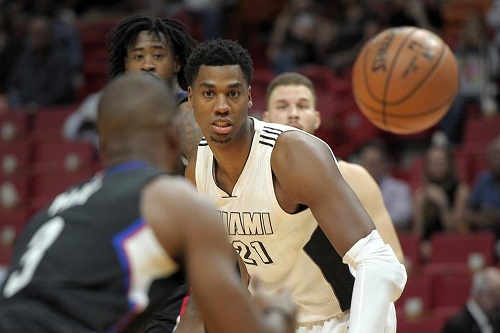 (PHOTO CREDIT: Michael Laughlin/Sun Sentinel.)
8) Hassan Whiteside is Backpedaling
So Hassan Whiteside mentioned that all DeAndre Jordan did was catch lobs before the Heat matched up with the Clippers. In a tweet that's since deleted, Whiteside mentioned that media shouldn't make a story out of it. Um, maybe he shouldn't have said anything like that.
After the Clips beat the Heat, Whiteside quickly clarified his comments. He mentioned in Heat Nation that he meant that Jordan's role with L.A. was different compared to his role with the Clippers.
I wish you said it like that in the first place.
(VIDEO CREDIT: NBA.)
9) The Lopez Twins Getting Jammed On
Not only did Brook get dunked on but so did twin brother, Robin. Jabari Parker does the dirty deed here. Yikes.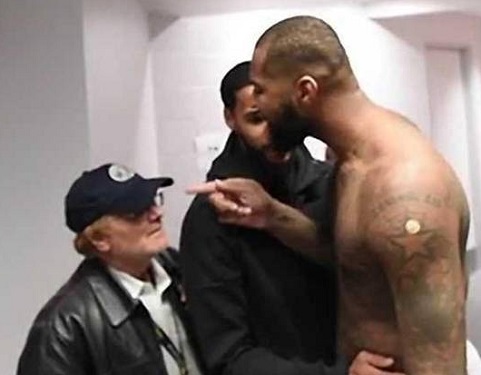 (PHOTO CREDIT: Sacramento Bee.)
10) Boogie vs The Bees
So Andy Furillo of the Sacramento Bee talked about DeMarcus Cousin's latest incident at a club in New York. In that column, Furillo brought up his brother in terms of their history with getting in trouble. DeMarcus didn't like that one bit and he got in a confrontation with Furillo.
In return, Executive Editor and Senior Vice President Joyce Terhaar wrote a retaliating column that documented Cousins' behavior against their paper.
Let's also keep in mind that Furillo hasn't exactly been kind to Cousins. He's written that Boogie was a cancer to the locker room, among other things. Cousins was upset at Furillo because the reporter wrote about his brother, even if it's just for a paragraph or two.
It's okay to say that Cousins shouldn't have acted towards the reporter like that. It's also okay to say that some of the folks of the Sacramento Bee haven't acted all that great, either. That column was just picking on Boogie. I understand that Cousins put that upon himself, too. But it's not like we haven't seen anyone quite like Boogie; we've seen some individuals act like this before. And there is a way to cover athletes without having to write super harsh words about them. Words hurt everyone, no matter the profession. I feel like everything about this should've been kept in-house.
I don't know how they're going to solve this. But hopefully, there's some Sacramento light at the end of the tunnel.
Once again, rest in peace, Craig Sager.
---
Follow Rey-Rey on Twitter at @TheNoLookPass for all tweets about the NBA and terrible pop music. Also, check out his podcast, Rey-Rey Is Fundamental.

us on FaceBook! Thank you!