This is the Hangover. This is where I get drunk on the NBA as I recap last night's action as well as a few things going on around the league. Here's your word vomit.
12/18/2016
THE GAMES
UTA 82 (18-10) @ MEM 73 (18-11)
BRK 107 (7-19) @ PHI 108 (7-20)
TOR 109 (19-8) @ ORL 79 (12-17)
BOS 105 (15-12) @ MIA 95 (9-19)
LAC 110 (20-8) @ WAS 117 (12-14)
SAC 79 (10-17) @ DAL 99 (7-20)
NO 100 (9-20) @ SA 113 (22-5)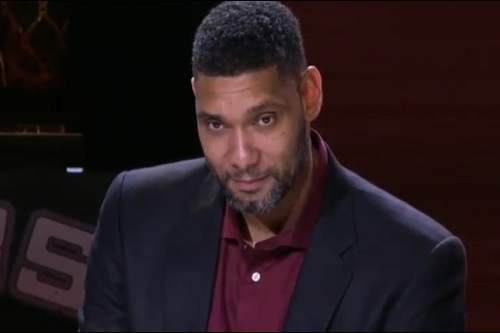 BIG FUNDAMENTAL
This is no secret but I HEART Tim Duncan. He had his jersey retirement ceremony in San Antonio AFTER the Spurs beat the Pelicans. I don't think I ever heard of anybody getting their jersey retired after a game; doesn't this usually happen at halftime?
We all knew Duncan was stupid good. He was probably the last great player that went to the NBA after playing the full four years in college. And that guy played 19 seasons of excellence. All of those seasons were played as a San Antonio Spur. He helped lead the franchise to five championships and now the Spurs are seen as the class of the NBA. The Spurs never missed the playoffs during his entire career.
He made the game look so easy. And it was tough to appreciate him early on because not only did he make it look easy but he wasn't usually the type to be in a highlight reel. In fact, remember the times when he and the Spurs were "boring"? It was because they were more of a defensive team and they won often. And it was charged that Timmy had the personality of a tree stump. He was hardly in endorsements and he didn't show much outside his basketball life.
But honestly, you had to respect that. Isn't that what we wanted on some of our athletes? You wanted your star player to do his job and to keep quiet. That's what the Spurs did. That's what Tim Duncan did.
As the years went on, some NBA fans appreciated what Duncan did. While he made the game look easy, you had to be AMAZED on how he did everything on the basketball court. His signature bank shots. His post play. His passing. His handles for a big man. His footwork. His rebounding. His rim protection. His clutch shots. His unselfishness. The game just came to him. And look how the team grew under him. When he got teammates who were basically his types, we saw what was probably the greatest passing team of all-time in the 2014 title team. It was poetry in motion and it all started with Tim Duncan.
The anecdotes by his former coaches and teammates were touching. It really gave some insight on what Duncan meant to the franchise. And since this is typical Tim Duncan, he didn't give a long speech on his retirement ceremony but he also mentioned that he won a bet because he spoke longer than 30 seconds. You can see the entire ceremony here.
There's not enough words to describe how awesome and what a pleasure it was to watch Duncan play. Happy retirement, Tim Duncan. Good to see your jersey up in the rafters. I'm sure you'll do great on whatever you're doing next.
(Probably another game of Dungeons and Dragons.)
THE REST OF THE LEAGUE
Well, we saw a 90s throwback game with the Grizzlies and the Jazz. Those are the only two teams these days that will turn a basketball game into a quicksand run. You saw the final score.
Hey, the Mavericks are starting to wake up a bit here. They're actually 3-3 in their last six games. Good for them.
For this year, it doesn't seem like there's any active tanking going on here. There are no team that have fewer than seven wins. I feel like I haven't seen that in a while. Thanks, Philly, for actually competing.
The Clippers lost a winnable game against the Wizards. Also, Blake Griffin is having minor knee surgery that will put him out for a few weeks. He should be back in the month of January.
LINE CROSSER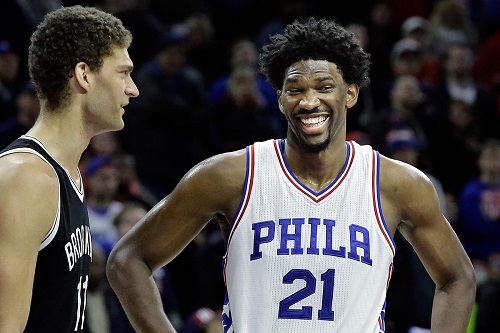 (PHOTO CREDIT: Elizabeth Robertson/Philly.Com.)
Joel Embiid is all smiles. Not only did they win but he had a hell of a line.
33 points, 10 rebounds, 3 blocks.
And he only played 27 minutes and change!
WATCH THIS PLAY
(VIDEO CREDIT: Toronto Raptors.)
Terrence Ross loves doing them windmills on breakaways.
---
Follow Rey-Rey on Twitter at @TheNoLookPass for all tweets about the NBA. Also, check out his podcast, Rey-Rey Is Fundamental.

us on FaceBook! Thank you!
#SagerStrongForever