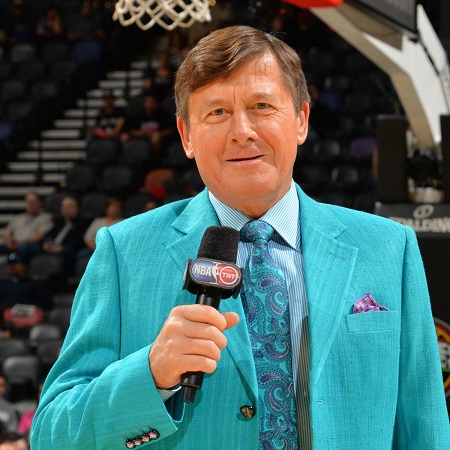 Usually, I have the Hangover going on here to recap each game night of the league. But this supercedes whatever is going on in the game.
Craig Sager has passed away at the age of 65.
Life can be so cruel. He was diagnosed with leukemia two years ago and subsequently had three bone marrow transplants (his son, Craig Jr., was one of the donors). But what never changed about Mr. Sager was that he never let the illness deter him. He still worked his ass off when he could. He never seemed to lose his smile. He never seemed to lose that vigor and enthusiasm. Craig Sager continued to be Craig Sager like there was nothing wrong.
And he was also a very kind and positive man. He took a few minutes of his time to talk to me during Lakers Media Day a few years ago. He told me to be myself and to have fun. You always hear that from everyone and everywhere but to have it come from Craig meant a lot more to me. Because you know Craig kept being himself and he had fun.
We all loved those loud and colorful suits he wore when he was roaming the sidelines at NBA games for Turner Sports. Some NBA players had fun at his expense. But he took it all in stride. He had fun and yet he was a true professional through it all. He was a fixture in the league and I don't want to imagine an NBA without Craig Sager. Heck, I didn't want to imagine life without Craig Sager. I feel so badly for his daughter, Kacy, who I have become good friends with over the last few months. It's never easy to lose a father and I can't imagine what she, Craig Jr., and the rest of their family are feeling.
We'll miss you on the sidelines. We'll miss your enthuiasm. We'll miss your smile. We'll miss your loud suits. We'll miss your professionalism. We'll miss your banter with Gregg Popovich.
We'll miss you in life. We love you, Craig Sager. Heaven got a good one. Rest in peace. #SagerStrong Forever.
---
Follow Rey-Rey on Twitter at @TheNoLookPass and check out his podcast, Rey-Rey Is Fundamental. #SagerStrongForever