This is the Hangover. This is where I get drunk on the NBA as I recap last night's action as well as a few things going on around the league. Here's your word vomit.
12/12/2016
THE GAMES
CHA 94 (14-11) @ IND 110 (13-12)
MIL 100 (11-12) @ TOR 122 (17-7)
WAS 101 (9-14) @ MIA 112 (8-17)
BRK 118 (6-17) @ HOU 122 (18-7)
DEN 92 (9-16) @ DAL 112 (6-18)
POR 120 (12-14) @ LAC 121 (18-7)
LAL 92 (10-17) @ SAC 116 (9-15)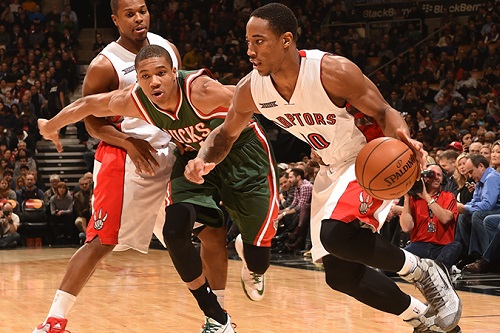 (PHOTO CREDIT: Ron Turenne/Getty Images.)
IT'S THE CAVS… AND THEN THE RAPTORS… AND THEN THE REST
We know how the Cavs are doing. And now we know how the Raptors are doing.
They're only one game behind the Cavs. We always semi-joke that in the East, it's the Cavs and then the rest. But the Raptors have clearly broken off the pack and are the second best team in the Eastern Conference.
We see what DeMar DeRozan is doing. He's increased his scoring to 27.9 points per game. Kyle Lowry continues to play the best ball of his career. And they have this rotation where Lowry plays with the bench and they've been absolutely devastating. From The Athletic:
The lineup with Lowry plus four reserves was effective last year, and so it continues this year. Lowry, Cory Joseph, Ross, Patrick Patterson and Lucas Nogueira are now outscoring opponents by 32.2 points per 100 possessions, in 125 minutes of play. (It is their second mostly commonly used lineup, behind the starting lineup.)
Lowry, 31, IS playing a lot of minutes at 37.4 per game. We're in an era where stars take a game off just for rest. But I suppose we can worry about Lowry being worn down when they get to the postseason.
The Raptors are beating teams into oblivion with their #1 offense (114.9 points per 100 possessions). At some point, their 16th-ranked defense has to improve. But their offense, which is currently better than the juggernaut Warriors, are so good that their defense may just have to be good enough to win.
Their depth has become something and that may be why they're getting away with this. Terrence Ross, Cory Joseph, and Patrick Patterson are good enough to start somewhere else. But there will be a time (the postseason) where shots won't fall for anybody so they'll have to tighten up the screws on the defensive end very soon.
And the Raptors have done well at 17-7. But they still can't seem to get over the hump. The team that they're trying to go through, the Cavs, have beaten them three times this season. But, at least, they were close losses…?
THE REST OF THE LEAGUE
All the home teams won on Monday!
The Rockets have won seven straight as they continue to be the hottest team in the league.
The Clippers did beat the Blazers in another close contest. The Clips have the roster and the experience to beat the Warriors. It's just too bad that they laid an egg against them a few days ago.
You gotta love Luke Walton getting ejected in the Lakers' game against the Kings. It shows that he was willing to do anything to help out his team. He got his team's back. Too bad, the Lakers didn't reciprocate that on the court as they lost their seventh straight game.
Oh, hey, the Mavericks have something to smile about. They beat the Nuggets by 20.
LINE CROSSER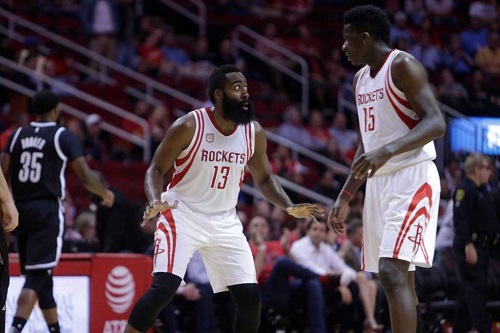 (PHOTO CREDIT: Mark Mulligan/Houston Chronicle.)
James Harden does it again. He's really thrived under Mike D'Antoni. Anyway, he went for:
36 points, 8 rebounds, 11 assists.
What a change from last season, right? Of course, when you're winning, everything's different.
WATCH THIS PLAY
(VIDEO CREDIT: NBA Hotspot.)
The Bucks got blown out but, hey, at least, Jabari Parker did something cool at the end? He can take this section.
---
Follow Rey-Rey on Twitter at @TheNoLookPass for all tweets about the NBA and terrible pop music. Also, check out his podcast, Rey-Rey Is Fundamental.

us on FaceBook! Thank you!