This is the Hangover. This is where I get drunk on the NBA as I recap last night's action as well as a few things going on around the league. Here's your word vomit.
12/11/2016
THE GAMES
PHI 97 (6-18) @ DET 79 (13-13)
BOS 96 (13-11) @ OKC 99 (15-9)
GS 116 (21-4) @ MIN 108 (6-18)
NO 120 (8-17) @ PHX 119 (7-17) [OT]
NY 118 (14-10) @ LAL 112 (10-16)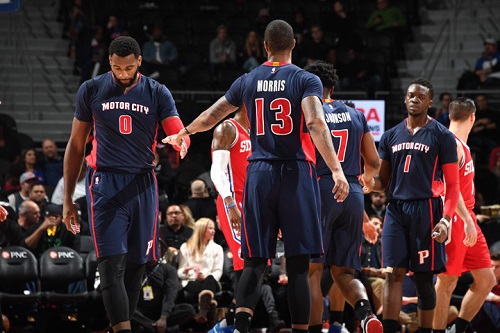 (PHOTO CREDIT: Chris Schwegler/Getty Images.)
WHAT TO MAKE OF THE PISTONS
This team has become too unpredictable for my tastes.
They're still technically seventh in the East but, really, they're one of four teams that are .500. While they're still trying to find their way offensively (20th in offensive rating or points per possession), they're getting it done the Stan Van Gundy way; they are 4th in defensive rating.
And then they get blown out by the Philadelphia 76ers at home. A Sixers team that was resting Joel Embiid.
They did look promising last season. We all know Andre Drummond is a monster on the boards and Reggie Jackson has done well as the starting point guard. Plus Stanley Johnson, their rookie last year, seemed destined to do well. And they got a tremendous acquisition in Tobias Harris.
This season, Harris has become a go-to guy. Kentavious Caldwell-Pope has become a fantastic defensive stopper. Drummond is doing his thing. It's a bad sign for Johnson, though, as he just got assigned to the D-League. But Jackson just came back and while they're .500, you feel they should be better.
Why? Because they've had great wins over the Clippers, Thunder, Bulls, Celtics, and the Hornets. But then they had that loss against the Sixers. They've also had losses against the Nets, Suns, and the Magic twice.
If they wanna get to the next level, they should beat the teams that are supposedly below them. I know some people criticize some winning streaks, saying that their schedule has been weak. But winning, no matter the competition, gives confidence. And they can only play what their schedule dictates. And hopefully, their scoring catches up with their defense. It should be easier with Jackson back since he is the best at putting up points on the board for the Motor City.
The next two games for the Pistons are on the road against the Mavericks and the Wizards. They SHOULD beat them but that's the key word. SHOULD.
Show me that you can be that team, Pistons.
THE REST OF THE LEAGUE
Good for Tim Frazier to get a triple-double for the Pelicans. He's really made the most out of his opportunity.
You know who didn't get a triple-double? Russell Westbrook. He only got six assists in their game against the Celtics. The Thunder DID beat Boston and now they've gone 7-1 in their last eight. It's another team in the West that's a bit scorching.
The injuries have really taken a toll on the Lakers as they've lost six straight. In the meantime, how about those Knicks? All Phil Jackson yapping aside, New York has pulled into a tie for THIRD in the East. Like… what?
Also, we just talked about the Pistons being shocked by the Sixers but good for the Sixers for winning back-to-back road games for the first time in two years. And T.J. McConnell NEARLY got a triple-double. But Nerlens Noel, who made his debut in this game, got hurt yet again after spraining his ankle. Youch.
Oh, and the Warriors won again. Of course, they did.
LINE CROSSER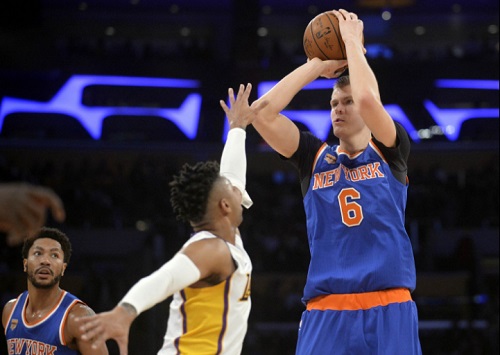 (PHOTO CREDIT: Gary A. Vasquez/USA Today.)
This was really tough. Westbrook had another out-of-this-world statline. Frazier had his first career triple-double. But I like Kristaps Porzingis going for:
26 points, 12 rebounds, 7 blocks.
THREE-SIX-LATVIAAAAA.
WATCH THIS PLAY
(VIDEO CREDIT: NBA.)
Karl-Anthony Towns shows his hops and power in this big alley-oop jam.
---
Follow Rey-Rey on Twitter at @TheNoLookPass for all tweets about the NBA and terrible pop music. Also, check out his podcast, Rey-Rey Is Fundamental.

us on FaceBook! Thank you!