This is the Hangover. This is where I get drunk on the NBA as I recap last night's action as well as a few things going on around the league. Here's your word vomit.
12/10/2016
THE GAMES
MIL 105 (11-11) @ WAS 110 (9-13)
DEN 121 (9-15) @ ORL 113 (10-15)
POR 111 (12-13) @ IND 118 (12-12)
CHA 105 (14-10) @ CLE 116 (17-5)
MIA 100 (7-17) @ CHI 105 (13-10)
GS 89 (20-4) @ MEM 110 (17-8)
DAL 87 (5-18) @ HOU 109 (17-7)
BRK 101 (6-16) @ SA 130 (19-5)
SAC 84 (8-15) @ UTA 104 (15-10)
NO 105 (7-17) @ LAC 133 (17-7)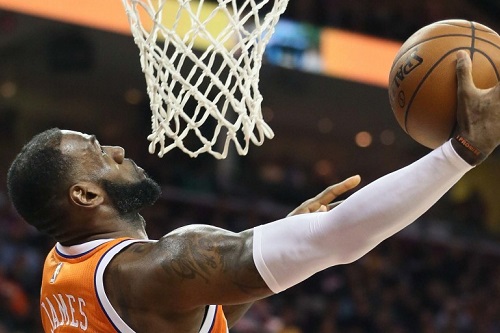 (PHOTO CREDIT: Chuck Crow/The Plain Dealer.)
CHOSEN ONE
LeBron James continues to make a case for being the greatest NBA player of all-time after becoming the first forward ever to have 7,000 career assists.
Yeah, I know what I said. But it's rough to argue with someone who has scored 27,359 points, grabbed 7,229 rebounds, and dished out 7,006 assists in his career. If he keeps up this pace, he can reach five digits on all three categories in about five seasons should he choose to keep going. Oh, yeah. He's turning 32 in two-and-a-half weeks.
He wins a ton of games every season. We always expect his team in the East to be the favorite to go to the NBA Finals; he is that much of a gamechanger. He's won three championship rings. He helped do what was deemed impossible; beat the record-setting Golden State Warriors AFTER being down 3-1 in the Finals. That's AWESOME.
It's amazing that he's still doing these kinds of things in this 14th season. He's stayed healthy throughout his career and this tank of a man can hardly be dented. The guy has the speed of a locomotive and he's built like Karl Malone. He can be a monster on the boards and he has the court vision of Steve Nash. And at his peak, he's a nightmare when he's defending you.
I know it's easy to hate on him, even outside of The Decision. He was super hyped by the media. He got a Sports Illustrated cover in his junior year in high school. The NBA wanted him to be the face of the league since he came in. His nickname coming in was The Chosen One; he even has that tattooed on his body. Plus early on, he spoke like everythng was calculated so it seemed inauthentic (when, really, I'm sure he was a work in progress in terms of speaking to the media). AND he's a BIG GUY. Everything seemed GIVEN to him from the start (of course not; his game was outstanding from the start and that doesn't come without hard work). So even though he was a good guy (and, really, he is; he's never gotten in trouble), the haters were rising as fast as his star was.
Now that he's an elder statesman, there's a lot more appreciation for the guy. And it's too bad a lot of people (including me) didn't appreciate him as much as we should have. LeBron James could end up becoming the greatest of all-time after all is said and done. I said the eye-popping numbers earlier. He could be retired before we know it so let's cherish and respect his time in the league a bit more. Even if you boo him when he's trying to beat your team.
THE REST OF THE LEAGUE
So how about those Rockets yet again? I already profiled them yesterday. Yeah, they beat the hapless Mavericks but, as you know, the NBA can be really strange, especially on back-to-backs.
Also, the Memphis Grizzlies have won six straight. Yup. They beat those monster Golden State Warriors. By a lot. They're an example of a team with good culture, which is what I feel teams should have if they want to be a perennial playoff team. It's something the Sixers might be hard-pressed to have once they actually want to get to that next level (and they might but the three years before that seemed so hapless). Much like the Spurs and much like the Warriors, they're all about the "next man up" mentality. They still have the core of Marc Gasol, Zach Randolph, and Tony Allen. They don't have Mike Conley and Chandler Parsons currently playing but they have guys like JaMychal Green, Troy Daniels, Troy Williams, Andrew Harrison, Wade Baldwin IV, and Jarell Martin stepping up. All their names are either barely or not recognizable but that's the strength of the Grit and Grind culture. They may be underdogs on the outside but they don't let anyone else tell them they're going to lose. And they haven't lost in a while.
The Spurs were so mad about losing that first road game that they took it out on the Nets. Whoops.
The Clippers won so they didn't go down to the fifth spot in the West. Suddenly, the West has become wild yet again.
LINE CROSSER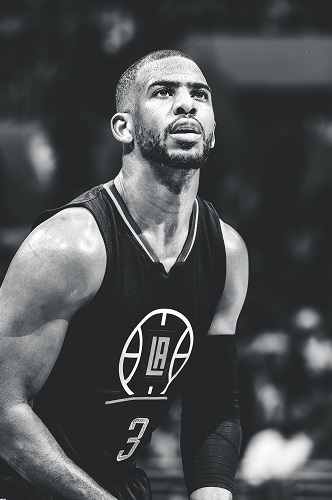 (PHOTO CREDIT: Clippers.Com.)
Chris Paul got LASIK over the summer. And he proved that he did have perfect vision. A 20/20. For reals.
20 points, 20 assists.
AND he didn't turn the ball over. Point God, indeed.
WATCH THIS PLAY
(VIDEO CREDIT: NBA.)
LeBron James did a little reverse jam against the Hornets.
---
Follow Rey-Rey on Twitter at @TheNoLookPass for all tweets about the NBA and terrible pop music. Also, check out his podcast, Rey-Rey Is Fundamental.

us on FaceBook! Thank you!