This is the Hangover. This is where I get drunk on the NBA as I recap last night's action as well as a few things going on around the league. Here's your word vomit.
11/30/2016
THE GAMES
SAC (7-11) @ PHI (4-14) *POSTPONED*
DET 121 (10-10) @ BOS 114 (10-8)
MEM 105 (11-8) @ TOR 120 (12-6)
LAL 96 (10-10) @ CHI 90 (10-7)
WAS 115 (6-11) @ OKC 126 (12-8) [OT]
NY 106 (9-9) @ MIN 104 (5-13)
SA 94 (14-5) @ DAL 87 (3-14)
MIA 106 (6-12) @ DEN 98 (7-11)
ATL 107 (10-9) @ PHX 109 (6-13)
IND 109 (9-10) @ POR 131 (10-10)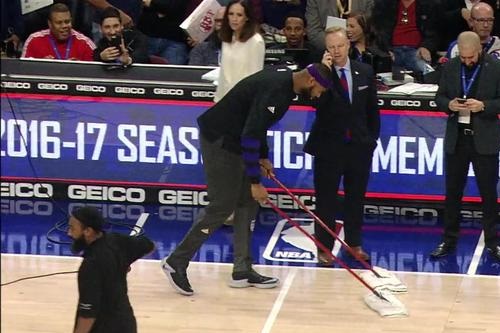 (PHOTO CREDIT: CSN Philly.)
THE FLOOR WAS WET
So as you read whether it's earlier in this entry or somewhere else (I trust you read it somewhere else because I don't provide up-to-the-minute news myself unless you follow me on Twitter, which is what you should do because I'm hilarious), the Kings/Sixers game was postponed.
The floor was wet on the Wells Fargo Center and it was deemed unplayable. I don't know if it's hockey ice or tears or some weird science thing but no game was played. Rightfully so because you want to make sure players don't slip and slide all over the court.
Sixers writer Keith Pompey showed us how wet the floor was.
Watch this video to see how wet the floor gets. #Sixers #SacramentoKings pic.twitter.com/96qHdS8z8h

— Keith Pompey (@PompeyOnSixers) December 1, 2016
Even Boogie Cousins tried to help out in mopping the floor and that didn't help (you see the picture above).
The game will be postponed in a later date. It MIGHT matter since these two teams are likely to be lottery bound and worse records mean more ping pong balls. But it's always tough to reschedule a game because you want them to play on a day when they're not playing another game the day before or the day after. Sometimes, we've seen teams get put in a situation where they have to play games in three straight days because of rescheduling.
Joel Embiid had something to say about this cancellation.
Well The court was tanking tonight…. #TrustTheProcess

— Joel Embiid (@JoelEmbiid) December 1, 2016
We definitely couldn't trust the condensation.
THE REST OF THE LEAGUE
I might have just watched the worst game of the season. Although if you like bricked shots, turnovers galore, and people making boneheaded basketball decisions, Bulls vs Lakers might have been your favorite game of the season.
Karl-Anthony Towns put it all on him when it was mentioned that the Wolves are underachieving. Well, he literally did that when they faced the Knicks. KAT had an insane game but, unfortunately, they fell short because of an old star. You'll see in the two sections below.
So Russell Westbrook got a triple-double for the fourth consecutive game. It was said that Wilt Chamberlain has the record for most consecutive games with a trip-dub at 8. I feel like this is possible now. By the way, Russ has 9 for the season. We JUST entered December.
Kind of amazing that the Spurs are 11-0 on the road but only 3-5 at home. What's up with that?
Finally, our good friend, Cassy Athena, interviewed Isaiah Austin, former Baylor center. If you remember, Austin had his NBA dreams cut short because he had Marfan syndrome. It's a disorder that affects the heart and if he played competitively, it could rupture his heart. NBA Commissioner Adam Silver, though, invited him to the draft and made him a ceremonial pick.
(VIDEO CREDIT: NBA.)
In this interview with Cassy in her series, Thru The Lens, Isaiah Austin was cleared to play basketball again.
(VIDEO CREDIT: Cassy Athena.)
I am so happy for Isaiah. We wish him good health and good luck to his quest in playing in the NBA. Chase those dreams, Isaiah Austin.
LINE CROSSER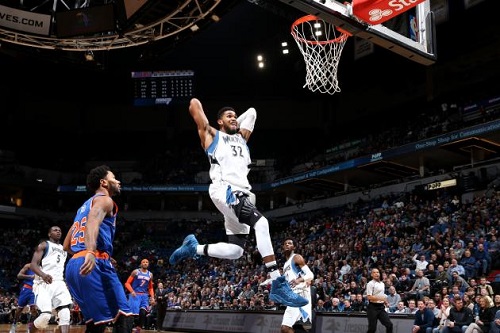 (PHOTO CREDIT: David Sherman/Getty Images.)
I mean, like I said earlier, Westbrook got yet another triple-double. But Karl-Anthony Towns went to town on the players from all five towns.
47 points, 18 rebounds, 3 blocks.
IF ONLY HE SCORED 50… just kidding, KAT. You already go above and beyond.
WATCH THIS PLAY
(VIDEO CREDIT: NBA.)
Like I said, Carmelo Anthony can still do this. He hits the go-ahead J with 2.3 ticks left as the Knicks withstood KAT's monster game.
---
Follow Rey-Rey on Twitter at @TheNoLookPass for all tweets about the NBA and terrible pop music. Also, check out his podcast, Rey-Rey Is Fundamental.

us on FaceBook! Thank you!