This is the Hangover. This is where I get drunk on the NBA as I recap last night's action as well as a few things going on around the league. Here's your word vomit.
11/28/2016
THE GAMES
SAC 95 (7-11) @ WAS 101 (6-10) [OT]
PHI 95 (4-14) @ TOR 122 (11-6)
OKC 112 (11-8) @ NY 103 (8-9)
BOS 112 (10-7) @ MIA 104 (5-12)
CHA 104 (10-7) @ MEM 85 (11-7)
UTA 112 (10-8) @ MIN 103 (5-12)
ATL 100 (10-8) @ GS 105 (16-2)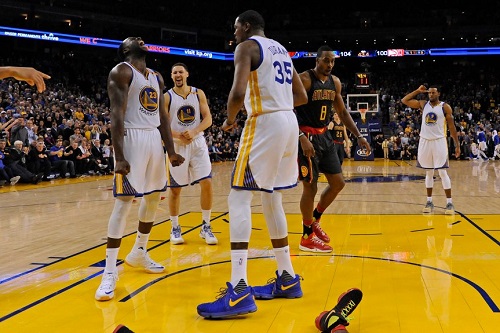 (PHOTO CREDIT: Jose Carlos Fajardo/Bay Area News Group.)
So yeah, let's look at the overall NBA standings. As you can see by that dude yelling up in the picture, it's a Warriors' world once again.
LET'S LOOK AT THE EAST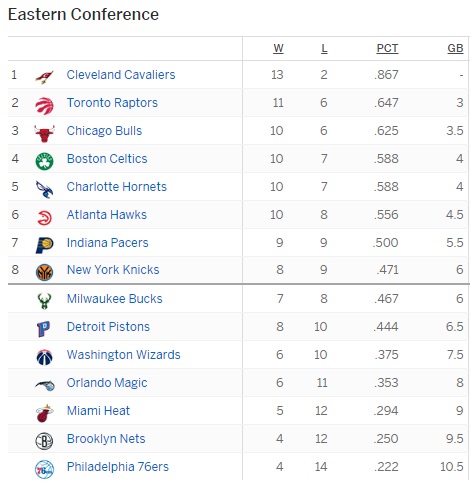 (CREDIT: ESPN.)
We all know these placements could look much different by April or even Christmas. But the fact remains for the East is that it's still Cleveland and then everyone else. Even though it looks a little more balanced below them, Toronto is still the #2 team in the East.
Chicago is a surprise #3 at the moment. Dwyane Wade has been a great #2 guy for their stud, Jimmy Butler, who's basically shattered every expectation he's had every year. Remember that Butler was the last pick in the first round of the 2011 NBA Draft.
Charlotte and Atlanta got off to fast starts before slowing down in the last couple of weeks. Boston has pretty much recovered to the 4th spot after missing Al Horford. Rounding out the current playoff picture are Indiana, who surprisingly survived some sloppy play to get back to .500, and the self-proclaimed super team New York.
Milwaukee is right around where we expected. Detroit can't get any offense going as they're missing Reggie Jackson. Washington is still adjusting to new coach Scott Brooks. Orlando is in the Top 10 in defense because that's Frank Vogel's specialty but they can't score (last in offensive rating). And we knew Miami, Brooklyn, and Philadelphia would suffer. Miami lost Wade, obviously. After an 0-7 start, the Sixers have gone on to play pretty good ball (they had a 4-3 stretch bookended by an 0-7 start and their current four-game skid).
So no huge shockers in the East so far. But Cleveland looks even more deadlier than they were in their title run. They look happier, more harmonious, and out to prove something.
LET'S LOOK AT THE WEST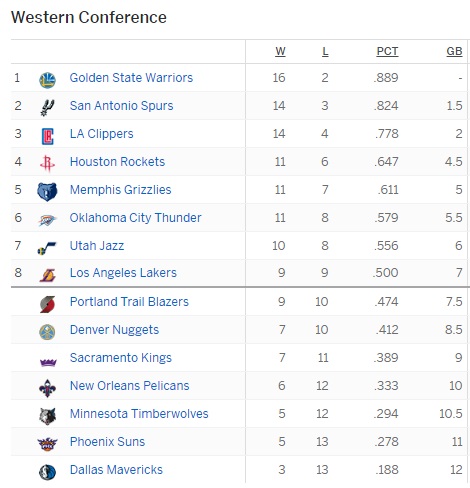 (CREDIT: ESPN.)
No surprise with the Warriors. Their starts in the last three seasons (including this one): 21-2, 24-0, 16-2. Amazing.
No one is talking about the Spurs as usual but here they are in second place. We also all expected the Clippers in the third spot but their recent swoon knocked them out of the top spot.
Houston is a surprise here. With James Harden playing point, their offense has been outstanding (4th in offensive rating). Memphis tried to join the pace-and-space trend but decided they were still better as a grit-and-grind team. A hot start by the Oklahoma City Thunder helped them and now they're in the 6th spot. We all know what the heck Russell Westbrook is doing.
The 7th spot is occupied by Utah. They've had their fair share of injuries but they've held steady. And another surprise is the Los Angeles Lakers, who have all flourished under Coach Luke Walton. Walton brought the Lakers to the year 2016 and he made everyone on that team love basketball again.
Portland has struggled a bit but I can see them surging any minute now. Denver is weird and I don't know what to make of them right now but I also don't think they'll do much damage. Sacramento is hanging around in 11th and New Orleans has surged after Jrue Holiday returned.
Even with Tom Thibodeau, the young and inexperienced Timberwolves are showing just that so they're not winning many games yet. Phoenix is still stuck in a quagmire and Dallas, without Dirk Nowitzki (and other players, really) for much of the season, have bottomed out.
The top pretty much looks the same but no one saw the Lakers fighting for a playoff spot going into December. The NBA can be weird and I love it.
LINE CROSSER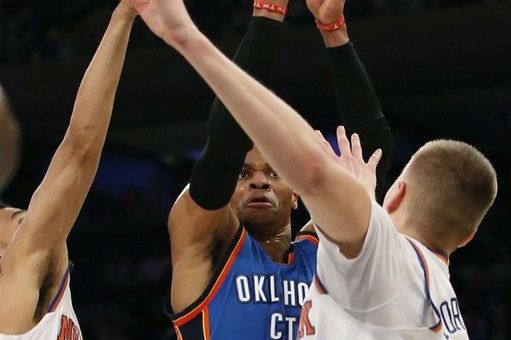 (PHOTO CREDIT: Kathy Willens/AP.)
Russell Westbrook has pretty much taken over this section. But I cannot take it for granted. What he's doing is incredible. In a win against the Knicks, Westbrook went for…
27 points, 18 rebounds, 14 assists.
At some point, he'll get a 20-20 on rebounds and assists, right? This is just insane in the membrane.
WATCH THIS PLAY
(VIDEO CREDIT: NBA.)
Here's a name we rarely say: Trey Lyles stuffs one over a sitting wolf, Gorgui Dieng.
---
Follow Rey-Rey on Twitter at @TheNoLookPass for all tweets about the NBA and terrible pop music. Also, check out his podcast, Rey-Rey Is Fundamental.

us on FaceBook! Thank you!