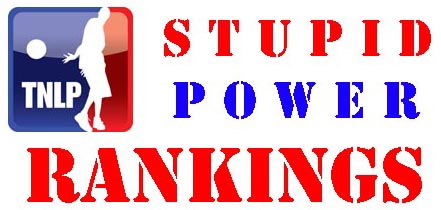 Power Rankings can be really stupid. So stupid that The No-Look Pass just had to have "Stupid Power Rankings." I take 10 things that happened in the league (well, not really; you'll see why) and rank them all however I see fit.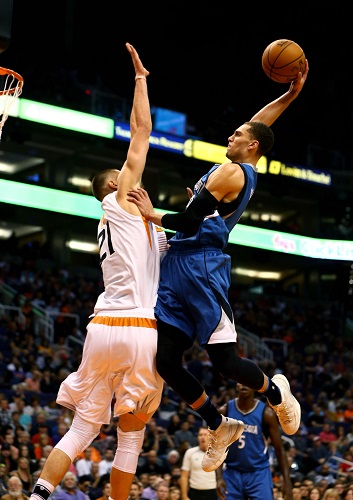 (PHOTO CREDIT: Michael DeMocker/USA Today.)
This feature is usually on every Monday. Disagree with the rankings? Well, we already prefaced that these are stupid. Just have fun with these as I rank these however I feel where they stupidly belong.
(VIDEO CREDIT: NBA.)
1) Don't Turn Your Back on the Wolfpack
The baby Wolves had early Dunk of the Year candidates on back-to-back nights. The video above the paragraph is Zach LaVine stealing Alex Len's sunshine (I feel so played out using that same Steal My Sunshine reference four times this week). But right below is a video of Andrew Wiggins punking Shaqtin' A Fool sensation JaVale McGee.
(VIDEO CREDIT: NBA.)
So many players crying wolf this week. To top it all off, LaVine did a 360 dunk from the foul line and I now believe wolves can fly.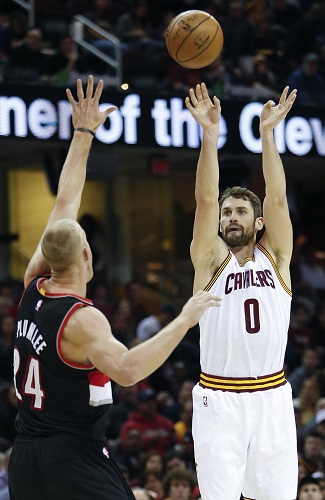 (PHOTO CREDIT: Ron Schwarne/AP.)
2) Kevin Love Scored 34 Points in 1st Quarter
So yeah, that happened. Love outscored the Blazers by himself, 34-31, in the first quarter. He made eight three-pointers in those 12 minutes and fell three points short of Klay Thompson's record for most points in a quarter. Wouldn't it be cool if we just had a Thompson/Love quarter duel in the NBA Finals. Also odd that Thompson was once rumored to be dealt to Minnesota for Love.
Love would only score six points the rest of the game but it doesn't take away anything from what he did in that magical first period. He was rewarded with Player of the Week honors earlier today so it's been a really awesome week of Love.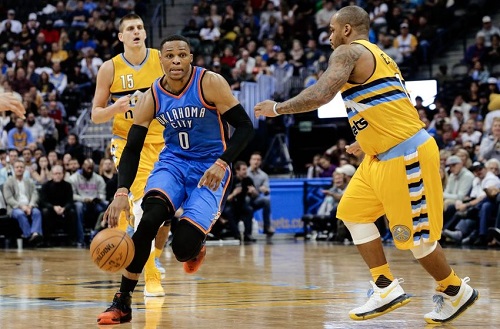 (PHOTO CREDIT: Isaiah J. Downing/USA Today.)
3) Russell Westbrook Got Triple-Doubles on Back-To-Back Nights
Apparently, Thanksgiving meals don't affect Russell Westbrook. On Black Friday, he went for 36 points, 12 rebounds, and 18 dimes in a win over Denver. Westbrook scored 24 points in the fourth and overtime. The following day? He went for 17-13-15 in a win over Detroit. He did that in back-to-back nights.
What does this guy eat? I want to know so I can mess around like that.
(VIDEO CREDIT: NBA.)
4) The Perfect Swaggy Play
Down by one against the Thunder, the Lakers needed a basket with 13 seconds left. Brandon Ingram got the step and kicked the ball out. The ball appeared to be headed for Lou Williams but Nick Young intercepted the pass, took about four steps, put up a three-pointer, and made the basket. It was one of the funniest clutch moments I've ever seen in basketball and that play described the fun-loving Nick Young perfectly.
The Lakers would go on to win the game because of that. Fantastic but also hilarious.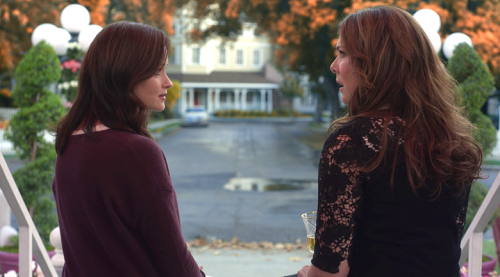 5) Gilmore Girls Revival
I never thought the Gilmore Girls would get a continuation after that so-so ending in 2007. Fans clamored for it and here it was, sitting in Netflix when Black Friday came around.
I've seen many people praise it but I've also seen its fair share of detractors. Still, I thought it was a very good follow-up and the ending (along with its fabled final four words by creator Amy Sherman-Palladino) actually left me wanting more. But I also understood that it brought the series full circle. And if you're a fan and you haven't watched it yet, I suggest you do it now and draw your own conclusions. It, at least, got fans of the show talking for sure.
Practice ended early today…because @KrisHumphries broke a backboard!!! pic.twitter.com/W9iGs4UpkI

— Atlanta Hawks (@ATLHawks) November 26, 2016
6) Kris Humphries Broke a Backboard
Yeah. Cool guy.
Too bad, they lost to the Lakers the following night.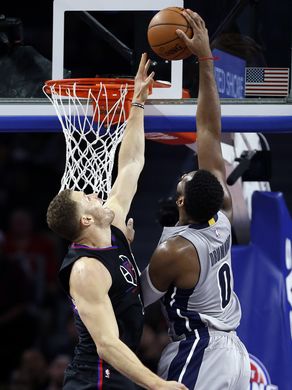 (PHOTO CREDIT: Duane Burleson/AP.)
7) Clippers Are on a Little Skid
The Clips got off to a 14-2 start before they lost their first two road games of the season. They looked lackluster against Detroit in an 11-point loss and even worse against Indiana in a 21-point blowout. Fans have a right to fear that the sky is falling for the Clippers since this particular team hasn't won a championship but hey. Better to get your swoons out of the way now instead of having your slump happen at the worst time of the year, which would be either April, May, or June depending on how far they get into the postseason.
8) NBA App Error!
Not only does the NBA have to fix their League Pass issues but even their app is getting some errors in terms of these types of notifications. Westbrook was so good that he got two triple-doubles for two teams in one night!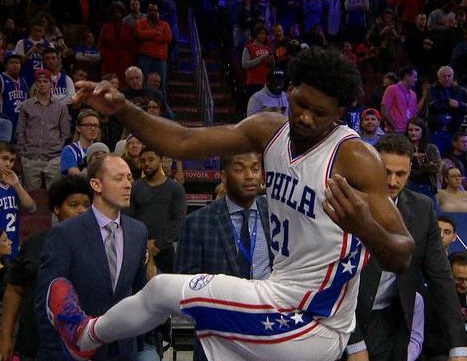 (PHOTO CREDIT: CSN Philly.)
9) Joel Embiid Getting Too Much of a Restriction?
I understand that Joel Embiid is on a minutes restriction. I had mixed feelings about him not playing in the second OT in a game against the Grizzlies. He already had 27 minutes at that point. I get it. That was on Wednesday
My issue was him not playing on Friday. He wasn't even on a back-to-back; everyone in the NBA had Thanksgiving off. How much are they restricting this guy? How is he going to get used to the rigors of an NBA season? He did play on Sunday, though.
They also gave him a day off in a non-back-to-back situation on November 9th. I'm just a little puzzled so excuse me for not understanding this.
(VIDEO CREDIT: TMZ Sports.)
10) The Fan That Heckled Dwight Howard
This is awful.
You can "hate" a player for always beating your team or whatever but in the end, it's a game, no matter how much they're getting paid and whatnot. This one crosses personal boundaries. I don't care if it's sports or acting or whatever but you don't get to hurl hurtful names towards ANYBODY. That fan, if he is even that, was lucky that he was in the stands when he did that to Dwight Howard. And maybe that's why he did that.
"But he paid his ticket to do whatever he wants!" He paid his ticket to WATCH A GAME AND TO BE ENTERTAINED but not to DISRESPECT PEOPLE. Hey, I can just come out of nowhere and call YOU a hurtful name. Would you like that? You wouldn't, right?
Hey, try calling names out to someone like DeMarcus Cousins, David West, or Metta World Peace. While you're at it, find Conor McGregor or Brock Lesnar in the streets and call THEM names. See how they react to it.
I don't care if "he's just trolling" but fans need to be more respectful AND smarter. That one was just dumb and he's lucky he was not hurt, to be honest.
---
Follow Rey-Rey on Twitter at @TheNoLookPass for all tweets about the NBA and terrible pop music. Also, check out his podcast, Rey-Rey Is Fundamental.

us on FaceBook! Thank you!