This is the Hangover. This is where I get drunk on the NBA as I recap last night's action as well as a few things going on around the league. Here's your word vomit.
11/22/2016
THE GAMES
POR 103 (8-8) @ NY 107 (7-7)
NO 112 (5-10) @ ATL 94 (9-5)
CHI 107 (9-6) @ DEN 110 (6-8)
OKC 109 (8-7) @ LAL 111 (8-7)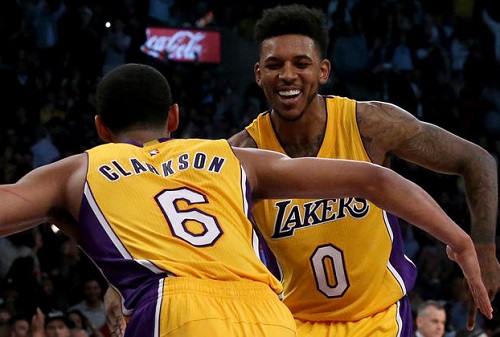 (PHOTO CREDIT: Luis Sinco/L.A. Times.)
THE NICK YOUNG REVIVAL
The Lakers continue their unlikely rise back to prominence. We can name a lot of players having quite the career or renaissance seasons but last night, it was all about the improbable rejuvenation of Nick Young.
Nick Young was pretty much a given to be traded before the season. He was stuck in the mud under Byron Scott and he seemed to be more interested in building his celebrity than working on his game. Then there was that incident where D'Angelo Russell's video caused Young's engagement with his then-girlfriend, rapper Iggy Azalea, to be broken. The man who gave himself the nickname, Swaggy P, seemed shattered inside and the team that was already having problems within got even more divided. Obviously, the future of the franchise was Russell so to prevent any more trouble, Nick Young had to go.
Or so we thought.
Luke Walton replaced the super old-school Byron Scott as coach. Kobe Bryant retired so the young guys had a real chance to grow. Walton came in and seemingly fixed everything overnight. He said everyone had to start over with a "clean slate." Everyone included Nick Young and D'Angelo Russell. Young remarked that "he couldn't be mad at Russell forever." Coach Walton worked his magic and suddenly, everybody was happy. D'Angelo was allowed to make mistakes as he is assured to be the #1 point guard. And Nick Young became a key cog in the Lakers' ball movement and turned himself into the best perimeter defender the Lakers this season.
Last night illustrated how far they've come only a month into the season. The Thunder made an unbelievable comeback against the Lakers and had a one-point lead with 13 seconds left. Brandon Ingram made his move to the basket and kicked the ball out. The pass was supposed to be for Lou Williams (who has also had an incredible bounceback season thus far) but Nick happened to be in the way and stole the pass. Young got away with a travel and then sank the game-winning three against the Thunder.
After the shot, he did Russell's "ice in my veins" signature taunt. Russell ran off and reacted hysterically to Nick Young's tribute. It's another big moment for both the Lakers and Nick Young. The fractured locker room from last year seems all but gone now. While Nick Young looks like he never takes anything seriously on the court, he is actually playing within the team concept and is now back to being one of the guys. The longest-tenured Laker (right?!) has done quite the 180, is pretty much playing the best ball of his career, and has even made himself likable in this underdog role.
It's still early in the season but it's great to see a redemption story like this. And this is as unlikely of a redemption story as they come.
THE REST OF THE LEAGUE
Derrick Rose said that "Vintage Derrick Rose" is gone. We all have egos and we think we can still do things that we used to do but seriously, Derrick. You think you can still do 720 dunks after multiple knee surgeries? Still, he'll have vintage moments once in a while. But no one is thinking you can be your 2011 MVP self again.
But we'll say this: his teammate Kristaps Porzingis is frightening. He's doing stepback three-pointers and he's 7'3″. He's not afraid to be physical and he also has finesse moves. Everyone back then was looking for the next Dirk Nowitzki whether it was Darko Milicic, Nikolaz Tskitishvili, and Andrea Bargnani. Porzingis has the attributes and more. His long-distance shooting definitely draws comparisons but the "Unicorn" (as some people call him) is a better defender than Dirk. Right now, the Knicks are still Carmelo Anthony's team but we can't wait for the day Porzingis takes over. You know, if the Knicks don't mess this up.
Good for rookie Jamal Murray to break out with a season-high 24 points.
While Anthony Davis did bruise his knee, the Pelicans still handed the suddenly-cold Hawks. The Pellies are 3-0 since Jrue Holiday returned. Obviously, he's the MVP.
Lastly, did we overestimate Portland? They're .500 right now. Yikes.
LINE CROSSER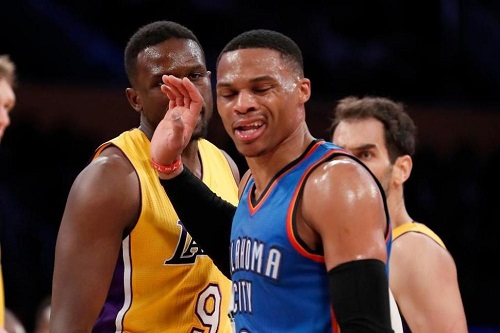 (PHOTO CREDIT: Ryan Kang/AP.)
Russell Westbrook went crazy in the fourth and ended up with this line against the Lakers:
34 points, 8 rebounds, 13 assists.
Let's ignore the eight turnovers, okay?
WATCH THIS PLAY
(VIDEO CREDIT: NBA.)
Just laugh at this, okay?
Again, Nick Young steals the pass intended for Lou Williams. He travels before getting his feet set and then makes the go-ahead three-pointer.
It's basically the perfect Swaggy play.
---
Follow Rey-Rey on Twitter at @TheNoLookPass for all tweets about the NBA and terrible pop music. Also, check out his podcast, Rey-Rey Is Fundamental.

us on FaceBook! Thank you!