This is the Hangover. This is where I get drunk on the NBA as I recap last night's action as well as a few things going on around the league. Here's your word vomit.
11/17/2016
THE GAMES
NY 112 (5-7) @ WAS 119 (3-8)
MIL 73 (5-6) @ MIA 96 (3-8)
POR 109 (7-6) @ HOU 126 (7-5)
PHI 86 (2-10) @ MIN 110 (4-7)
CHI 85 (8-4) @ UTA 77 (7-6)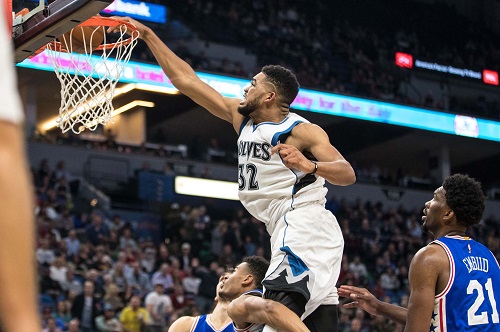 (PHOTO CREDIT: Brace Hemmelgarn/USA Today.)
KAT AGAINST THE PROCESS
So there was a bit of a debate. Who has a brighter future? Who would you take first? Who had more potential? Minnesota big man Karl-Anthony Towns or Philadelphia giant Joel Embiid?
It's a bit of a silly debate to me. Embiid has definitely shown flashes, for sure. But we get so caught up on flashes and recency bias (LIKE REALLY RECENT) that we forget a few details.
Embiid didn't play for the last two years and there's a very real chance that his foot injuries can cut his career short. I don't wish careers getting cut short on anybody and I really hope Embiid can carve out an excellent 12-to-15-year NBA career but this is just the reality of it all.
Another detail? He's only played eight games in his career. It's a very small sample size.
That small sample size is very impressive, though. 17.0 points, 7.6 rebounds, and 2.3 blocks per contest in just 22 minutes is fantastic. He's showed some post moves, a midrange J, three-point range, and rim protection. The potential is salivating. I get it.
But Towns is a proven commodity that has also shown a lot of potential. He averaged 18.3 points, 10.5 boards, and 1.7 blocks per game in his rookie year. He's at 22.3 points and 9.0 boards early in the season. He's got an array of offensive moves inside and his three-point shooting is a bit more reliable (.386 this year). This also matters a bit; KAT just turned 21 (we have the same birthday!). Embiid will be 23 come March and he may still be in a minutes restriction by then.
Of course, the problem right now is that Towns isn't actually getting it done on the defensive end. He needs to be the defensive anchor that his mentor Kevin Garnett was. In an excellent article by Britt Robson on the MinnPost (written on Wednesday), the Wolves are actually allowing 21.1 more points per 100 possessions when Towns is on the floor (115.7 points allowed per 100 possessions compared to 94.6 points per 100 when he sits). He'll improve on his individual defense which is pretty good but he has to be the guy that holds it together on team defense if he really wants to reach that next level. Embiid has shown promise on that end, which is why people already want to say he might have a higher ceiling than Towns. But Embiid has to show me he can get through a couple of seasons without any health incidents. People are acting like he's going to score 35,000 points and block 3,000 shots. Slow down, people.
Of course, in last night's match-up, Towns went for 25 points and 10 rebounds while Embiid had 10 points and 10 boards. Minnesota blew out Philadelphia early. Embiid will continue to be tough to gauge as long as he's on a minutes restiction AND his team continues to lay them goose eggs. Also, that play that I put later in this wonderful piece illustates where both guys are right now in their careers.
Based on health and age, though, KAT is the easy choice for a higher ceiling and being a better player now. But I do hope both guys become game-changers in the center department.
THE REST OF THE LEAGUE
Derrick Rose scored 27 points last night against the Wizards. But Bradley Beal's return (18 points) did make a difference as D.C. won their third game of the season. They needed that.
Portland has been blasted two games straight and Damian Lillard said that they kind of suck right now. They are 7-6 and they probably thought they'd have a better record after 13 games. Both games (against the Bulls then the Rockets) seemed to be winnable for the Blazers, though, so I get it.
I'm pretty sure that, unless it's the mid-90s, 73 points in an NBA game likely won't give you the win.
Lastly, Utah needs George Hill back in the worst way.
LINE CROSSER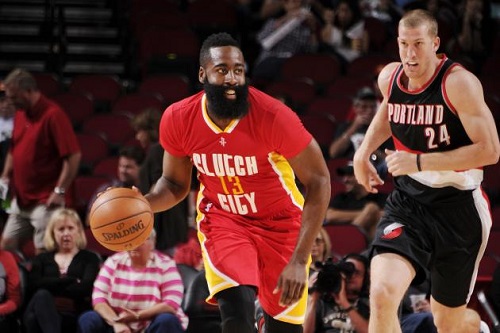 (PHOTO CREDIT: Bill Baptist/Getty Images.)
James Harden keeps getting it done under the new regime.
26 points, 12 rebounds, 14 assists.
That's his third triple-double of the season. And we thought his former teammate Russell Westbrook would rack those up.
WATCH THIS PLAY
(VIDEO CREDIT: NBA.)
Karl-Anthony went to Towns! He makes Embiid bite on this pump fake and then he took liberty by dunking all over the Sixers.
---
Follow Rey-Rey on Twitter at @TheNoLookPass for all tweets about the NBA and terrible pop music. Also, check out his podcast, Rey-Rey Is Fundamental.

us on FaceBook! Thank you!