This is the Hangover. This is where I get drunk on the NBA as I recap last night's action as well as a few things going on around the league. Here's your word vomit.
NOTE: It was my birthday yesterday so forgive me for being a tad late with this update. Hey, I need to celebrate something, too, ya know.
11/15/2016
THE GAMES
TOR 117 (7-3) @ CLE 121 (9-1)
ATL 93 (8-2) @ MIA 90 (2-8)
CHA 115 (7-3) @ MIN 108 (3-7)
CHI 113 (7-4) @ POR 88 (7-5)
BRK 118 (4-7) @ LAL 125 (7-5)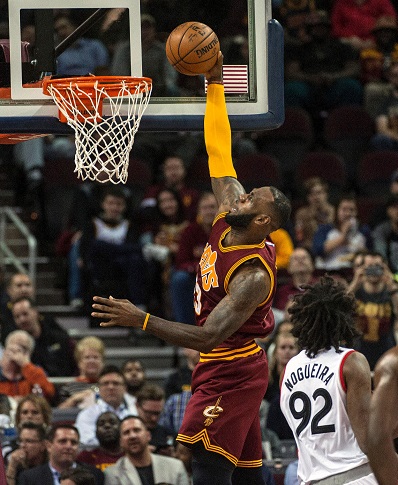 (PHOTO CREDIT: AP.)
IT'S THE CAVALIERS AND THE REST
It's twice already that the Raptors have failed to beat the Cavaliers this season. Will there be anybody, barring injuries, that can beat the defending champions in the East? It's tough when you pretty much have the best player in the game still on the top of his game as well as Kyrie Irving adding to his clutch resume.
Once again, it's early. LeBron is supposedly resting in their game against the Pacers. But they still have Kyrie, who is young. They still have Kevin Love, who can still score and rebound with the best of them. Their second in offensive rating and while they're 12th in defense, you know what they're capable of.
I'm not sold on Toronto with being a complete challenger to the Cavs even with DeMar DeRozan straddling on superstar status. Boston is hurt and are not complete and they're definitely not challenging Cleveland in that state.
We might have something with the Hawks, who are the only team to beat Cleveland. But they also lost their previous 11 match-ups, including the postseason. Charlotte is a bit unknown with Kemba Walker ballin' out. Maybe even Detroit can get closer this season with all four of their games in last spring's postseason all close.
But as long as the Cavs have one of the greatest players in the league history AND one of the most clutch players in the league today, I'm not sure if Cleveland can be beat in the East.
THE REST OF THE LEAGUE
How the heck did Chicago plaster Portland?
Poor Heat. No more Dwyane Wade and no Chris Bosh. The 3rd seed last season, it doesn't seem like they're going to get near the playoffs at this rate. They are 2-8 at the moment. They're not going to make changes at the top; Erik Spoelstra is entrenched in as the coach. If they're going to go after a lottery pick, they'll probably just ride the whole thing out. But Pat Riley is not beneath doing a midseason trade if they think the playoffs are within reach. Right now, it's not.
And, wow, the Lakers continue to be fun. D'Angelo Russell scored 17 of his 32 points in the first quarter. But they do have a rough schedule coming up; they have the mighty San Antonio Spurs on Friday.
Speaking of the Spurs, Tim Duncan is getting his jersey retired on December 18th. I'm going to guess he'll play Super Mario Run the entire time he's at the retirement ceremony. Anything that involves Duncan in a public setting that is not a basketball season is an adventure.
LINE CROSSER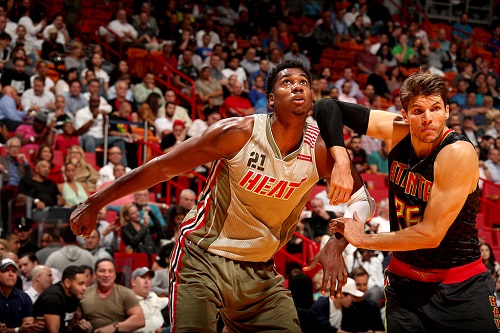 (PHOTO CREDIT: Getty Images.)
Hassan Whiteside is doing what he can for the Heat.
19 points, 25 rebounds.
Shoutout to Julius Randle on that triple-double and LeBron for a near-trip-dub.
WATCH THIS PLAY
(VIDEO CREDIT: NBA.)
I really liked this Bojan Bogdanovic slam over Timofey Mozgov. It's like nobody saw it coming.
---
Follow Rey-Rey on Twitter at @TheNoLookPass for all tweets about the NBA and terrible pop music. Also, check out his podcast, Rey-Rey Is Fundamental.

us on FaceBook! Thank you!