This is the Hangover. This is where I get drunk on the NBA as I recap last night's action as well as a few things going on around the league. Here's your word vomit.
11/11/2016
THE GAMES
IND 105 (4-5) @ PHI 109 (1-7) [OT]
CLE 105 (7-1) @ WAS 94 (2-6)
TOR 113 (6-2) @ CHA 111 (6-2)
UTA 87 (6-4) @ ORL 74 (3-6)
NY 87 (3-5) @ BOS 115 (4-4)
LAC 110 (8-1) @ OKC 108 (6-3)
DET 86 (4-5) @ SA 96 (6-3)
SAC 120 (4-7) @ POR 122 (6-4) [OT]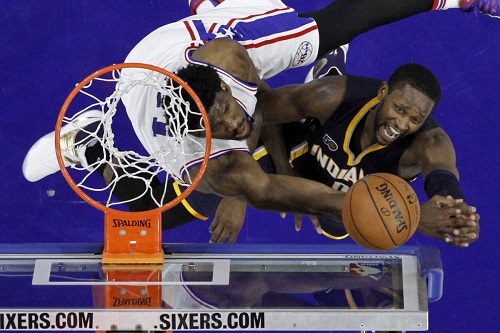 (PHOTO CREDIT: Matt Slocum/AP.)
A NEW HOPE
So how about those Sixers? They finally won a game and if you consider the last two seasons, they won their first game relatively early! Philly is now 1-7. Two years ago, they started out 0-17. Last season, they got off to an 0-18 start.
But the Sixers actually demonstrate some talent. Joel Embiid gives Philly some hope. Granted, he was drafted two years ago but he never got to play because of his foot surgeries. I also think it's pretty incredible that he's this good after not being able to play competitive ball for a very long time. You see his post game. You see his shake and bake moves. You see his three-pointers. You see his defense. He is a stud, especially once that minutes restriction is off.
He made a big three-point play against the Pacers to give the Sixers a two-point lead. Then he polished off the Pacers with two more foul shots. So at least, the Sixers finally have a go-to guy down the stretch when, in the last three seasons, they had nothing of the sort.
In limited minutes (22.2 per), Embiid has averaged 18.8 points, 6.8 rebounds, and 2.3 blocks. That's damn good production. Sure, he turns the ball over tons (4.5 turnovers) but that'll lessen as time goes on.
Hopefully, the Sixers realize what they have here and actually start building a core. They just can't help themselves in terms of trading players so early.
THE REST OF THE LEAGUE
The Clippers have come up big early and often. They are now 8-1 and they avenge their earlier loss against Oklahoma City. Both games were two-point margins and it's probably a match-up problem; the Thunder can actually match the Clippers frontline and Russell Westbrook and Chris Paul give each other fits. If the Thunder actually make the postseason and they draw the Clippers, this would be something to watch.
Klay Thompson and Stephen Curry are considered, hands down, the best backcourt in the league. But how close are Damian Lillard and C.J. McCollum? And what about DeMar DeRozan and Kyle Lowry?
DeRozan has been incredible this season, though. I've mentioned how his game isn't THAT analytics-friendly; he takes tons of midrange shots and he's never been a good three-point shooter. But he's shooting .533 from the field and he gets to the line nearly 10 times. He leads the league in scoring with 34.1 points per game. Is this sustainable? He's showed that it has been for the first eight games. It's a long season, though.
I didn't note in the past few days that John Wall has been angry as he has been ejected for two straight games. He's gotta be frustrated, though. The team is 2-6 and while it's early, you don't want to dig yourself too deep into a hole.
Don't let Wall get too angry, Wizards. He might demand something soon if you're not careful.
LINE CROSSER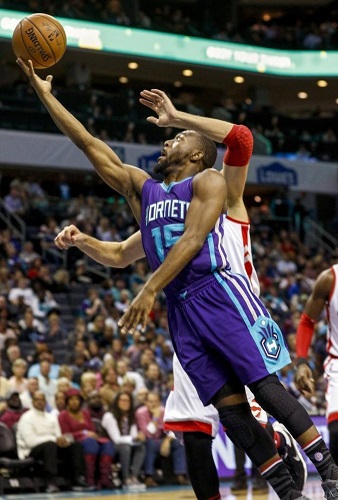 (PHOTO CREDIT: Neil Redmond/AP.)
Remember that Kemba Walker, who has been outstanding this season, is 6'1″. Despite the loss, he did this:
40 points, 10 rebounds, 6 assists.
That is studly, Kemba.
WATCH THIS PLAY
(VIDEO CREDIT: NBA.)
Meyers Leonard. RECKLESS ABANDON.
---
Follow Rey-Rey on Twitter at @TheNoLookPass for all tweets about the NBA and terrible pop music. Also, check out his podcast, Rey-Rey Is Fundamental.

us on FaceBook! Thank you!