This is the Hangover. This is where I get drunk on the NBA as I recap last night's action as well as a few things going on around the league. Here's your word vomit.
11/10/2016
THE GAMES
NO 112 (1-8) @ MIL 106 (4-4)
CHI 98 (5-4) @ MIA 95 (2-5)
GS 125 (7-2) @ DEN 101 (3-5)
LAL 101 (5-4) @ SAC 91 (4-6)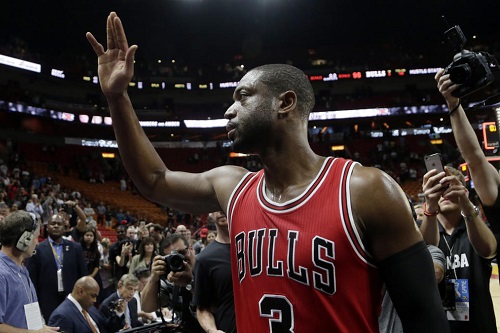 (PHOTO CREDIT: Lynne Sladky/AP.)
COMING HOME
This had to be weird for Dwyane Wade. It was weird for LeBron James when he returned to Cleveland. And while he's already played against the Thunder, Kevin Durant returning to Oklahoma City will also be weird.
Wade was the face of the Miami Heat franchise for 13 years. For him, it was like seeing a former significant other and everything around him reminds him of her. All the memories come flooding back. All the good times. All the bad times. And he would say to himself, "Wow, that was a good time. Times were good then."
No matter what situation, this is difficult. Yeah, they're pros but they're still human beings. Wade invested 13 years of his life to the city and franchise. And even if his goal for that day is to obliterate and annihilate, there's still part of him (a significant part, I'm sure) that wants his old franchise to do well. Weird thoughts would come in his mind. "Should I take it easy so they can get that win and move on?" "What would that (devoted) fan think if I scored 50 points?" "Should I apologize to them?" "Maybe I should have never left."
Maybe he should have never left. But it's business. The NBA can be really cruel. They can drop a player after 13 years of service. But the player can be cruel back by getting revenge on his old team and do well for the new employer. And this is all part of the game. I give credit to those players that would have to go through that, especially the stars, because very real emotions come into play when this occurs. Wade mentioned that it was "the worst game he ever played" despite that he had a few highlight plays and ended with 13 points and 7 boards in a win over the Heat. I believe him. And you would know that feeling, believe it or not, if you ever had to deal with a former significant other for the first time since a break-up.
Now that the first time is out of the way, it won't be so bad the rest of the time. But for Wade, Durant, and even Al Horford, it'll be weird for the rest of their NBA careers.
THE REST OF THE LEAGUE
The Baby Lakers recovered nicely after a letdown from Dallas. They were down 19 points but they showed that FIGHTING SPIRIT once again. I'm sure I said this but the great thing about the Lakers is their depth. They have so many contributors. Their closing line-up was Brandon Ingram, Julius Randle, Timofey Mozgov, Nick Young, and Lou Williams. Lou and Nick, known chuckers, were the guys that put away the game. Ingram's length bothered the Kings in defense and rebounding. Mozgov had an incredible alley-oop dunk that jarred Sactown. And Randle was relentless.
D'Angelo Russell sat down in the fourth quarter, which was oft-criticized by everyone when that happened to him last season. But this time around, Russell knows he's safe; he knows he's the point guard of the team. Under Byron Scott, he got no assurances no matter how he played. Under Luke Walton, he did get that assurance and he knows that his coach was simply going with the hot line-up. applaud the whole team for handling themselves and doing their jobs. It looks like the Lakers will be okay, after all.
As for Sactown? Boogie Cousins is frustrated once again and it showed after he got into it with fellow University of Kentucky Wildcat Randle. He said that his team "got tender." It's really a waste that the Kings just can't put it together behind the scenes, which trickles down to the roster itself. It's early yet but the returns are discouraging yet again.
Good for the Pelicans to finally get a win. But a 1-8 hole is rough. Especially in the West, where you're expected to win 45 games to make the postseason.
Oh, and the Warriors are regaining their invincibility. They treated the Nuggets like… well… chicken nuggets. I am not clever enough right now to come up with anything.
And I was so proud with my "ex" analogy with Wade.
LINE CROSSER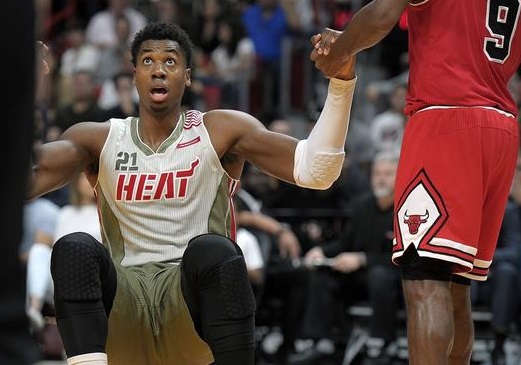 (PHOTO CREDIT: The Sun Sentinel.)
Despite the loss, Hassan Whiteside had this:
20 points, 20 rebounds, 3 blocks.
Whiteside gave the Bulls the 20/20 experience. Too bad, he didn't… take back the night.
WATCH THIS PLAY
(VIDEO CREDIT: NBA.)
Wade burns Justise Winslow and goes in for the Michael Jordan-esque air reverse.
---
Follow Rey-Rey on Twitter at @TheNoLookPass for all tweets about the NBA and terrible pop music. Also, check out his podcast, Rey-Rey Is Fundamental.

us on FaceBook! Thank you!